Digital Product Manager, Antonio, paves the way for Talent Development at Cummins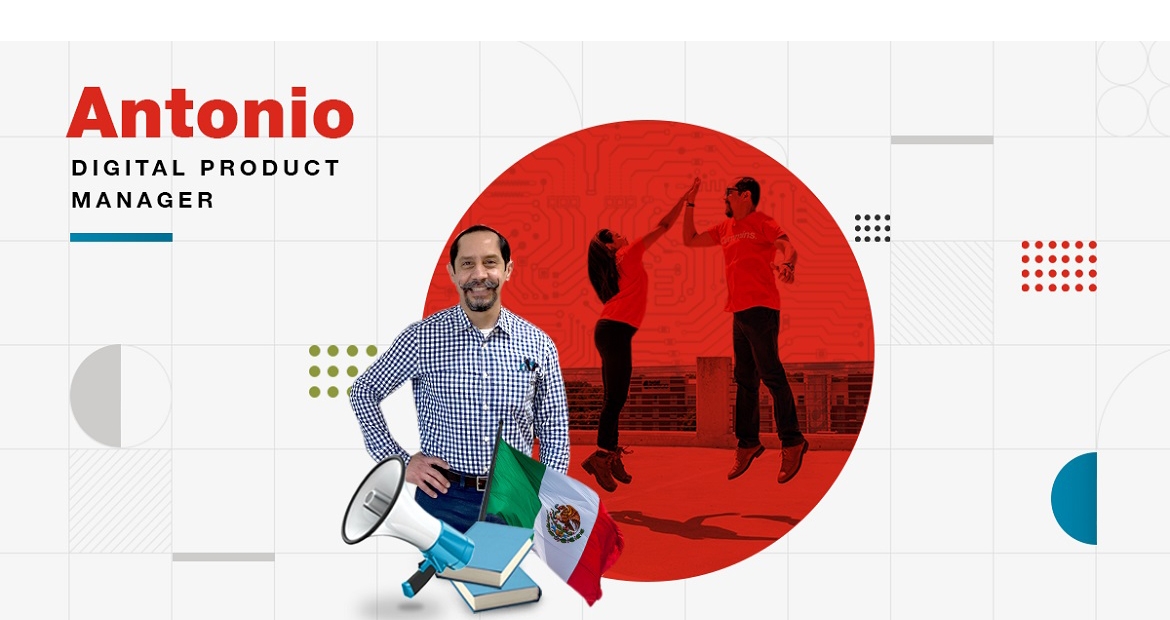 Antonio once heard the story of John F. Kennedy's tour of NASA headquarters in 1962; during his visit, JFK encountered a janitor carrying a broom down the hallway. The President then casually asked the janitor what he did for NASA, and the janitor replied, "Mr. President, I'm helping put a man on the moon."
In his daily work as a Digital Product Manager for the Engine Business Unit at Cummins, this story speaks to Antonio, who understands how everyone contributes to the company's strategic goals.
"We tend to focus on the trees and lose sight of the forest," he says. "I am lucky that my job allows me to see the forest and connect my work to bigger goals."
Antonio — who has been with Cummins for 14 years — spends his days solving problems that align with company initiatives and goals. 
"We identify a business need or opportunity, create a case, and then build a digital product with a clear roadmap," he says. "It's like going onto Shark Tank (the show). We do a market discovery, present our findings, and if it gets approved, we get the resources to develop the solution. Every day is like playing in a sandbox. We get our different tools out and say, here's a problem; let's solve it." 
Antonio loves how collaborative, creative, and agile his team is. He attributes that creative energy to the variety of perspectives and functions of his team members. 
One of his business cases in the early stages of market discovery involves a government program to support school districts transitioning their bus fleets from diesel-based vehicles to electric. School districts and private fleet operators have committed to converting 10,000 diesel school buses to electric over the next five years, which would have a major impact on addressing climate change.
His team is trying to build a digital product to create the best user experience for the end users — the school districts. They do this by asking questions like:
What problem are we trying to solve? For whom? And why is important?
What are the challenges, needs, and pain points for the different types of user personas?
What kind of analytics do school districts need to support their decision-making?
His team makes sure that the Cummins product satisfies those needs.
In addition to accomplishing company goals, Antonio connects his work to personal goals, which are tied to diversity, equity, and inclusion (DE&I) initiatives. Antonio leads the Talent Development Committee for GOAL, the Latino employee resource group (ERG) at Cummins. He also attends Great Minds in STEM and the Society of Women Engineers conferences every year to scout talent for Cummins. He credits the Cummins culture of embracing diverse opinions, perspectives, and backgrounds for what makes it competitive for job seekers and a great workplace.
When scouting talents, Antonio sees himself in many young Latino applicants.
"Latinos are not well represented in technology," he says. "The national average of Hispanic/Latinos in the tech industry in the US is 8%. At Cummins, we are working hard to get to that number. It's rewarding to be part of the change."
One of the reasons he loves scouting talent at conferences is because it allows him to talk to and learn from young people. "I listen and find out what motivates them. What are their interests? I try to bring that information back to Cummins and say, hey, this is what we need to do to continue attracting this kind of talent."
I aspire to be a leader with a big platform to support the people joining Cummins after me,"
he says. Some of the programs he and his Talent Development Committee team are working on include:
Mentorship Program

This is Antonio's baby. It has grown 100% in the last two years into 66 mentor-mentee one-on-one relationships. "That's 132 people from 15 different states in the US, plus Colombia, Mexico, India, and the UK. Mentors and mentees meet on a regular basis," he says. He points to the pandemic as a catalyst for this growth since it allowed colleagues to meet virtually and communicate with people whom they might not have been able to otherwise because of distance.

Lunch-and-Learns

GOAL members are surveyed on topics they'd like to learn more about, and senior leaders are invited to talk about the topic during lunch. The most recent lunch-and-learn covered the best practices to build a personal brand.

Speed Networking 

These meetings are designed for junior professionals to meet and talk to Cummins leaders for 30 minutes. Antonio's team coaches the juniors on how to make the most of the meeting in such a short timeframe.

Individual Development Plan (IDP) Workshops

Workshops are organized to help employees write a career statement, define objectives, and create a self-development plan.

Talent Development Program

This program tries to find a six-month project in the area of interest for employees who want to gain visibility, develop new skills, or change career functions. A project sponsor works with the employee and Antonio's team facilitates that engagement.
When asked what his biggest remaining goal is, Antonio thinks of others first. He says he'd like to use the skills he's learned at Cummins leading programs to partner with companies and governments — specifically in Mexico, where he is from. He'd love to form and support programs for children from disadvantaged households in his home country.
"I would like to use my network and connections and create a team to teach kids how to code to solve problems," he says. "And then I'd love to ask companies like Cummins if they would offer small summer projects to these kids and give them opportunities in a corporate environment to automate a process, build a portal, or something. That would be a way for me to give back to the community and to society."
By mentoring young professionals, Antonio is planting seeds for a future forest of strong, minority leaders.