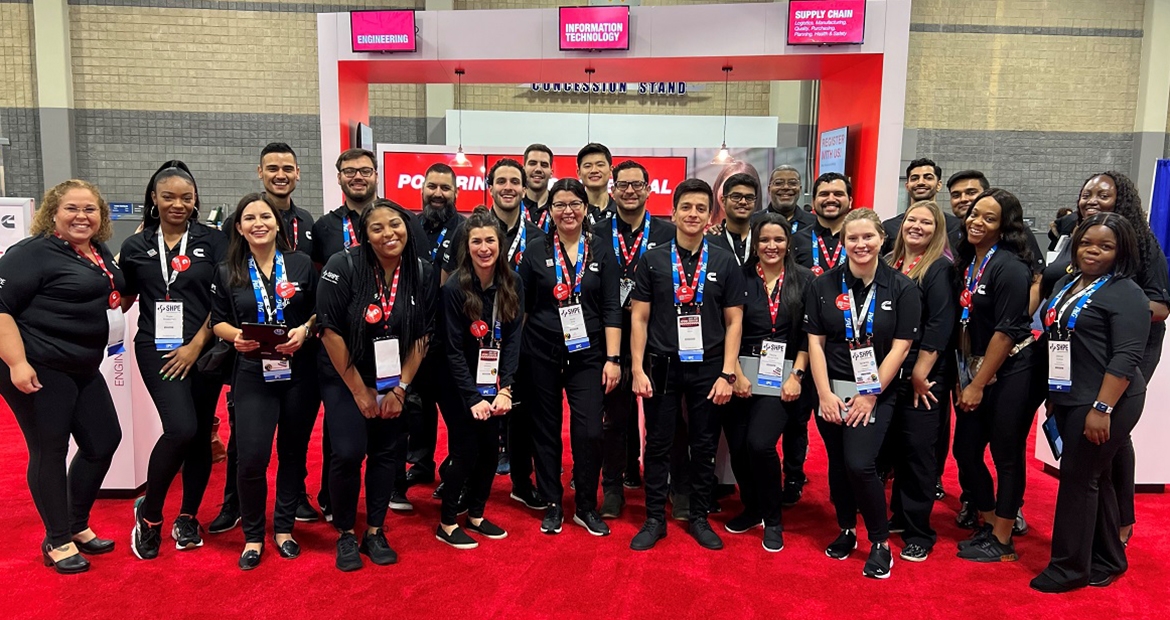 Cummins Inc. bestowed STAR AWARD by SHPE for changing lives of Hispanic students in STEM 
The Society of Hispanic Professional Engineers (SHPE) is the nation's largest association dedicated to fostering Hispanic leadership in the STEM field, and Cummins has been a strategic partner of this respected organization since 2007. SHPE National Convention 2022, with over 170 exhibitors and 10,000 attendees, took place early November in Charlotte, North Carolina, and the company's participation held a strong presence with 40 Talent Ambassadors, Talent Acquisition Staff and Leadership in attendance, eagerly interacting with students and sharing insights about career aspirations. 
"This year's convention was spectacular with 1,126 registered applications submitted by students aspiring to work at Cummins," said Diego Souza, Executive Director, Cummins Chief Information Security and Executive Sponsor for Cummins SHPE Strategic Partnership. "The opportunity was meaningful for both the future of the students and Cummins." The Cummins team met with over 800 applicants, held a productive workshop, participated in a panel discussion, and topped off the event with taking home SHPE's STAR Award for Company of the Year.  
A potentially life-changing experience for attendees, students had the opportunity to submit applications for internships with companies that recognize their talent and want to build a future with them. SHPE's mission is to change lives by empowering the Hispanic community to realize its fullest potential and impact the world through STEM awareness, access support and development. Marry that with Cummins' cultural belief of Powering Your Potential by having the flexibility to explore your passions while making an impact through meaningful work within your inclusive workforce, makes for a winning partnership in supporting future leaders aspiring to be innovators, scientists, mathematicians, and engineers.  
Cummins is also represented on the SHPE Industry Partnership Council (IPC). Comprised of more than 45 organizations, including Fortune 500 companies and multiple government agencies committed to diversity and inclusion, IPC members align with the SHPE mission by supporting year-round programs, sharing industry perspective, providing resources and development tools, and meeting recruitment and retention strategy goals. Courtney McCoy, Cummins Global Talent Acquisition Leader, Early Careers Diversity, is currently the IPC Vice-Chair and will become the IPC Chair in 2023, underscoring the relevance Cummins' role plays in this partnership. "It's such an honor to be part of this organization and have the opportunity for our company to help shape the future of these bright students," says McCoy.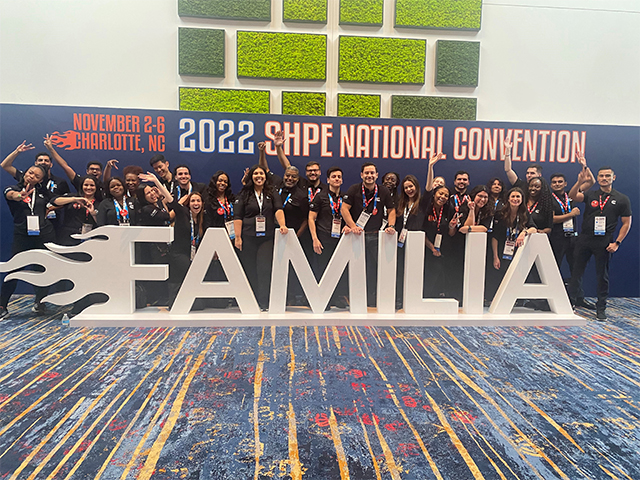 Action-packed gathering 
The Opening Ceremony was jointly sponsored by Cummins and Discover, kicking off with a keynote address by Rafael Torres, Executive Director, Cummins Engineering. A panel discussion took place on "The Leadership Amazing Race" where Judy Brunson, Vice President, Cummins Global Quality, Alex Savelli, Cummins Managing Director, Electrolyzer Business, and Rafael were panelists, followed by a workshop titled "The Pit Crew for Your Academic/Professional Race" managed by Kimberly Martinez Sequeda, Cummins Purchasing and Supply Continuity Senior Specialist, and Marian Salomon, Cummins Project Manager – Technical Sourcing Product Change Management. 
The Cummins team had the opportunity to do on-site interviews with 41 candidates and 31 offers made – a commendable 76% success rate!  A candidate engagement dinner also took place which included 83 candidates who interviewed, scheduled interviews or we wanted to get slated for interviews. And, professional headshots of candidates were even set-up to support career search activities for these aspiring professionals. 
McCoy accepted the STAR Award for Company of the Year on Cummins' behalf. SHPE's STAR Awards honor outstanding professionals and students for their dedication, commitment, and selfless efforts to advance Hispanics in STEM careers, recognizing company and government agencies for demonstrating significant, measureable and visible assistance to further SHPE's programs as well as Hispanics in STEM. 
Paying it forward 
Cummins involvement with SHPE doesn't stop there as we also support students with the Cummins for Hispanic Advancement in STEM InternSHPE program slated for the summer of 2023. Students can apply to qualify for a 10-12 week paid internship at Cummins, awarded to 10 community college students and 10 four-year institution students. After successful completion of the internship, they will receive $5,000 toward community college and $10,000 toward a four-year institution, with the scholarship renewable until graduation - a great resource in reaching the goal of increasing Hispanics in STEM fields and capturing Hispanic talent at the community college level to help in advancing to a four-year degree in STEM. 
Once scholarship winners are selected, each will receive ongoing coaching and mentorship from a Cummins mentor that starts before the internship. In addition, students will be able to participate in various career development activities to help prepare them for their internship and carry further to post-graduation careers. 
Attracting, developing and retaining a truly global workforce with the intent of bringing the right combination of perspectives, insights and skills to solve the challenges of today and tomorrow is how Cummins strives to support a diverse, equitable and inclusive workplace. And, Cummins partnership with SHPE helps us get there! 
If you are interested to know more about Cummins and available career opportunities, visit our careers site now.