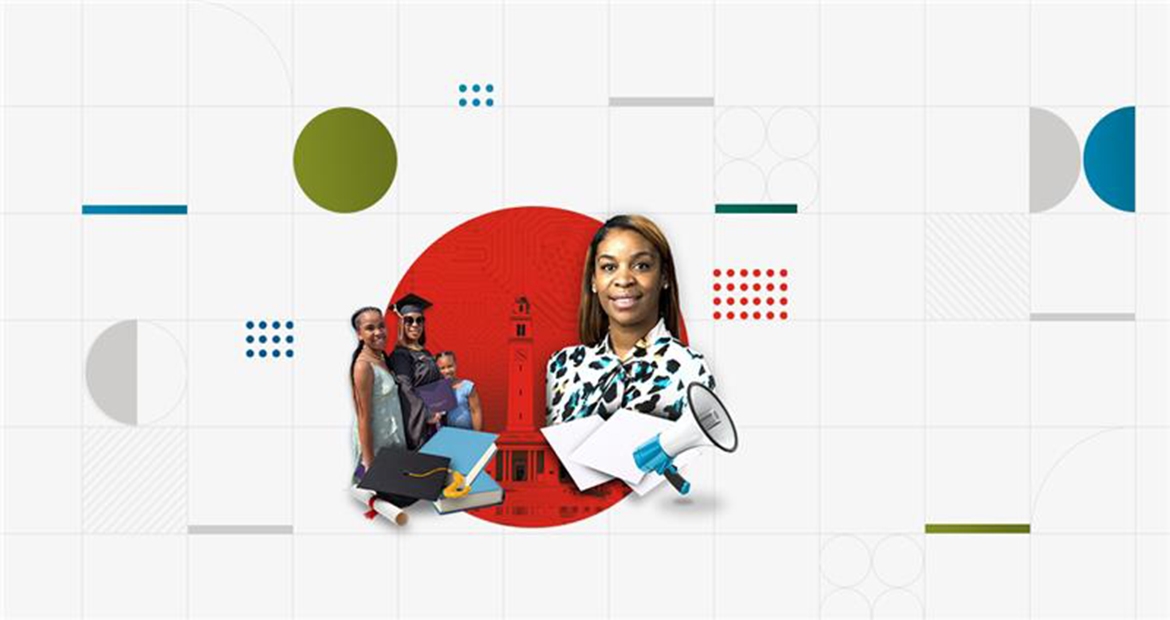 Shaura is building a better world. As the Senior Communications Specialist for Global Diversity Equity and Inclusion (DE&I) at Cummins Inc., she is aware that her work has the potential to impact not just her own children, but all children.
Embedding diversity, equity and inclusion into our organization and hopefully, throughout the world, doesn't feel like work," Shaura says. "It's more of a passion." 
Though Shaura has an undergraduate degree in Communications, her work at Cummins didn't start in that division. For the past seven years, Shaura has worked in the Legal function at Cummins. Over the years, she tried a few times to move into the communications function, but interviewers told her she didn't have enough professional communications experience.
Ever determined, Shaura reflected on the feedback she had received and decided to join an Employee Resource Group (ERG), Cummins Black Network (CBN). After spending time as a CBN member, she then accepted the volunteer position with CBN as a co-leader for their Marketing Communications committee, which gave her an opportunity to showcase the communications and leadership skills she needed to advance her career at Cummins. 
With the benefit of tuition reimbursement that Cummins offers, Shaura enrolled in college classes during the COVID pandemic and earned her Masters of Business Administration (MBA) in Marketing. She believes this, combined with substantial CBN experience, led her to successfully secure her current role of Senior Communications Specialist this year.
In this role, Shaura leads and supports communications on three major initiatives within DE&I, while embedding new and improved strategies across the enterprise to ensure that belonging is felt company-wide. She is also working on the communications plan for the new global DE&I Learning and Development program for the company.
"I have always volunteered for different diversity initiatives at Cummins over the years. Now, being able to combine my love of communications with DE&I work full-time within my role—it's a dream," Shaura says.
Shaura lauds ERGs at Cummins as a true asset both to the company and its employees, but not just for the professional development opportunities they provide. "Employee resource groups create a sense of belonging that helps employees feel valued, welcomed and heard. It's an arm of the inclusion part of my work," she says.
Cummins has long been a champion for creating inclusive work environments in a variety of ways, from offering paid parental leave for new fathers to more recently, adding an extra paid time-off (PTO) day for employees to use at their discretion to celebrate any day of significance to them. "It can be used for a birthday or a holiday that is culturally important to an employee like Juneteenth or Ramadan," Shaura says.
When Shaura is volunteering to recruit diverse college talent for Cummins, she uses examples like these inclusive policies to tell potential interns, "Choose your company like you choose your friends. You want to work for a company with values that align with your own. And be sure they show their commitment to those values. It can't just be something they put on a website."
Shaura finds great joy in mentoring young people of color, as she reflects on being a product of having excellent mentors herself at Cummins. Beyond talking to college students, she also volunteers for Girls, Inc. with the goal of paving the way for the women of color who come after her. "I love working with girls, especially young Black girls," she says. "I have two daughters, and anything I can do to empower them and other young Black women is a win," she says. "I want to help illuminate the fact that they can be successful in doing anything they put their minds and muscles to."