Tracy K leads Cummins HBCU program to new heights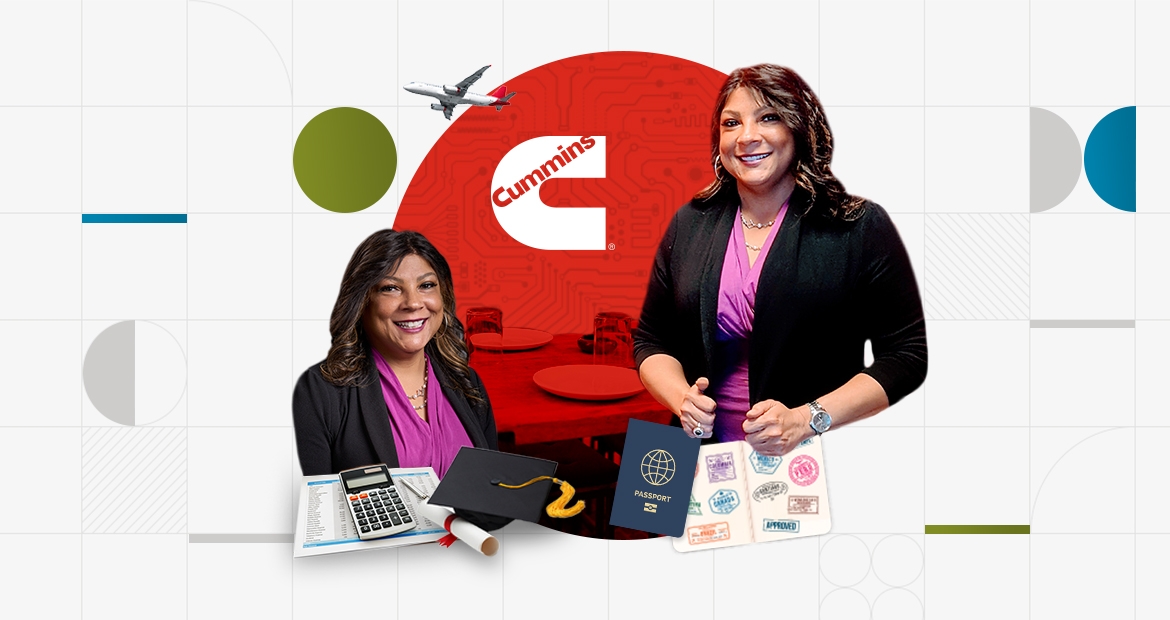 Tracy never saw herself as a "career woman." At 18, she joined corporate America working a filing job — the beginning of a 10 -year stint working in finance for the manufacturing industry.
However, when her mother opened a restaurant, Tracy packed up her things and moved to Tennessee, where she used her experience in accounting to help her mother set up the restaurant's bookkeeping.
While working alongside her mother to open the restaurant, Tracy knew she needed a temporary job to keep her afloat until she figured out her next move. She landed a two-week assignment at Cummins and fell in love with the company's culture. Tracy quickly realized she wanted to stay longer than two weeks and, for Cummins, the feeling was mutual. Two years into her journey at Cummins, Tracy began working in recruitment where she nurtured a love for recruiting diverse talent and delivering top-notch employee experiences to underrepresented communities. Now, 22 years later, she couldn't be happier to celebrate her career with Cummins.
It's the way Cummins embraces diversity in the fact that they have strong messaging to support the education of and resource groups available to every employee,"
says Tracy when asked what made the company the right place to start her career. "It's also how you feel daily when you interact with your colleagues. There's this underlying community based on everyone embracing and uplifting that element of diversity and inclusion."
Tracy's work ethic propelled her upward through Cummins' ranks, with new opportunities coming to her naturally. Every time one came along that sounded fun and challenging, she never hesitated to take it on.
When leadership came to Tracy and asked if she would be interested in leading the company's Historically Black Colleges and Universities (HBCU) Program, she immediately said yes. While she didn't attend an HBCU herself, Tracy's daughter received her master's degree from Tennessee State University, giving her first-hand knowledge of the power and value of partnering with these institutions.
Working with HBCU is nothing new at Cummins. However, the new HBCU initiative helmed by Tracy seeks to transform the company's partnerships and usher in a new way of engaging younger talent.
"One of the most unique things about HBCUs is the family and community element," says Tracy. "There are a lot of companies trying to get in with HBCUs, but we've already been there. We're already partners of theirs, so having this dedicated program allows us to be intentional about those relationships."
Tracy provides students with resources beyond the classroom and scholarships. She does her best to provide a safe space for students to seek guidance, and solutions for things like housing or even receive motherly advice on how to overcome homesickness.
Tracy and her team of volunteers take a multi-faceted approach to expand upon the work the campus recruitment teams are doing. One of their efforts is the Intern Program. Tracy seeks to bolster the intern experience for her cohorts of HBCU students by offering professional opportunities and social activities that allow the students to network with each other and learn about the industry. She wants them to develop personally, not just professionally. To facilitate this, Tracy provides what she calls Safe Space Sessions twice a month. These can range from motivational guest speakers to mental health meditation sessions.
During one all-intern visit to Cummins' Columbus, Indiana, campus, Tracy decided to organize professional headshots for the members of her HBCU cohort. She recalls fondly how one first-generation student told her excitedly about how he bought a suit for the first time ever so he could "look the part" for this photo. "That moment made me realize that, yes, this program matters to me and matters to Cummins as a whole," says Tracy. "That's the real value of investing in programs like this."
But Tracy's work doesn't end with internships. The HBCU Program also aims to ease the transition for new Cummins employees who are fresh out of college and are still in the early stages of their careers.
"We want to make sure we're providing an environment where they can thrive, not just survive," says Tracy. "By having this program, we can take a more holistic approach to our work by bringing together those elements of community, development and retention."
Tracy puts these ideas into action by pairing new HBCU hires with another HBCU graduate that works at Cummins to help them adjust and settle into their new work environment. These mentors don't just focus on success at work, though — they also help new hires with the more personal aspects of the transition.
"Some new employees come from environments that are entirely different from the corporate world and require a different approach to engagement so that any barriers to success are removed," states Tracy. "So, we're not just showing them how to do their job. We're also helping them figure out how you move from a major city to a small town in some cases."
Tracy's approach has proven successful. Since developing the program, Cummins has seen a 38% increase in the recruitment of HBCU students. Not only that, but Tracy has also grown her team of volunteers to 90 in just one year. She attributes this growth to intentionality, saying, "I take the time to learn what their goals are so I can identify roles and responsibilities that are connected to their passions. As a result, we have people who are truly engaged because they want to be."
The volunteers, she says, are often as impacted by the experience as the students. One guest speaker who presented to students reached out to Tracy after the session to thank her and say, "You made me feel so special," to which Tracy replied, "You are special. You are a North Star providing representation for these students.".
This effort to foster an environment of inclusion where every student, employee and volunteer feels heard sits at the heart of Tracy's approach to work. "You have to listen and work as a team and collaborate," she says. "It's not about Tracy being right. It's about us getting it right."
Tracy's enthusiasm for diverse experiences and tackling new challenges extends outside of Cummins, where she spends her free time cooking and traveling. Her travel bug has taken her to almost all 50 states. She hopes to soon visit the mountains, jungles and seas of Peru. There, she will no doubt make an impact, because even on vacation, Tracy dedicates time to volunteering and outreach. On a recent trip to Jamaica, she organized a community event to provide food and school supplies for the locals.
Professionally, her biggest hope for the HBCU Program is to one day not need an HBCU Program. Instead, her work strives to weave diversity and inclusion even deeper into the Cummins fabric.
"Ultimately, diversity and inclusion, and the work we do in the HBCU Program, should be an unspoken part of who you are and the work we do together," says Tracy. "We've got a way to go, but we're making progress day by day, and that is what I'm most proud of about my work here at Cummins."