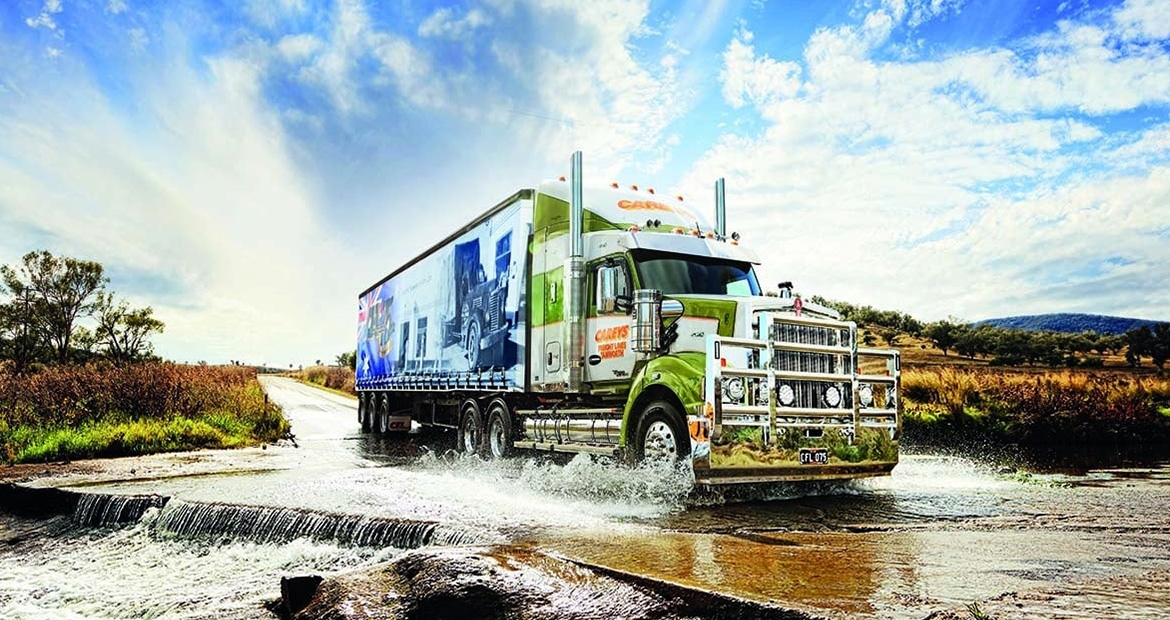 Uncompromising customer service has been one of the key factors behind the success of Carey's Freight Lines for the past 75 years.
Carey's Freight Lines has been based in Tamworth for 75 years, a remarkable achievement in road freight operations which the company has celebrated by proudly specifying heritage liveries to its 2022 model Kenworths and Mercedes-Benz prime movers to reflect the longevity of the service Carey's has provided to the local region.
Harold Carey bought his first truck in 1947 after he returned to Tamworth from the war. Harold carried timber and wheat on a four tonne Ford tabletop, before he progressed to a Chev Maple Leaf prime mover connected to a single axle trailer, a world away from the modern equipment the company utilises today.
Harold's sons John and Michael (Mick) took over after Harold's retirement in the early '80s with Mick looking after the workshop which at one point was a service agency for Mack trucks, and John handling operations. The company is today run by the third generation of Carey's with Mick's son, Darren, as the General Manager and his brother, Todd, following in their father's footsteps in maintenance. John's son Rick, meanwhile, works in operations.
Carey's first Kenworth, a T600, was purchased in 1990. Kenworths with Cummins engines have been the mainstay of the fleet ever since due to reliability and longevity. The current fleet of 74 prime movers remains predominately Kenworth with some Mercedes-Benz and Volvo models added over the past few years. The prime movers are complemented by a number of 14-pallet rigid Tautliners and fridge vans with tailgate loaders which are mostly Isuzu with the odd Fuso as well. Carey's is equipped with 210 trailers.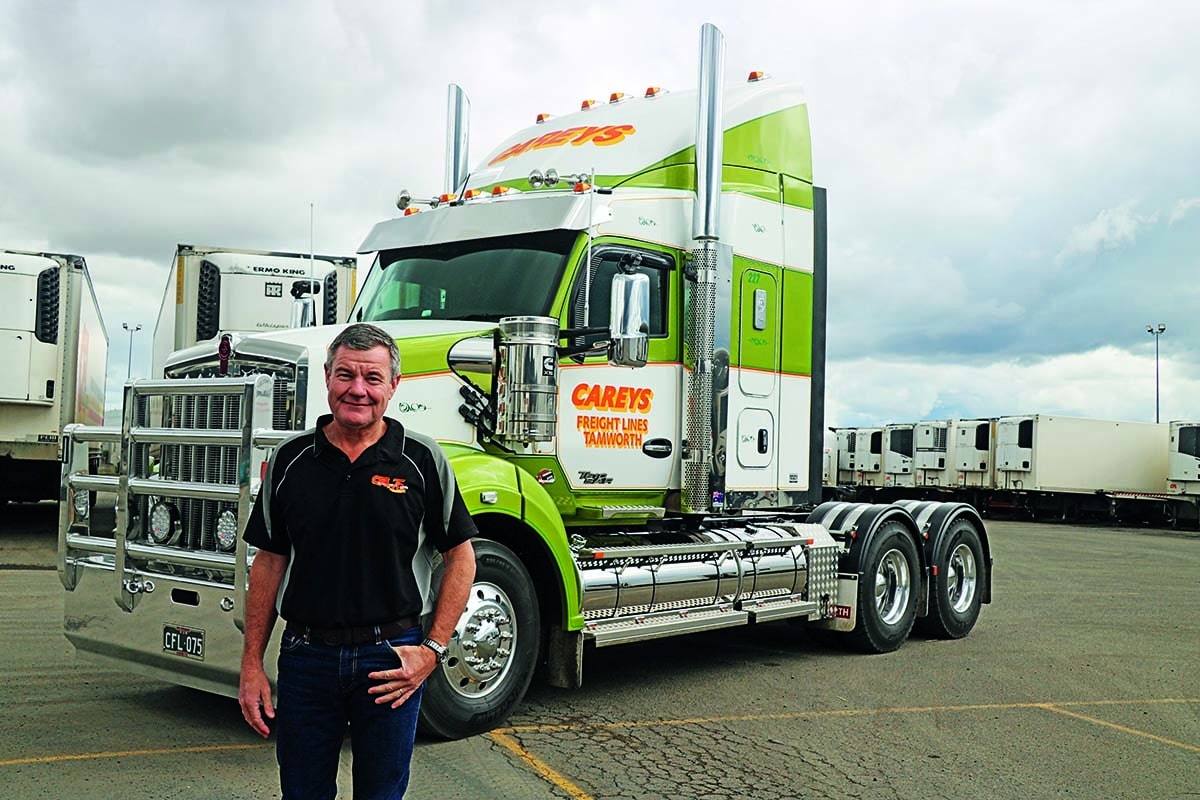 The latest additions are from Vawdrey and Krueger, joining a differing fleet of trailer brands containing the likes of Maxicube, Freighter, Barker and FTE. Many of the Kenworths have been more recently assigned to local work having completed their time on long highway duties. 
"We have a lot of local work involving low kilometre trips from the depot which is performed by 15 to 17 year-old Kenworth trucks with up to 2.5 million kilometres on them," says Darren. 
They can still do the job thanks to the support from our local Cummins people, and Kenworth through the local Brown and Hurley dealership."
"Most of the fleet is cabover because they are so flexible, yet we've always had a couple of bonneted trucks which can do single fridge van work and can also pull B-double skels.
With cabovers we can have plenty of space, so we don't have to worry about squeezing in our 34-pallet fridge vans to fit in with the 26-metre maximum length." 
Carey's recently took delivery of two Kenworth T410s with PACCAR MX engines and transmissions intended for a specific single application. Darren generally prefers automated transmissions but has also recently added three Kenworth T610s with manuals. 
"Two were dealer stock trucks which we needed desperately last year and the other was the SAR which was a bit of a special build," he recalls.
The operations of Carey's are diverse. They include general freight, dry and refrigerated grocery distribution to supermarkets throughout northwest NSW, domestic and export meat from meat processing facilities in Tamworth, as well as building materials and steel. Carey's also is involved in the supply, transport and sale of bricks and tiles for which local deliveries to building sites are made using two drop deck trailers and Manitou all-terrain forklifts. 
"Being diverse and not having all your eggs in one basket has been a successful strategy and is important to us," says Darren.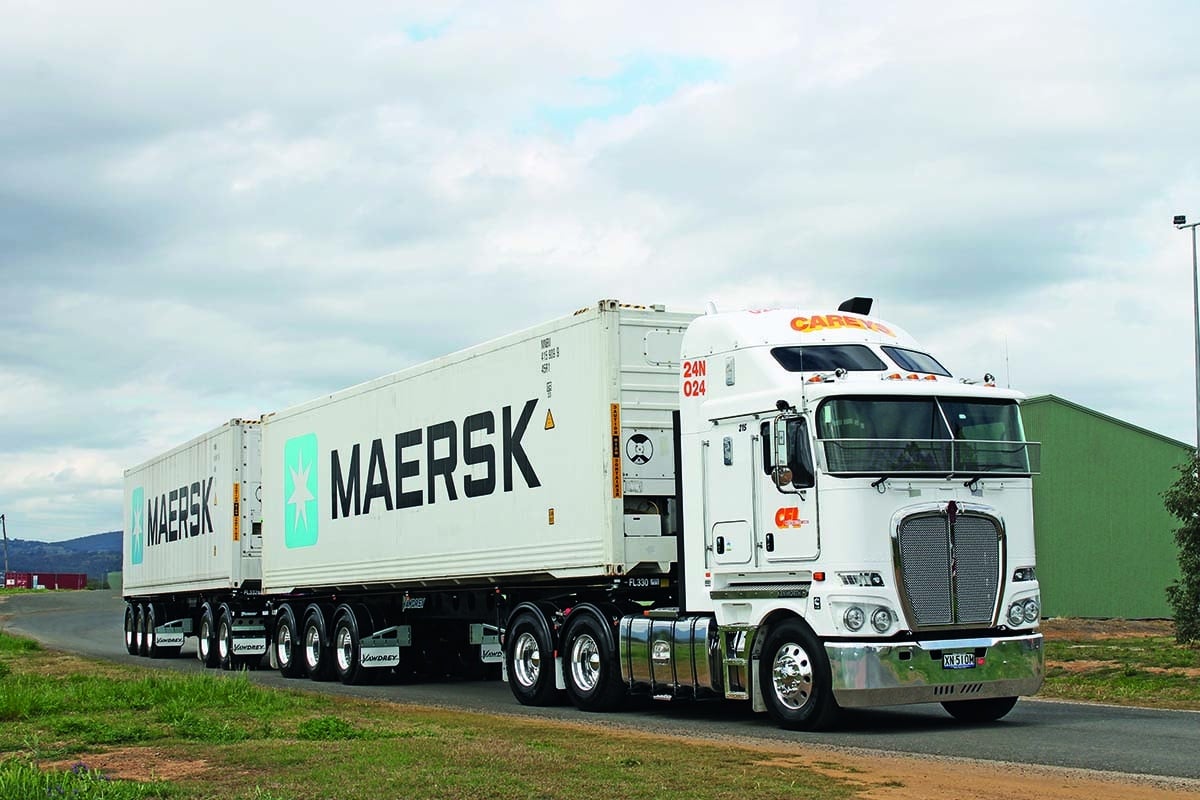 The transport company operates across three sites in Tamworth consisting of the freight distribution centre, a well-equipped maintenance facility, and a container handling yard. Carey's has a depot in Sydney. Meanwhile a new facility opened in Brisbane at the beginning of August this year. 
As far as policy goes, each truck has its own dedicated driver, with the exception being a couple of specific runs where two drivers operate on a change-over system. The container trucks operate on the higher mass limits of 68 tonnes and four Kenworth A-double PBS combinations run between Tamworth and Port Botany, and to Brisbane's Fisherman's Island port facility. Darren says the A-doubles have been a gamechanger.
"We can go straight into the port on our PBS permit which is a big change for us. Now we carry 120 to 130 export containers out of Tamworth each week and every one of those 40-footers was previously a single truck," he explains. "That means we can get two 40 foot refrigerated containers on an A-double, and we are doing that seven days a week."
The scope of operations may be diverse yet there is a clear realisation that doing what you know well is preferable to extreme expansion which can often prove chaotic. 
"We don't do any typical interstate work," says Darren. "We basically concentrate on our operations to Tamworth and the northwest area of NSW out of Brisbane and Sydney. This means our trucks are home regularly for services, and the drivers can have more of a home life." 
Drivers regularly have their seven-hour breaks in their trucks but are always at home for 24- and 48-hour breaks. The general consensus is that this does help to attract and retain drivers. It's by no coincidence that Carey's retains a number of drivers with over 20 years of service, while many more are either ten or 15-years in. The majority of drivers are Tamworth locals, but the nature of the Carey's operations means drivers can be located anywhere between Sydney and Brisbane along the New England Highway. As with most other industries, transport particularly, there is the universal challenge of recruiting new people, especially young people.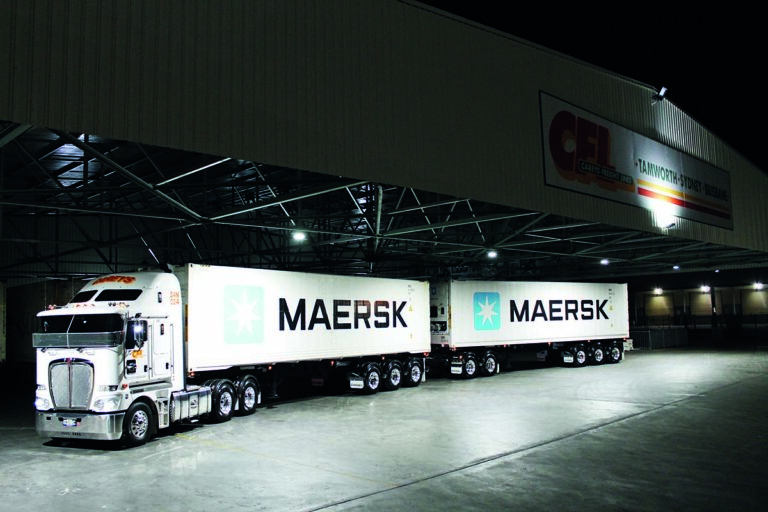 "In Tamworth we are pretty lucky. We've got three abattoirs and a lot of other industry," says Darren. "If you're in Tamworth and you haven't got a job you pretty much don't much want one. We have a lot of local work and this helps getting young guys a start in the industry. We will help them get their forklift licence, then progress to heavy rigid to semi-trailers. They can run around town and then do an occasional longer trip to get some experience and learn from the older drivers."
Vehicle servicing is performed in-house in a fully-equipped six bay drive-through workshop located within walking distance of the main depot. The workshop has a staff of 12 including a welder, a fibre-glasser and a designated trailer washer as well as the mechanics. Truck dealerships including Brown and Hurley and the local Cummins facility are located nearby. 
"We do take a fair bit of work to the local Cummins branch," says Todd Carey, who supervises the fleet's maintenance operations "They do most of our engine work as we don't do a lot of intense engine work here and any rebuilds go to Cummins."
The majority of Carey's late model Cummins engines are rated at 550hp and 2050 ft/lbs of torque. 
"We have extended the oil drains on the Euro V engines out to the 60,000 kilometres as recommended by Cummins," Todd explains. "They do a fine job. The older ones obviously are less but we haven't got many of them left."
Safety of the drivers and other road users is paramount at Carey's. All available safety technologies are explored by the company. Every vehicle in the fleet is GPS tracked, fitted with multiple cameras, Seeing Machines and electronic work diaries, all of which are looked after by Teletrac Navman. These technologies allow the management team to stay on top of where drivers and vehicles are at any time for effective scheduling and fatigue management. The acceptance by drivers of new technologies has been a challenge in the past. 
"It's like all technology. When we first put GPS tracking in some drivers thought we were just spying on them. Forward facing cameras were far easier for them to accept but not the Seeing Machines," recalls Darren. "Nobody wants to be told they're not doing their job correctly, so we invited them all in and explained these aren't a camera intended to watch them. We showed some of them footage of themselves and they hadn't realised how tired they looked. We are definitely getting better acceptance of them now."
After a period of operating the paper-based work diary parallel to electronic work diaries, Carey's are in the early stages of making the switch to electronic work diaries only. There is a genuine and obvious effort to stay abreast of the technological advances for safety which has been recognised by the Tamworth Business Chamber Awards, as well as SafeWork NSW who have nominated Carey's for the workplace health and safety category in its annual awards.  
Darren Carey is proud of the opportunity the business has given not only his family, but so many Tamworth families as well.
"We have many second-generation drivers here. Ageing workforce is a challenge, so it is important to keep the family connection with our long-term staff," he says. "I am proud of our trucks and our staff and the fact so many of them are proud to work here. It makes me happy to see so many of our trucks washed and polished and treated by the drivers as if they are their own."