CEO builds support for strategy to address climate and other challenges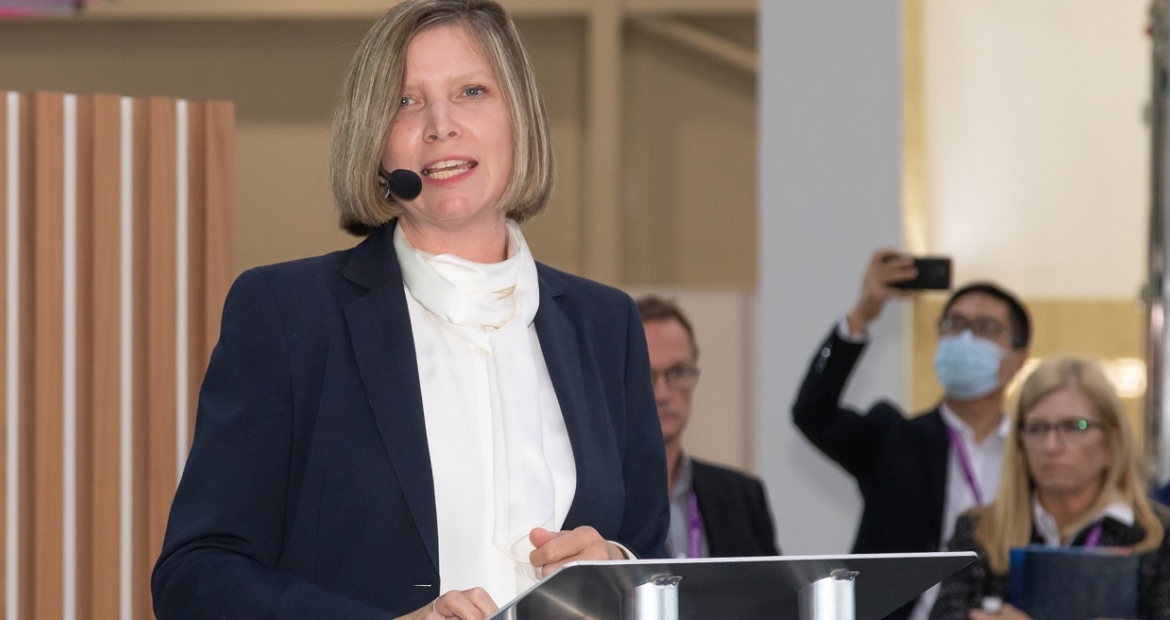 Cummins Inc.'s new Chief Executive Officer urged employees to be advocates for the company's environmental sustainability strategy, maintaining it is integral to the global power leader's business strategy and future success.
Speaking at a recent virtual town hall meeting to some 2,000 Cummins employees, President and Chief Executive Officer Jennifer Rumsey said PLANET 2050, the company's environmental sustainability strategy, is crucial to achieving Cummins' mission of powering a more prosperous world. 
In addition to helping customers, investors, employees and other stakeholders achieve prosperity, a more prosperous world includes "our planet and protecting this planet for future generations," Rumsey said.
"This sustainability plan takes a long-term lens and looks at what Cummins needs to do as a part of our mission, as a part of our responsibility, and how we grow our business at the same time," the Cummins leader added.
STRATEGIES FOR A BETTER WORLD
PLANET 2050, established in 2019, has three focus areas: addressing climate change, using natural resources in the most sustainable way and ensuring communities are better because of Cummins' presence. 
The strategy has nine goals timed to 2030, including goals to reduce water use and waste as well as science-based targets aligned to the Paris Climate Accords to limit global temperature rise to no more than 1.5°C. PLANET 2050 also includes the aspiration to power customer success exclusively with carbon neutral technologies by the year 2050. 
Destination Zero, developed in 2021, is the company's approach to decarbonizing Cummins' products and achieving that aspiration. It calls for advancing no-carbon technologies such as battery-electric and hydrogen fuel cells for customers who are ready, while reducing the carbon produced by Cummins' core platforms such as internal combustion engines. 
The company, for example is bringing to market internal combustion engines fueled by hydrogen, as well as fuel agnostic engines offering the benefits of a common-base architecture that can be optimized for a particular low- or no-carbon fuel.
UMBRELLA COVERAGE
Rumsey, who was named CEO in July, described PLANET 2050 as the umbrella covering not only Destination Zero but a third initiative – Cummins Water Works, the company's global strategic program to strengthen communities through sustainable water and addressing the global water crisis.
Launched in July 2021, the initiative partners with leading water experts to develop and invest in sustainable, large scale, high-impact water projects. Cummins Water Works aims to bring fresh water to 20 million people who would otherwise not have it. The effort already has projects underway in six countries – Brazil, Chile, India, Mexico, South Africa and the United States.
Cummins Water Works aligns particularly well with PLANET 2050 in two ways. First, the program helps offset the water the company uses at its facilities around the world, addressing the PLANET 2050 aspiration to have a net positive impact in every community where Cummins operates, and employees live and work, also by 2050.
In addition, Cummins Water Works tackles a common consequence of climate change – drought and water scarcity.
A HISTORY OF ENGAGEMENT
Fortunately, Cummins has a long history of working to protect and preserve the environment and strengthen communities. Rumsey noted the company's emphasis on building stronger communities goes back to J. Irwin Miller, who played a leadership role at the company from the 1940s to his death in 2004, including more than two decades as Chairman.
Brian Mormino, Executive Director of Technical and Environmental Systems, joined Rumsey at the Sept. 28 event and noted while many companies are establishing their first greenhouse gas reduction goals, Cummins' first goal dates back to 2006.
"Our commitment to the environment goes back many decades and just gets stronger," Mormino said.
The challenging goals and aspirations in PLANET 2050, however, cannot be achieved without strong support and engagement from Cummins employees, Mormino and Rumsey said. They urged employees to join the PLANET 2050 Influencer Program, an effort to create employee advocates for PLANET 2050.
"All of us are part of shaping this," Rumsey said of the company's environmental strategy. "…Our success comes from all of you, your innovative ideas, your creativity, your problem solving. Your commitment to the work you are doing is ultimately what will make us successful."