Breaking barriers with Corporate Responsibility Financial Analysis Manager ZeNai Brooks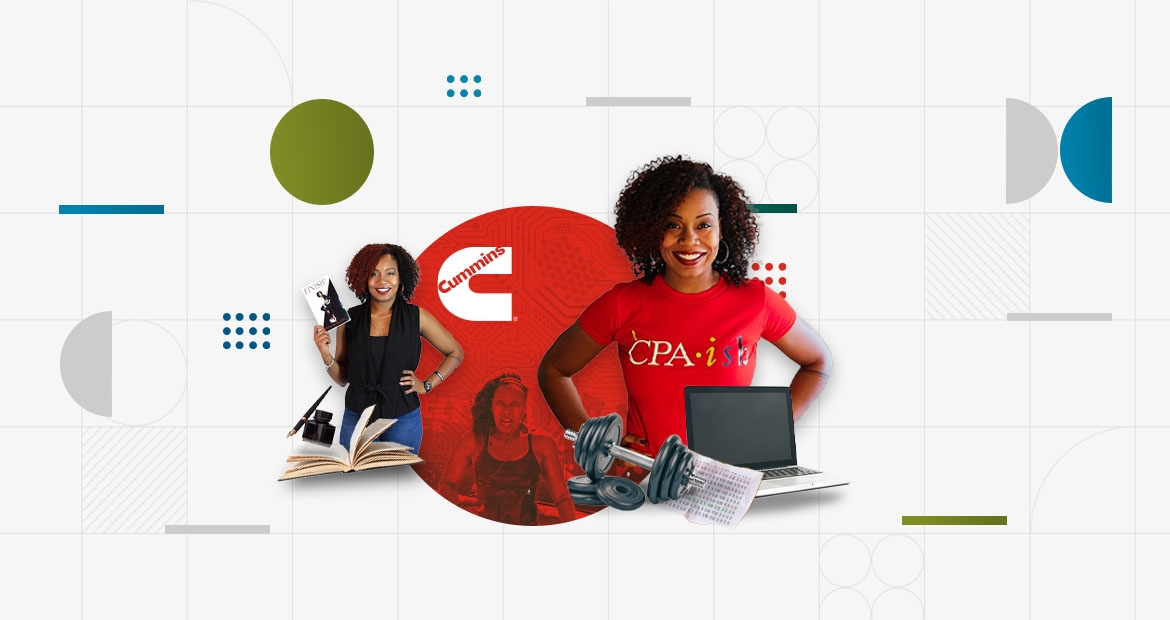 ZeNai Brooks is not your average accountant. Yes, the former Ernst & Young auditor works with numbers and puts together reports. She even calls herself "a little nerdy." But that's where the accountant stereotype ends.
An author, blogger, mentor, pastor's wife, volunteer, crossfitter and spartan racer, Brooks is more than a master of spreadsheets. And in June of 2021, she added one more title to her list of monikers — Cummins Inc. employee.
"Initially, I was like, no, I don't really want to work for a manufacturing company," she says. "But then I fell in love with the corporate responsibility side and the foundation work. I was also attracted to the buzz around the Cummins Advocating for Racial Equity (CARE) and other racial equity initiatives."
As she learned more about working with the Corporate Responsibility team and the Cummins Foundation, her conversations with current employees confirmed that Cummins had a great reputation not only externally, but internally as well.
Today, as the Financial Analysis Manager, Corporate Responsibility, and the Treasurer of the Cummins Foundation, she revels in seeing how Cummins gifts and grants are making a difference around the world.
"It is the most rewarding part of my work and a way for me to connect my accounting job — which isn't always the most exciting — to helping not-for-profit organizations," she says. 
Giving back has always been a passion for Brooks. In addition to being a pastor with her husband, she is a mentor and a board member for the National Association of Black Accountants (NABA), the Indiana CPA Society, Leadership Indianapolis and is involved in several other community organizations.
She's also giving back at work by getting more engaged with CARE and the Cummins Black Network. She's thrilled to be a panel speaker for the Cummins Finance Diversity Group, "Because there's not a lot of diversity in the accounting finance profession, especially here in the U.S.," she says.
Brooks considers it her personal mission to make others feel happy and supported. "Lift as we climb, you know? I try to save the world, but I also understand that's a big ask," she says. "But if I can affect people in my immediate circle and community, I feel like that's impactful."
One way she's making an impact is through motivational messages and leadership advice. She has a blog called Lady Z Speaks and has written a book titled FINISH!, leveraging career, sport, faith and failure that documents her journey to getting her CPA license.
"The focus [of the book] is perseverance, discipline and accomplishing goals," she says. "So while it's about me getting my CPA license, it could be applicable to anyone who might want to start a business, go back to school or need help finishing anything. I'm just trying to share whatever information that I have learned with others."
Through her writing and her mentoring, she encourages people to speak up and take on new assignments or projects.
"Have confidence that you can figure it out," she says. "Don't shy away from it because you don't feel qualified." Taking on new projects is especially important for women and people of color, Brooks says, because "It's important that all perspectives are heard so there's a reduction in bias and barriers."
So far in her role, she has been very impressed with the way Cummins leadership has been intentional about helping to break those biases and barriers.
"They don't just sponsor internal Cummins resource groups, they take an active role and join them," she says. "And they make a concerted effort to reach out to diverse populations through external organizations, like NABA (empowering Black Business Leaders, formerly the National Association of Black Accountants), Ascend (the largest Pan-Asian business professional membership organization in North America) and ALPFA (Association of Latino Professionals for America)."
Like a true accountant, she's quick to point out that the intention comes with metrics.
"I don't know if everybody knows, but part of our quarterly reports to the Board and to Tom [Linebarger, Chairman of the Board of Cummins] includes a diversity slide of how diverse each team is. Tracking these metrics set us apart from other organizations doing the same kind of thing. That, and the sincere intention around the corporate responsibility of making sure that when we're recruiting and hiring, we have a diverse slate."
For Brooks intentionality is what drives her, both personally and professionally. "I feel like the role I'm in now has helped me encompass that, too," she says. "It's not just accounting, there's granting, data, volunteerism — it's many things, so it embodies who I am as a person." All of which come together to add one more title to the multi-hyphenates list of monikers: successful.