Shifting paths and sourcing talent with Lab Operations Leader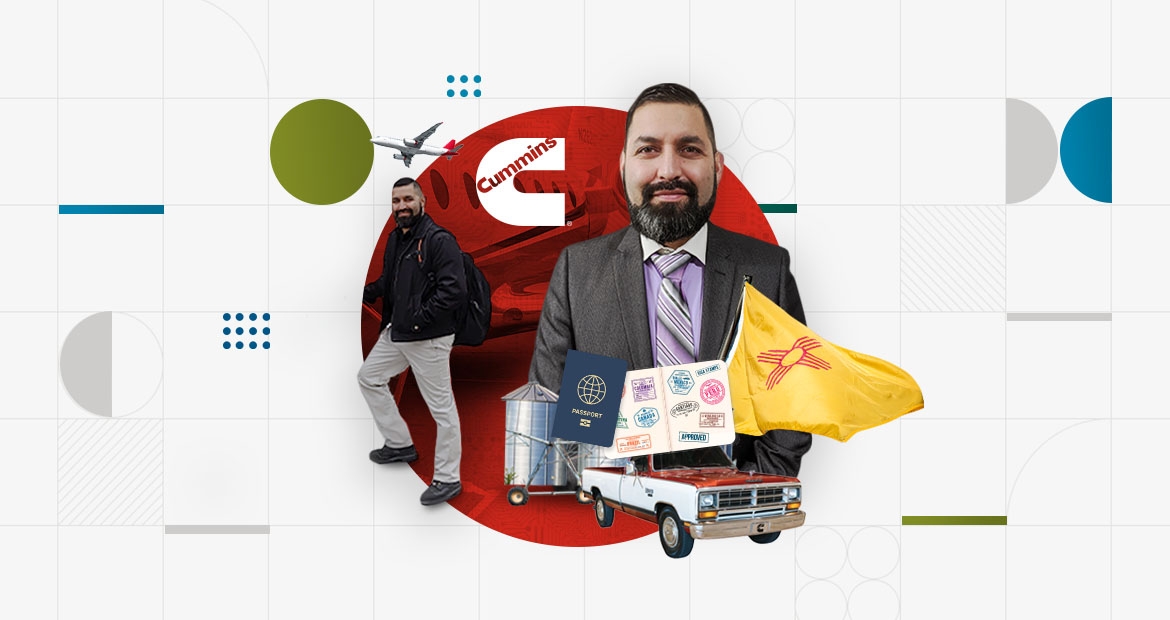 Alonso Navarrete never intended to be an engineer. "I ended up in college kind of by accident," he says. "My prime path was to go to the military. I prepared all through high school for that. I was in the JROTC and was doing training in El Paso, Texas." When the military didn't work out due to familial obligations, Alonso decided to stay close to home and attend New Mexico State University. There he studied engineering, a passion he first developed on his father's farm.
"We often had to fix our own equipment, our own tractor," he says. "I always had the interest to learn more. I caught myself asking, 'How can I make this more accessible? This is kind of a pain to work on. How could this be better?'"
Today, Alonso is grateful his father pushed him to get a degree. "Farming is not easy. My dad insisted farming would not be my future. He told me he'd sell everything before he'd let me do it. I'm the first one of his kids to get a university degree, and my dad has 15 kids."
At Cummins Inc., Alonso has taken his farmer's work ethic and his love of problem-solving to the Engine segment in Columbus, Indiana, where he is the Lab Ops Leader. There, he is responsible for the operation of eight test cells and eight technicians who are focused on the prototype for the next-generation RAM engine. He's also responsible for five build areas and another team of four technicians who work on engine teardowns and builds.
He's protective of his teams, frequently on the floor checking on their needs and minimizing their disturbances and interruptions so they can focus on the task at hand. "I've always had the mentality that teams are the ones who get the work done. It's super important for me to make sure they have what they need," he says.
Those needs sometimes extend beyond work. "It can be anything. Issues with the team, with customers or even personal. I try to guide them. My teams are everything. Although I'm new to this role and this team, I try to build that rapport and make it an extended family. I try to pay attention, I try to listen, I try to ask those tough questions and get to the why," he says.
His compassion and empathy for his engine teams extend into his work as a Cummins talent scout where he also leads two campus recruiting teams. Cummins recruits at various colleges and universities, as well as events like the National Society of Black Engineers (NSBE) and Great Minds in STEM (GMiS) conferences.
"I'm happy to go into these conferences and meet people from literally all over the world and get to hear their story. To me, that's really powerful," he says. But what's even more powerful is when he bumps into one of his recruits in the hallway at Cummins and gets the opportunity to learn even more about them, their journey and their culture. 
Perhaps his endearment for recruiting comes from the folks at Cummins who originally recruited him. He remembers having three offers after the NMSU career fair he attended. Two of them were with oil and gas companies, which would've kept him close to home. "But then there was Cummins," he says. "I think one of the biggest things that stood out to me was just interacting with the recruiting team that was on campus. They were just so willing to help, you know, help kind of tailor your resume, help you with tips and tricks for the career fair and even interviewing tips."
That was huge for Alonso. "I just needed help in general, to be better prepared to get a job, and they were willing to help me out. And now that I work here, I see that everyone has those values. Everyone is willing to help you with anything, any time."
On a larger scale, Alonso recognizes that the work he's doing is not just helping out recruits, his teams and his colleagues. He's helping to make the world a better place by finding a long-term solution for improving engine fuel economy and efficiency. "I want to dig into alternative powertrains, fuel cells, battery-electric, hybrid. I'm excited about what Cummins is doing to diversify their portfolio for a carbon-neutral footprint," he says. "Every one of those engines that are put in a truck is running cleaner, and I played a part in producing that. It takes a long time to get there, but once you see those first trucks on the road. It's a really good feeling."