From campus to Cummins: Follow a Manufacturing Engineer's career journey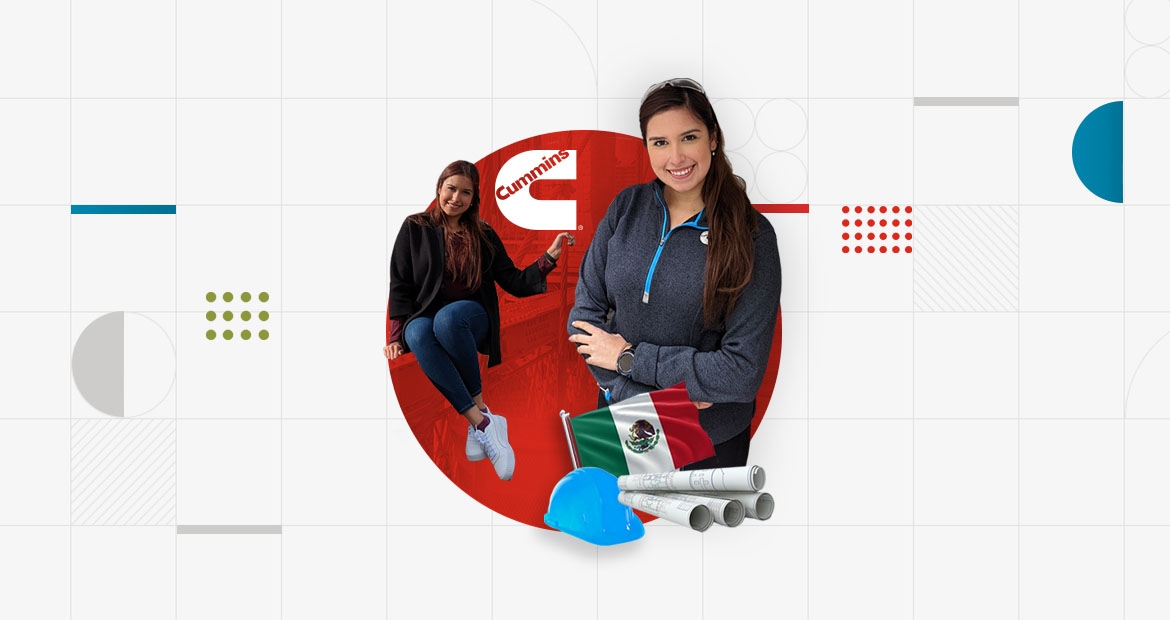 Being part of a community has always been a priority for Zaira Malibran, Electrified Power Business Unit (EPBU) engineer at Cummins Inc. When she left her home in Tamaulipas, Mexico to attend the University of Texas Rio Grande Valley (UT), Malibran wasted no time finding her place on campus.
After settling on a degree in manufacturing engineering (ME), Malibran dug into engineering organizations at school, joining the Society of Women Engineers and Society of Manufacturing Engineers (SME). In her sophomore year, she applied for a scholarship to attend the Great Minds in STEM Conference (GMiS), excited to attend the career fair there and possibly have a mock interview with recruiters.
"I didn't plan on having an actual interview there, especially as a sophomore," said Malibran. "I was just planning to check it out and come back to interview as a junior. But when I heard I got an interview with Cummins, I was so excited. I didn't sleep the night before, staying up until 2:00 or 3:00 a.m. to learn all the Cummins history."
Malibran leaned on a community of seniors at UT to help her prepare for her first interview, and she nailed it. Cummins offered her an internship at their Columbus Engine Plant (CEP) as an industrial engineer for re-manufacturing. After that internship, Malibran realized she wanted to be more hands-on to see products develop from the design stage all the way to launch.
The great thing about Cummins is that they listen to you, what you want to do, what next steps in your career you want. They help you get there."
"I asked for more hands-on, and I got it," Malibran said. Her second Cummins internship the following summer was in Charleston, South Carolina as an ME in turbo technologies. There, she interacted with operations and products to learn how things assemble and work.
With two internships under her belt, Malibran graduated UT and received a full-time offer at CEP as an ME for New Power. She has now been in the New Power business segment for three years and says, "We're all learning as we go. Electrification is a new business at Cummins, so everyone helps each other to learn and understand the process." 
Much like she joined affinity groups in college, Malibran has taken advantage of Cummins Employee Resource Groups (ERG) to find guidance and community. "I'm part of the Women Empowerment and the Latino ERG. I identify a lot with the people in these groups," she says. "I feel that community that supports me, people with the same background as me — though you don't have to be Latin American to be part of that group. Anyone can join that group because they want to learn more about it. I like sharing my experience and then hearing other people's experiences of how they got here. I just really enjoy how Cummins gives this open space for everyone to express themselves."
Through the Women Empowerment ERG, Malibran has gained access to female speakers and mentors who share their journeys of how they got to where they are today. "They do a lot of campaigns about supporting women and encouraging them to do more," said Malibran. "It can be tough as a woman working in a field of men, but Cummins will open those doors for you and make you feel comfortable and welcome."
As the doors continue to open, Malibran hopes to graduate from Electrification ME to a manufacturing leader and design a line from start to finish. "I look forward to being not just in a supporting role, but the lead, having the responsibility on my shoulders and the ability to make the calls," she says. "Feeling confident enough to be like, 'Hey, you know what? We're going to change this whole system, and then we're going to implement this new one.'"
With many supportive communities behind her, a self-advocating voice inside her, and a work environment where Malibran isn't afraid to speak up for what she wants, those goals are within reach.