Cummins uses Environmental Month to educate and empower employees on climate strategy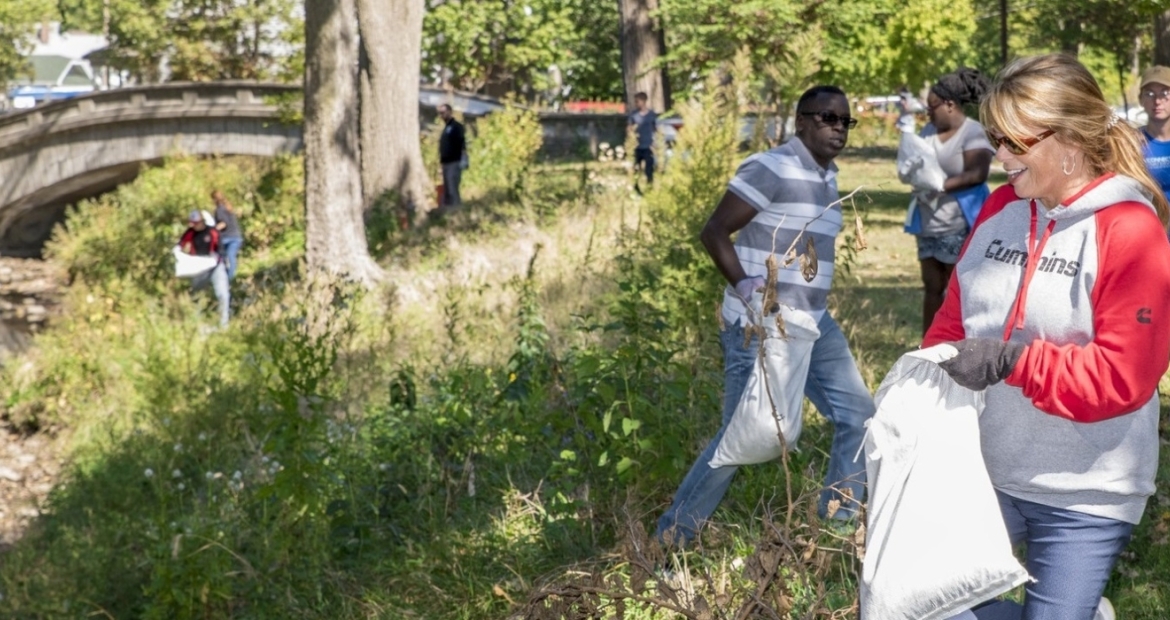 Cummins Inc. this week wrapped up its 9th annual June Environmental Month, a four-week series of seminars, presentations and more to help employees learn about the company's commitment to a healthy planet, and the important role they play in implementing it.
Discussion topics ranged from climate change to environmental justice as well as the state of PLANET 2050, the company's environmental sustainability strategy, and Destination Zero, Cummins' newest initiative to guide its decarbonization journey.
"It is very exciting to see how Cummins has embraced our PLANET 2050 goals and announced important efforts so we can do our part to preserve clean air, available water and a sustainable planet for future generations to enjoy," said Vice President Jim Fier, the company's Chief Technical Officer, in a note to employees introducing this month's activities.
Cummins is committed to taking a leadership role on the world's climate challenges, working with other stakeholders to take action. The company is reducing the carbon produced by its core products, including internal combustion engines, while bringing to market the new technologies that will power the future, including battery-electric platforms and hydrogen fuel cells.
Board member addresses employees
This year's kick-off event was a presentation by Cummins Board Member Dr. Franklin Chang Diaz, a former NASA astronaut and founder, Chairman and CEO of the Ad Astra Rocket Company. Ad Astra is a leading spaceflight technology company dedicated to the development of advanced plasma rocket propulsion.
The former astronaut and Ad Astra have been pioneers in exploring the potential of green hydrogen as a no-carbon fuel to address the world's climate issues.
Chang Diaz shared his perspectives on various technologies and the best course of action to address the environmental challenges the world faces. About 1,300 employees watched the live event or a video recorded of it.
Other presentations included a discussion on "How do we heal the planet?" featuring Dr. Sailesh Rao, founder and Executive Director of Climate Healers, a non-profit dedicated to healing the Earth's climate.
Dr. Rao worked on internet communications infrastructure for 20 years after obtaining his doctorate in Electrical Engineering from Stanford University before dedicating his life's work to environmental concerns.
How strategies align
Environmental Month also served as an excellent opportunity to discuss how Destination Zero aligns to PLANET 2050 and the company's business strategy. Cummins' PLANET 2050 strategy includes nine environmental goals timed to 2030, building on the success of the company's environmental goals announced in 2014 and timed to 2020.
In addition to the new goals, PLANET 2050 includes the aspiration to power customer success with net-zero emissions technology by 2050. Destination Zero is the company's strategy to achieve that aspiration in a way that serves all of the company's stakeholders. Company leaders believe the global drive to reduce carbon is a growth opportunity for Cummins.
Even employees who do not have a role directly tied to the company's products can be part of the PLANET 2050 initiative by volunteering on a community-based environmental project or joining Cummins' PLANET 2050 Influencer program, designed to raise awareness about the company's environmental efforts. More than 250 employees have volunteered for the influencer program, so far.
Brian Mormino, Cummins' Executive Director of Technical Environmental Systems, told employees attending his Environmental Month presentation that PLANET 2050 aligns seamlessly with Destination Zero, which connects with the company's business strategy.
"Together, they provide a path to making a positive impact on the environmental challenges we face that aligns with Cummins' mission to make people's lives better by powering a more prosperous world," Mormino said. "We can't have a prosperous world without clean air, water and land, and every employee has a role to play."