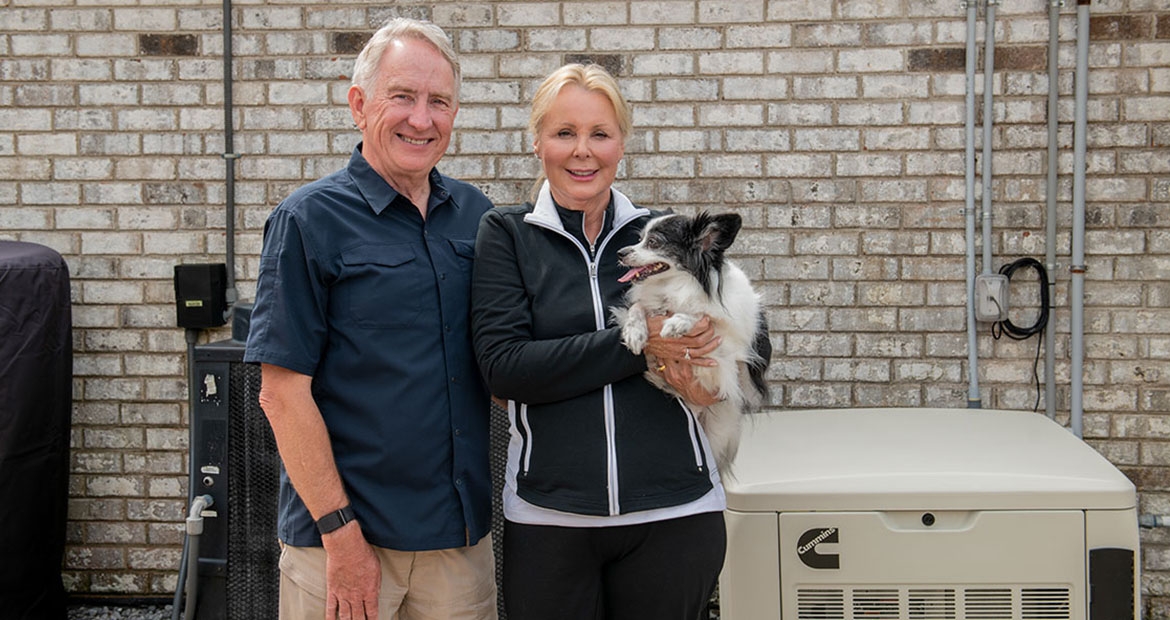 Three months. That's how little time Macy and Sherry Summers had between the installation of their new Cummins QuietConnect™ home standby generator and its first major test: the arrival of Hurricane Sally.
The Category-2 hurricane stalled over the Pensacola, Fla. area for nearly 12 hours in September 2020, bringing 110-mph winds, torrential rain and major power outages. While many of their neighbors worried about their home flooding during the storm, the Summers were secure, knowing their Cummins generator would help pull them through.
"I was very concerned that if too much water got near the house, it could come in," said Macy. "Without power, we couldn't run our pumps, we couldn't take the water away from our pool. That was the big fear for me."
The new Cummins generator came through big time, powering their home and three sump pumps during the storm and running nearly 90 hours with one break for an oil change before power was restored.
Its performance was no surprise for Macy, a former Lockheed Martin engineer. Upon moving permanently into the home in 2019, he used his research acumen to find the best way to power their home through a storm. After 18 months, he decided on a Cummins QuietConnect Home Standby Generator because of the brand reputation, build quality and support.
"The brand was really important to us. We wanted to have a good support system from a large company we knew would be there if we needed it. It turns out that Cummins was the right one for us," said Macy.
"I would certainly recommend Cummins over the brands that most people have heard of. Cummins is a stronger solution for somebody who wants that reliability."
For the installation, the Summers contracted with Emergency Standby Power, their local Cummins dealer in nearby Fort Walton Beach, which also services and maintains the generator for them.
Said Raul Perez who oversees generator installations for Emergency Standby Power, "We try to partner with a product we know is going to be reliable that we're comfortable servicing, that we're comfortable installing and that we're comfortable standing behind. That means a lot. We do like working with Cummins, because when we call and we need support, they're always there."
According to Sherry, the QuietConnect generator lives up to its name. "It's amazing that when we hear it come on, we'll always say, 'Oh, there's the generator. The power must be off.' We just keep going about whatever we're doing," she said. 
After the hurricane, the Summers have complete confidence in their Cummins generator. Sherry says she no longer worries about food spoiling, keeping the house cool and keeping the pool pumps running. 
Macy adds, "If a hurricane comes, my peace of mind really is around these systems we've put in to protect our home. They'll now have constant power, enabled by the generator."
Find the perfect generator for your home by visiting Cummins generator size calculator.
---
To hear the Summers tell their own story, watch the video of them below.
https://www.youtube.com/watch?v=Lv9jxX7PFGU