Hurricane Ida prompts Louisiana homeowner to switch to Cummins home standby generator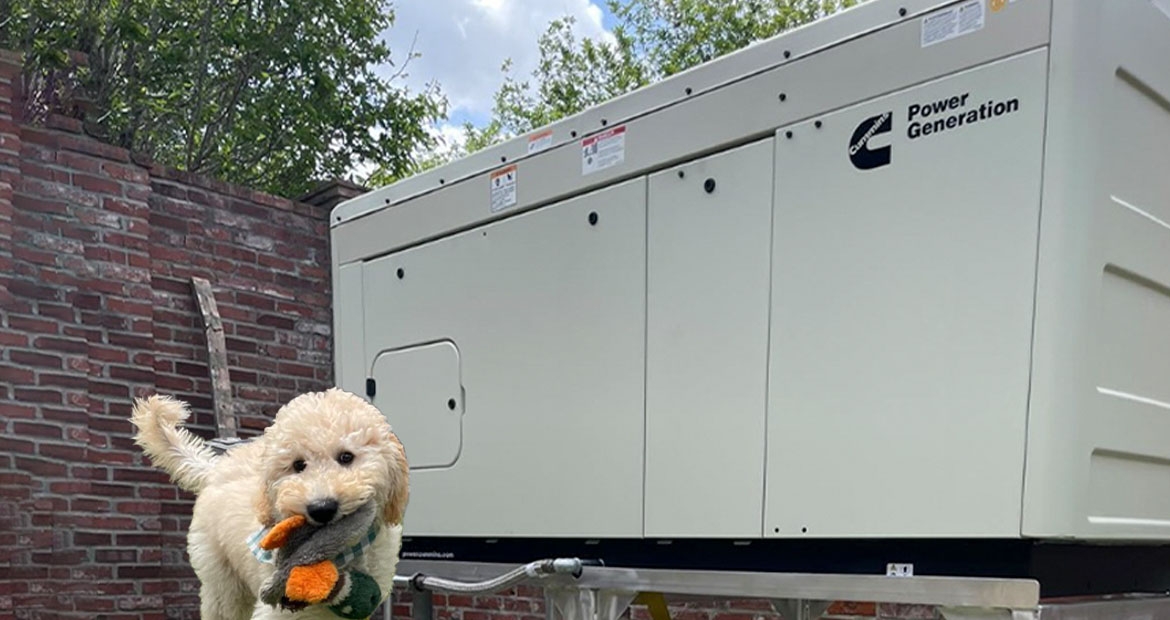 As a third-generation grocer in Thibodaux, Louisiana, a small college town 60 miles southwest of New Orleans, Blake Richard wasn't about to evacuate when Hurricane Ida was headed toward him last year.
"I've never left for a storm," said Richard. "My family owns Rouses Markets, a large grocery chain along the southern Gulf Coast. We're always the last to close for a hurricane and the first to open. It's crazy. People are packed in there from right before the storm hits. And as soon as you can open, they are getting everything they can as well."
This was his journey to choosing a Cummins home standby generator.
Preparing for the Storm
Having bought a new house with a home standby generator of a different brand the month before, the 31-year-old head of Rouses' business development for commercial and marine sales thought he was ready for the second-worst hurricane to ever hit Louisiana. Being a single man in a big house, he invited four families to stay with him during the storm. 
But as he was preparing for the storm's arrival, he learned that his generator was sized incorrectly for his home. 
"I always like to plan ahead, said Richard. "As Ida approached, I contacted a good buddy of mine who works with HVAC and generators. I thought my generator would power the whole house, no problem. And he said, 'Look man, you're gonna have to shut off your pool pumps and one of those AC units. You can only run two.'"
Richard had a 20-kw air-cooled generator but owned a 5,000-square-foot home with three air conditioners, a swimming pool, a small outdoor kitchen, a movie theater room and two freezers, one filled with wild game he had hunted. He did as his friend suggested. He shut off the pool pumps and the upstairs air conditioner. Then he purchased extra motor oil so he could change the generator's oil at regular intervals after the category-four storm.
The Aftermath of Hurricane Ida
"If you looked at the path of the hurricane, it was headed toward my living room. And luckily it made this right turn. Even though we still go badly damaged in Thibodaux, it would have been worse had it continued straight," said Richard. "It was definitely one of the longest storms of my life. I've gone through Katrina, Gustav…all of them. That one was the storm of the century for Thibodeaux."
Fortunately for his neighborhood, all the houses were still standing, although many including Richard's needed new roofs and fences. The power was also out and didn't come back on for 14 days. For the first five days, his home standby generator did its job, but then slowly started to fail despite regular oil changes.
"I could tell my generator was really starting to act up. The pipes on it were glowing red at night and my friends were like, 'Look that's not supposed to happen.' Next thing you know, the battery had died. So, during an oil change, we sacrificed my cousin's wife's car battery to keep it going." 
"On day 10, I got an under-speed warning, and you could tell it was just powering less and less of the house. I called the gas company to come out and look at it and they condemned it."
Getting a Cummins QuietConnect™ Home Standby Generator
Needless to say, Richard was disappointed that the generator that came with his house didn't make it through the whole power outage and set about getting a new one. But this time, he knew exactly what brand he wanted: Cummins.
"I was getting my MBA from Nicholls State University at the time, and one of the companies we were studying was Cummins. I learned about the company's history, how well it builds everything and the warranties it offers." said Richard. "It is absolutely one of the most reliable brands out there. Once I heard they also made home standby generators, I was determined to get one."
After talking with a cousin, he decided to contact C&D Electrical & Generators in nearby Houma, Louisiana because of their customer service. C&D had come to his cousin's house the day before the storm to make sure his generator was ready. Then, the company returned a couple of days after the storm to make sure everything was working properly.
When Richard met with Doug Levron, the owner of C&D, he asked if the company installed Cummins Generators. Levron said his company had just started carrying them. Richard replied, "Good, because that's what I want!"
They decided on a 36 kw Cummins QuietConnect home standby generator so Richard could power his whole house and still have energy to spare. They installed it on a custom-built stand to prevent animals from getting inside and to make it easier to service. They also installed it away from the house for safe ventilation. Of C&D, Richard said, "They were just really good. Very quick to install everything. The guys knew what they were doing."
According to Richard, there are two things that immediately impressed him about his new Cummins generator. The first was how quiet it runs. "Mr. Doug told me, 'Look, man, your pool pump's going to be louder than this Cummins generator.' It's incredible just how quiet it is," said Richard.
The second was how seamlessly it automatically switches over from the utility service to the generator. "It didn't miss a beat when they switched over while simulating a power outage. There were no blinking clocks inside," said Richard. "With other generators, if the power goes out there's often a 10-second delay so you're just kind of sitting there with now power in the dark. That's not the case with the Cummins."
Ready for the 2022 Hurricane Season and Beyond
Richard says he is extremely satisfied with his new generator. It gives him the peace of mind of knowing that he won't have to worry about powering his home while he is helping others.
"With this generator, I'm so happy. I'll be able to focus on taking care of our parish. Being in the grocery industry after a hurricane, it demands your undivided attention. Until power is restored for everybody, you're one of the sole providers of the community's food and water," said Richard.
Learn more about Cummins QuietConnect home standby generators and find an authorized Cummins dealer near you.