Leaders say Cummins 'uniquely positioned' to lead on climate action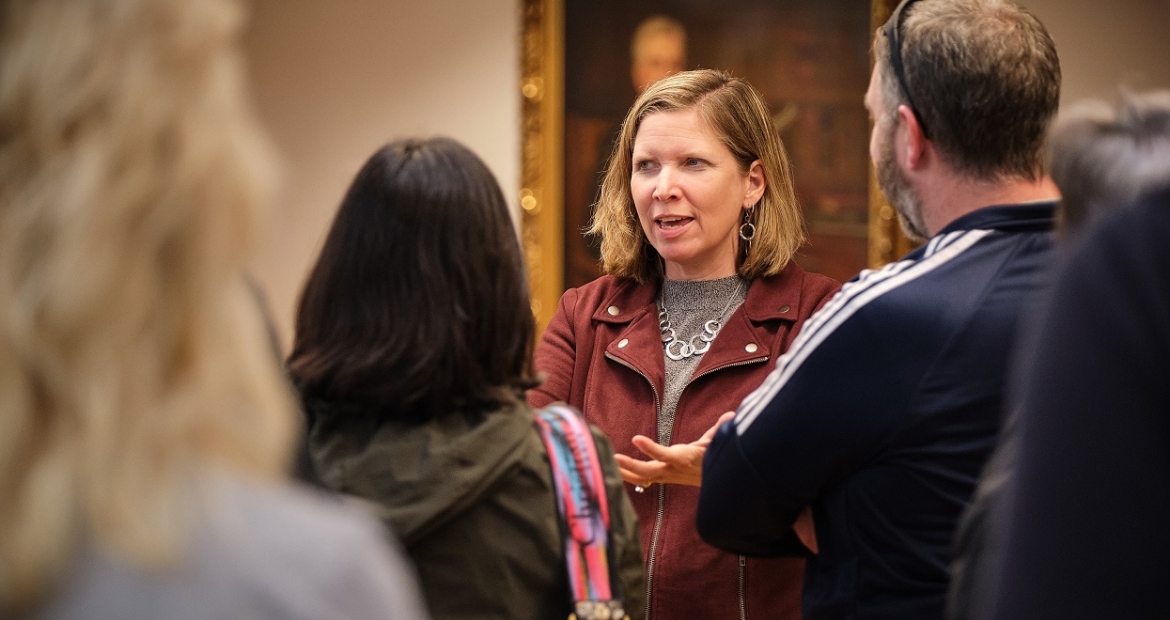 Cummins Inc. leaders used this week's Annual Meeting to tell stakeholders the company is ready to lead in the effort to address the world's climate challenges and other environmental issues.
Cummins is embracing the opportunity to be part of the solution addressing climate change by pursuing reductions in greenhouse gases (GHGs) from both the company's internal combustion engines and new technologies. President and Chief Operating Officer Jennifer Rumsey pointed to Cummins' Destination Zero initiative, the company's strategy to reach net-zero emissions by 2050 in a way that serves all of Cummins' stakeholders and is sustainable for the company.
"Our industry plays a significant role in contributing to climate change – both the problem and the solution," said Rumsey, who addressed Cummins' climate strategy during the May 10 meeting. "We will lead our industry in the path to net-zero emissions because it is critical for our planet and future generations, and because it is a growth opportunity for us."
There are five key capabilities, Rumsey said, that make  Cummins "uniquely positioned" to lead on the transition to a net-zero emission economy and decarbonization:
First, the company is a leader in the key technologies for reaching zero tailpipe emissions in commercial and industrial applications as well as the "transition technologies" that lower carbon emissions from engine-based solutions broadly available today.
Second, after more than 100 years in business, Cummins is a trusted partner in providing power solutions to leading original equipment manufacturers and customers, which "brings us visibility to opportunities and product plans, and economies of scale in production and service," Rumsey said. 
Third, the company knows its customers and applications, "each of which has unique technical, performance and service demands," Rumsey said. "We have thousands of highly-skilled engineers who know how to adapt existing and new technologies into products our customers can actually use and afford."
Fourth, Cummins is building a combination of business segments "that have both the capability to serve the industry and the agility to pivot our product offerings depending on changes in regulations and infrastructure, advancements in technology and end user preference."
Finally, Rumsey said the company has invested significantly to attract and build the best talent and to "create an environment for innovation and long-term success that will increase shareholder value." 
Diversity, equity and inclusion is critical to the company's efforts to develop the kind of work environment that can lead the energy transformation.
"For us to win on the journey to decarbonization, we also need to create an inclusive environment to spur innovation, attract and build the best talent, and develop our next generation of leaders," Rumsey said.
"…Diversity and inclusion is a core value at Cummins, and our leaders believe that diversity creates a strong, more competitive work environment that enables all employees to contribute fully, and ultimately, helps us attract and retain top talent," Rumsey added. "To achieve that goal, we have implemented systems and processes to mitigate potential bias and ensure equitable hiring and advancement of all talent. By making room for everyone to succeed, we will win with the power of difference."
Cummins has set the stage for success not just through Destination Zero but also PLANET 2050, the company's environmental sustainability strategy, which includes science-based targets aligned to the Paris Climate Accords, with the goal of carbon neutrality by 2050.
"Sustainability is core to achieving our mission of making people's lives better by powering a more prosperous world," Rumsey said. "It's what we've always done – we were the first company to embrace more stringent emission standards in the U.S. – and how we will keep operating."