Cummins CEO discusses men's role in achieving gender equality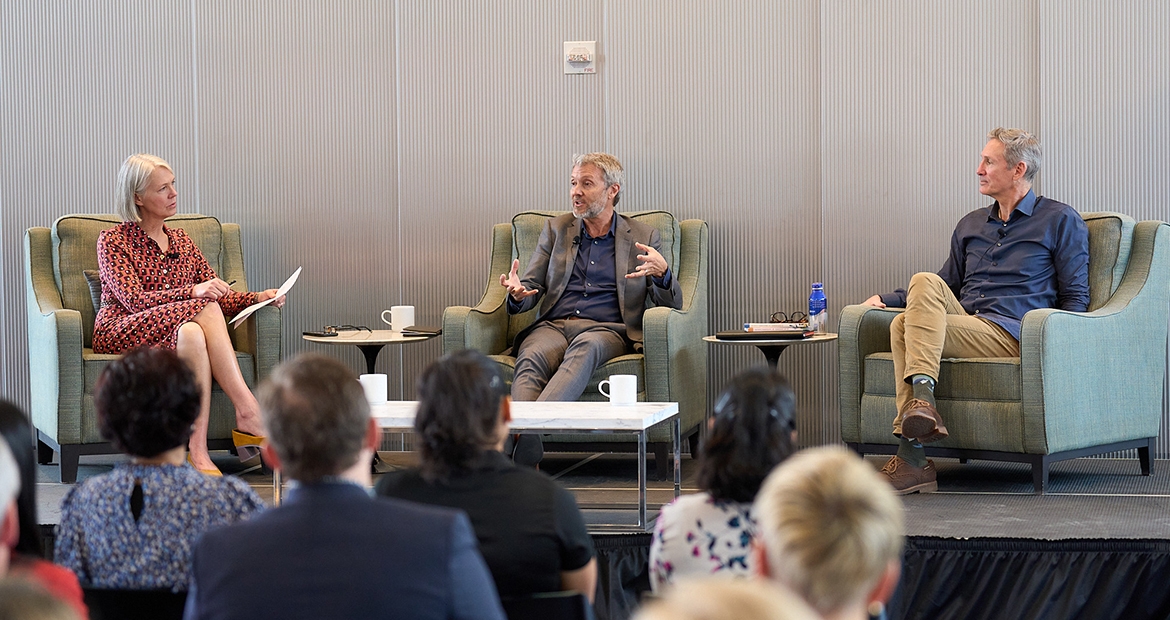 Cummins Powers Women unites leaders and employees around the world in finding solutions to gender inequality in our communities, reinforcing Cummins' commitment to the advancement of women everywhere. Recently, Cummins Powers Women hosted a town hall for employees featuring Mary Chandler, Vice President – Community Relations and Corporate Responsibility, moderating a panel with Tom Linebarger, Cummins Chairman and CEO, and Gary Barker, CEO of Promundo-US. Their conversation highlighted the importance of lifelong learning for boys and men to progress gender equality.
Promundo-US is a global leader in advancing gender equality and preventing violence by engaging men and boys in partnership with women, girls and individuals of all gender identities. Cummins Powers Women partners with the organization in Europe on its Global Boyhood initiative, which involves young boys and their caregivers in after-school programs to address cultural and social norms about masculinity.
Linebarger and Barker shared their personal stories and the significance of gender equality in their lives by chronicling some of their most memorable experiences that have shaped their thinking. Linebarger discussed the urgency of achieving gender equality sooner. 
"Even outside of business, I think we can all agree that gender equity is better for everyone," Linebarger said. "It's time to make significant progress and find a solution for all of us to experience gender equity." 
Their conversation focused on false views of masculinity, societal violence that plagues men and women, non-gender binary company policies for caregiving, and creating healthier forms of masculinity. "All men play a critical role in serving as allies and helping to find the solution for gender equity," said Barker. "We, as men, live better when we become part of the solution."  
Top 5 takeaways: 
Gender equity benefits everyone. 
Men have a place as allies working alongside women to achieve gender equity.
Companies with non-gender binary policies have better retention. 
Managers should provide a safe space and open conversation for employees who need to take parental leave or provide caregiving.  
Everyone plays an equal role in breaking the cycle of gender-based inequities and helping to find a solution for gender equity. 
Cummins Powers women seeks scaled solutions wherever possible by partnering with a network of global nonprofit organizations that have existing, outcome-based programs focused on areas where significant barriers exist to the advancement of girls and women. While this discussion highlighted the importance of lifelong learning for boys and men, the program also focuses on educational attainment, law and policy changes, economic empowerment and personal safety. 
Watch the full event below!