For Jessica, Cummins has always been synonymous with community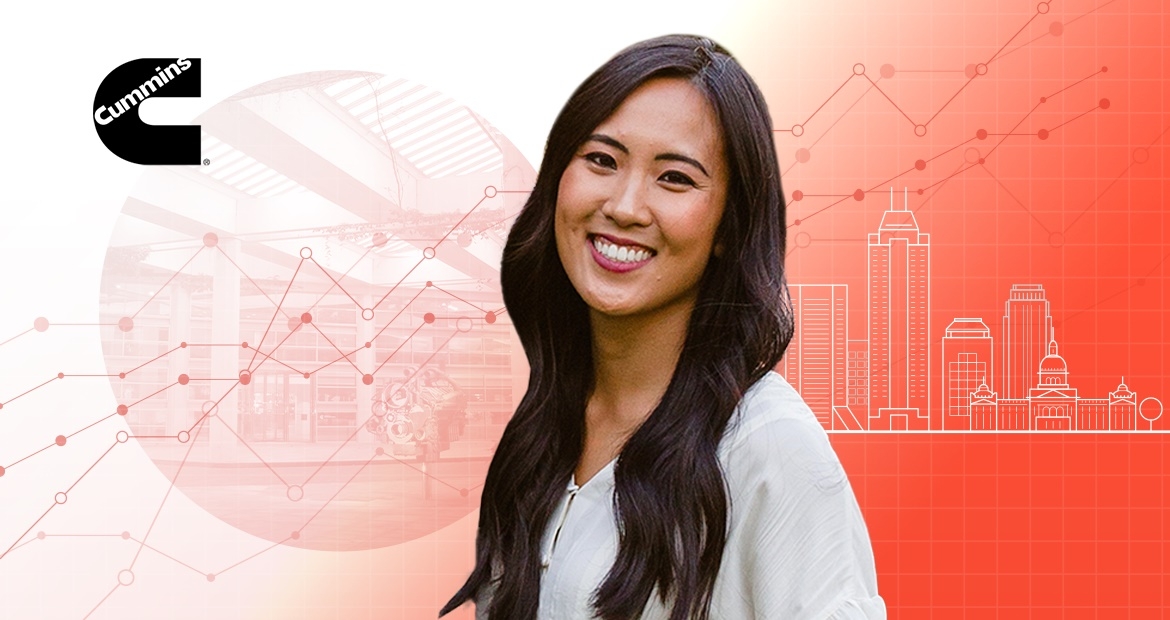 Cummins Inc. has been part of Jessica Hopkins' life for as long as she can remember. "I was born and raised in Columbus, Indiana, and I had family members who worked there, so I've always known about Cummins. Cummins has its international headquarters here, but I never thought I would end up working there."
When asked why, Jessica reveals, "I never had technical interests or a technical background, so I never saw myself working for an engine manufacturing company. But that gradually changed over time. The older that I got, the more I realized how many ways Cummins touches our lives every day."
When you see all the different things that our engines can do and see what our solutions do for people – to me, that is special."
For college, Jessica stayed in-state and attended the Indiana University in Bloomington. Then, when the opportunity presented itself, Jessica accepted an internship offer from her "hometown company" and started here as a Program Management Intern in 2015.
Liking her internship and all she experienced getting to know Cummins up-close and personal, Jessica began her full-time career shortly after as a Project Coordinator. Two years later, she was promoted to Project Manager – the position she holds today. 
Jessica manages projects for a team that is helping to create analytic solutions for any product quality issues. "A lot of my job entails creating project schedules and understanding what we need to get done in this next week while also understanding how our solutions are going to impact our internal customers and how, in turn, that will impact our external customers, as well." When asked more about her team, Jessica lights up and smiles. 
There's the joke people say that project management is a lot like herding cats. But for me, I don't feel like cats do my team justice. I truly feel like they're tigers. Each and every one of them is a rock star."
And a diverse group of tigers and rock stars they are. "My team is made up of people from many different backgrounds and ethnicities, which is great. They all bring such unique things to the table, and I really enjoy getting to know and work with people from all different walks of life and learning about their cultures."
Jessica says she also enjoys exploring things a little closer to home, as well. "What I really like about Cummins is all the opportunities it offers. And not just from a career standpoint."
I'm also able to learn more about different community partners. I'm able to get involved with different local events and young professional groups within the Indianapolis area." 
One such group Jessica enjoys contributing to is the Cummins Downtown Indianapolis Resource Group. "I'm involved in helping create a monthly newsletter for employees, so they are aware of things that are going on in our community and ways to mingle and network, whether it's with professionals within the Cummins community or outside of Cummins."
Jessica previously served as a liaison to Westminster Neighborhood Services, one of our community partners. "I was able to put my project management skills to work for them, supporting their needs, whether it was helping with the grant process, writing funds for an upcoming project or recruiting volunteers." She now leads the Equality of Opportunity sub-committee which is a part of the Cummins Indianapolis Community Involvement Team. 
As for what the future holds for Jessica, she says she doesn't know, and that's a good thing. "I never saw myself in analytics before, but I love what I do. Maybe moving forward, I can try something else. Cummins is very good at letting you explore your interests and supporting moves to other areas of the business or even other locations around the world."
But for right now, Jessica is happy right here at home.