One on One with Ian Norton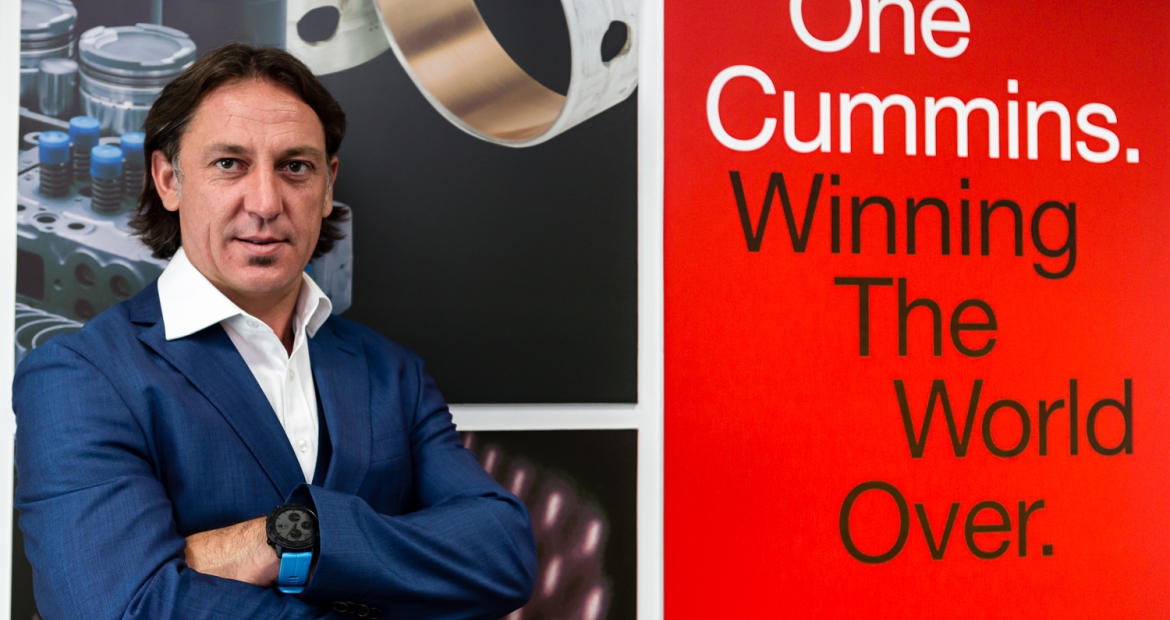 Today, Ian Norton is the Cummins Arabia Director of Aftermarket and Engine Business, working from the United Arab Emirates, but his Cummins Inc. journey began over 20 years ago in Durban, South Africa, as a Field Service Engineer. 
We sat down with Norton to find out why he continues his career at Cummins, and his advice for anyone seeking a career at the company.
Cummins: 
Today working 20 years at one company is not very common. Why Cummins?
Norton: 
I can answer that directly with one word, values. Cummins is a company that lives its values, not just writes them in a document for people to learn about during new hire orientation. I have a background in service, operations, engineering and manufacturing, which made Cummins a perfect fit for my skill set. My skills are applicable in marine, power generation, mining defense, construction, and all automotive markets. The global presence of Cummins has afforded me the opportunity to work in South Africa, New Zealand, the U.K., and now the UAE for the last 14 years. The company is great.
A little about me; I grew up on a farm where we had a fair bit of machinery and a workshop. I loved riding and racing motor bikes and I was always interested in big machines and how they work, so that certainly shaped me, and guided me in the direction of getting in an engineering field where we work on and look after machines.
Cummins:
Thinking of your current role, is there anything about it that has a 'cool factor' or makes you feel good about what you do? 
Norton:
For me it is about being able to see the machines we sell or service working in operation, seeing them physically at work and what they can do, whether its offshore supply vessels, mining equipment, locomotives or even large power stations working at full power. I confess I am somewhat of a 'petrol head' so to see the power, hear the noise and the size of them - I do enjoy that and think it's pretty cool.
Cummins:
It's clear you like to be hands on, so what does a typical day on the job look like, especially during this pandemic. 
Norton: 
I look after a number of functions, namely Service, Aftermarket Sales, Engine Sales, Supply Chain and Quality. I also look after a high horsepower engine remanufacturing facility. No day is really typical, it's more about prioritizing my time between customers and my team; the various leaders of each function and ensuring they get the support and guidance from me in order to be successful in each of their roles. It's often them asking for help on a decision or us planning the coming weeks and months of work. As my role has a lot of operational responsibilities I very seldom work from home, maybe two days a month, I far prefer being involved in the action and seeing my colleagues as often as is safe and responsible.
Cummins:
Your day to day sounds interesting, although no days are the same, can you elaborate more on some of the tasks you do on a regular basis and what makes that work meaningful? 
Norton:
I really enjoy the sense of accomplishment my team feels in fulfilling their roles. I am responsible for a large diverse team of talented employees. The challenges they need to overcome each day in order to serve our customers varies greatly. Years ago, I would find it was often myself trying to come up with solutions to these problems and passing that down to my reports. That gradually transitioned to explaining to them the logic and the basis of how I came to those decisions more so than providing the answer. The satisfying part now is to see them grow in their roles, take ownership, and succeed in what they are doing, coming up with and executing upon their ideas themselves. It is not lost on me at all that my success is completely dependent on the talent, motivation, and sense of a common goals of the people who work for us.
Cummins:
What does the future of your career look like? What are you excited about? 
Norton:
When I started out in Cummins many years ago, we were known more as an engine engineering company which really did appeal to me as my bias lay mostly there at that time. Probably around 10 years ago we were more known being an engineering technology company, but still very industrial focused and not many outside of our industry knew a lot about what we did or had a very tangible connection to our company or my job. In more recent years with the energy transition gaining more traction and getting a lot of attention in the media, there is a lot more awareness in these new power technologies such as hydrogen power, fuel cells, hybrids etc., and I'm pleased about the way that so many more people see the relevance of what we are doing at Cummins in powering a more sustainable future.
Cummins:
For other people considering a career at Cummins, what would you tell them? 
Norton:
Cummins is over a century old and has a very well-established global footprint. Having the opportunity to interact with such a diverse global work force and potentially visit or live in such a variety of countries is an exciting prospect; more importantly working for Cummins you really feel how seriously the company considers its employees' wellbeing at work and at home, the impact we have on our customers businesses, our role in our communities and our responsibility to our environment and a more sustainable future. I think most people could identify strongly with any of those attributes and see the appeal.