Should you choose a whole-home standby or portable generator?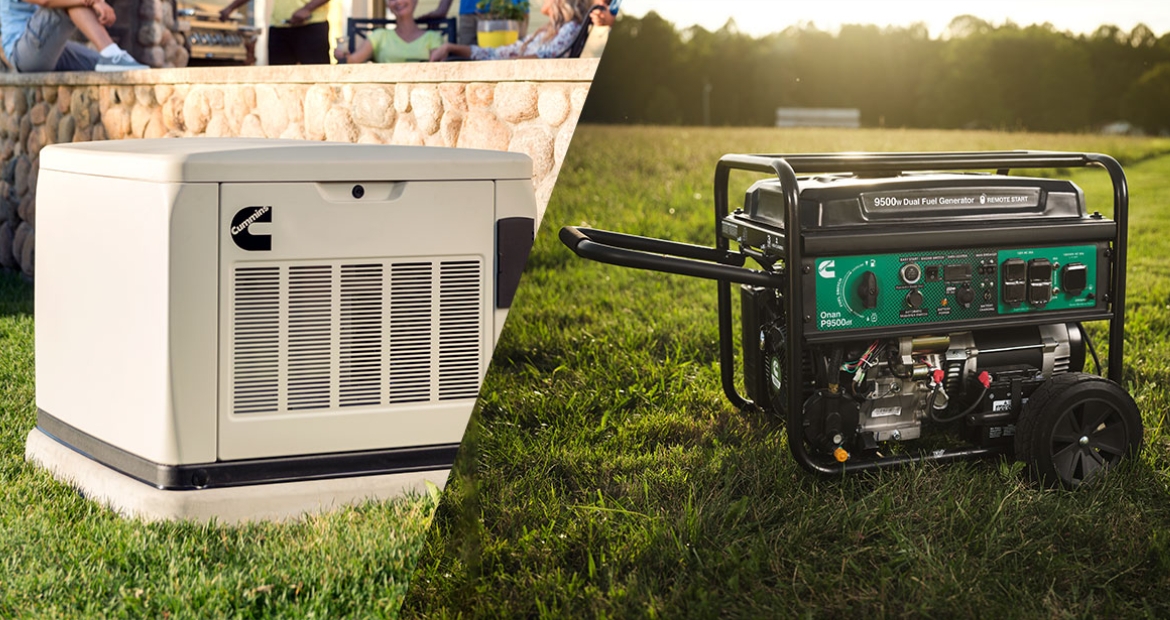 With the increased frequency of severe weather events, you may find yourself considering a home backup generator. What type is best for protecting your family during weather-related outages? The answer: It depends. 
Cummins whole-home standby generators and portable generators have different advantages. To help you decide which one is right for you, here are four things to consider:
Power everything or just a few essentials?
If you want to power your whole home and carry on as if nothing has happened outside, then a Cummins QuietConnect™ standby generator is the way to go. This permanently installed generator will be strong enough to run all or nearly all the devices in your home. With a portable generator, you will have to size the generator set to power only certain essential devices. 
What's your budget?
Standby generators are more powerful, longer lasting and less work to use, but they are also more expensive. Portables are more affordable because they are less powerful and more labor-intensive to use.
Permanent installation or portability?
One of the advantages of portables is that you can use them for more than just powering essentials in your home. You can take them with you on camping trips, tailgates or to power tools on worksites. Standby generators are permanently installed at your home.
How much work do you want to do?
With a standby generator, you often don't have to lift a finger. An automatic transfer switch is part of the installation. In a power outage, the switch will automatically detect the power outage, disconnects your home from the utility line and connects it to the generator. Once electric service has been restored, it will reverse the process. 
With a portable generator, you have to get it out of storage, wheel it a safe distance from the house, fill it with fuel, start it and then run a power cord from it to the house…often in bad weather. If your outage lasts a long time, you will have to periodically refuel it. Then, after the outage, you have to disconnect it from your appliances, drain the fuel and wheel it back to storage.
This chart can help you determine if an installed whole house generator or a portable generator is best for you.
|   | Cummins Standby Generator | Cummins Portable Generator |
| --- | --- | --- |
| Applications | Backup power to keep your home running when utility power goes out | Emergency home power, camping, tailgating, outdoor events and more |
| Fuel | Fueled by your home's natural gas or liquid propane line. No refueling required | Run on gasoline or liquid propane, depending on model |
| Maintenance | Automatic maintenance and remote system monitoring | Regular maintenance intervals recommended for readiness and long life |
| Start-up | Switches on automatically when utility company power goes out | Must be connected and switched on manually |
Finding it hard to choose? There are other differences to consider before purchasing a home standby or portable generator. Your friendly Cummins dealer will be happy to walk through all of them with you. 
To get connected with a Cummins authorized dealer, visit our find a dealer page. You may also want to use our generator sizing calculator to get a rough estimate of how much power you need.