From the Indy 500 to the Fortune 500, Tate's career has taken interesting turns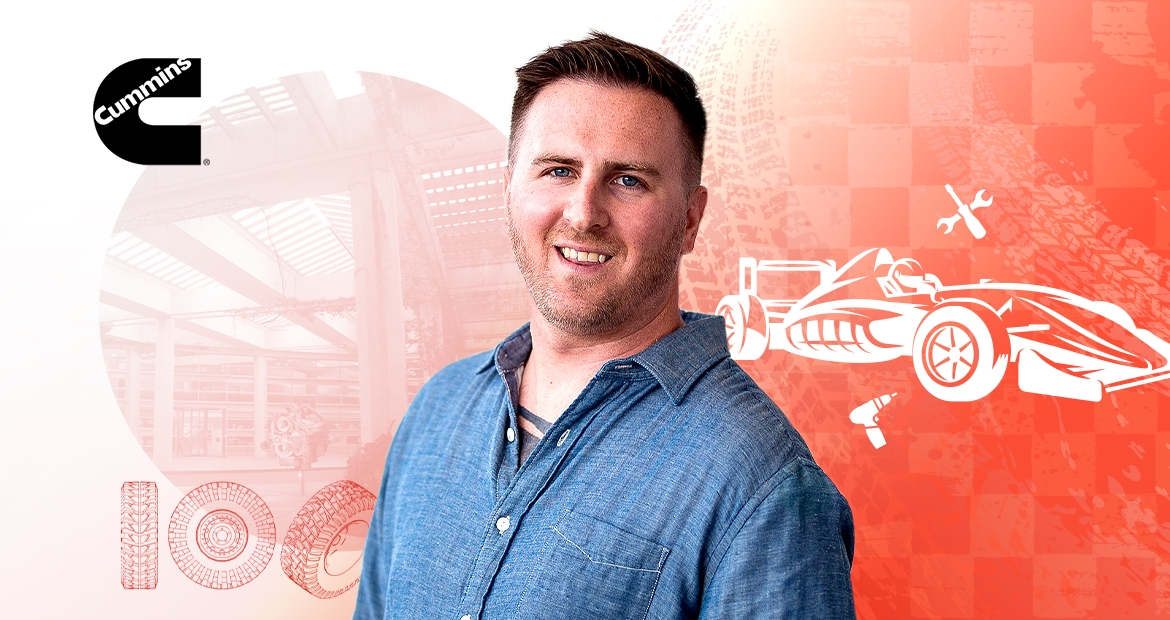 It's not uncommon for a young kid growing up in Southern Indiana to dream about working as a mechanic for an Indy 500 race car team. What is uncommon, however, is actually achieving it. Cummins Intake & Exhaust Component Specialist, Tate Wagers was fortunate enough to be one of those kids.
As Tate tells it, he went from high school to the military, straight from the military to college, and then straight from college to Cummins. "But in college, I had a few interesting jobs." The most interesting of which, it turns out, was working as a Mechanic and Front-End Mechanic for two Indy Race Car teams.
"I was studying Mechanical Engineering at IUPUI (Indiana University–Purdue University Indianapolis) where a lot of the teams are based. So, I got to know some people and they knew I had experience working as a diesel mechanic in Coast Guard before college, so I kind of just fell into it."
Tate lived the dream for a couple of years, but when he earned his degree, decided it was time to move on. 
Working on Indy cars is a lot of guys' dream. And I got to do it. But then, I realized, yeah, this is great, and this is fun, but I need something maybe a little bit more stable. And for me, that was Cummins.
A great choice Tate, because when it comes to stability Cummins has few, if any, equals. We've been in business creating power solutions for over 100 years. We have over 58,000 global employees and customers in over 190 countries. And we're currently number 121 on the Fortune 500 and number 24 on Newsweek's list of America's Most Responsible Companies. 
Granted, Tate didn't know all this growing up, but he did know about Cummins as far back as he can remember. "I was born and raised in Southern Indiana, so I remember always hearing the name, and seeing their vehicles around. And though I maybe didn't know exactly what they did, I always associated Cummins with one word – durability." 
Now here it is years later, and Tate has gone from having a notion of what we do to become an expert – an exhaust system and intake system expert to be exact. "In my role, I own a list of work and tasks, that engineers around the globe have to do in order to make an engine component, to design it correctly, analyze it, and test it."
So, I'm kind of like a guidance counselor. I have engineers around the globe. And I'm guiding them and advising them on how to do analysis, design, and validation correctly.
When asked what he likes most about his job, Tate is quick to cite the people and global aspects. "Cummins is such a large and diverse organization that over my ten-year period here, I've gotten to meet and interact with so many different people. I have a team in China. I have a team in India. I have a team in the UK. I have a team in Brazil. So, I'm constantly interacting on the phone and zooming with different people, getting to know them and learning about their different cultures as well. Before Covid, I got to spend a month in China and bring my wife. All that just makes my job really interesting and is what I enjoy most."
As for where he sees his career going next, Tate isn't sure, and he says that's just fine by him. "As long as I'm constantly learning and improving, that's what I want. "Cummins is very good at letting you pursue the areas that you want to pursue. So, if you have passion in a certain area, they'll figure out a way to get you there."
 
Interested in a career with Cummins? Check out our careers section.