Cummins has big plans to let the sunshine in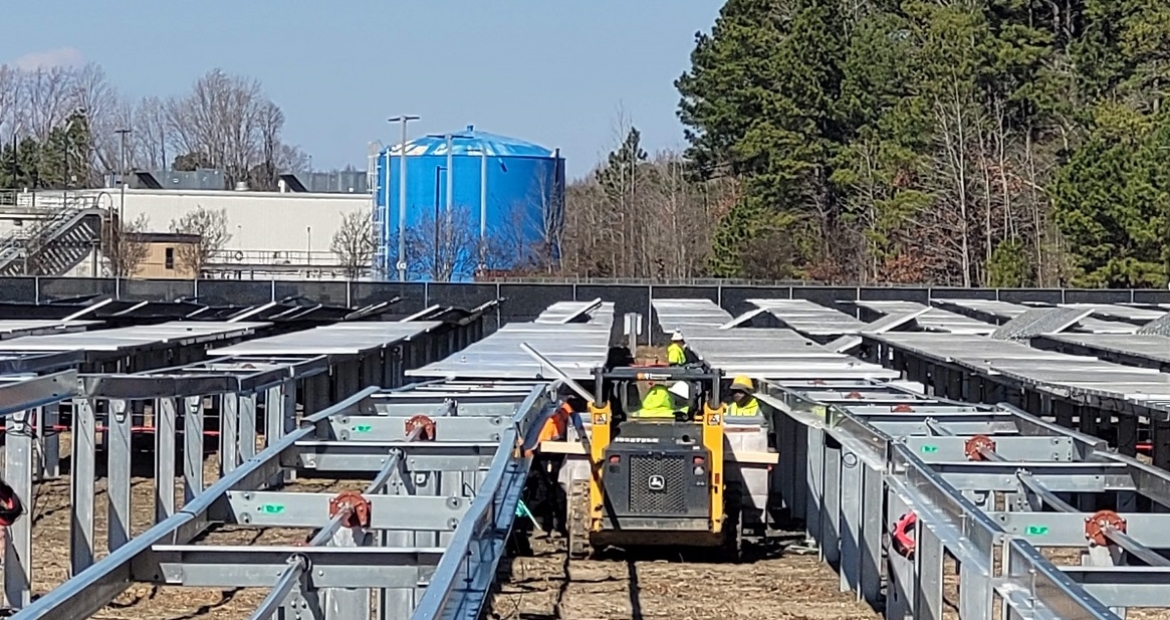 After a record year for solar projects at Cummins Inc. in 2021, this year promises to be almost as busy as the company continues adding renewable, low-carbon solar power to its energy mix for plants and facilities.
The company worked on 20 solar projects in 2021, ranging from a relatively modest 36-kilowatt peak (kWp) array that was phase 2 of a project at the Cummins Generator Technologies facility in Ahmednagar, India, to a 1,472 kWp installation atop the new U.K. Logistics Center in Daventry, United Kingdom, to a 3,600 kWp array at the Rocky Mount Engine Plant in Rocky Mount, North Carolina. 
When completed this year, the Rocky Mount solar array will be the second largest at Cummins, behind only the combined power of the 3,600 and 3,300 kWp installations atop two buildings that make up the Beijing Foton Cummins Engine Company plant in Beijing, China.
Cummins currently has plans for another 18 solar projects in 2022, with a special emphasis on China and the United States as the company's efforts move forward.
"Solar is going to play a major role in meeting our PLANET 2050 environmental goals," said Mark Dhennin, Director of Energy and Environment for Cummins' Facilities and Operations. "There have been significant technical improvements and price reductions that make it increasingly attractive as a low-carbon energy source."
PLANET 2050 is the company's sustainability strategy for addressing climate change and other environmental challenges. It has nine goals timed to 2030, including reducing greenhouse gas (GHG) emissions from facilities and operations by 50%. The strategy also includes the aspiration to exclusively power customer success using net-zero emission technologies by 2050.
CUMMINS' STRATEGY FOR RENEWABLES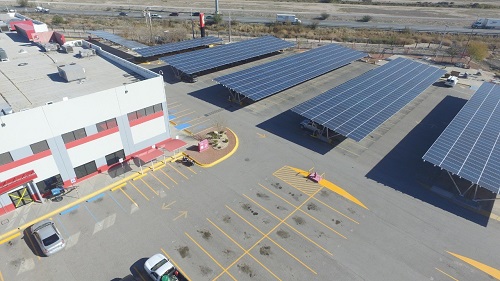 Solar alone won't get the company to its 50% reduction goal, but solar can play an important role in a multi-faceted approach that includes other forms of renewables, energy conservation, process modifications and an expected greening of the grid. Dhennin says the company's initial target is for on-site solar to provide about 10% of the company's global electricity needs.
On-site solar is especially good for buildings like warehouses, with relatively modest power needs compared to manufacturing plants and large roofs or adjacent spaces like parking lots where panels can be placed. It also helps to be in a location receiving a lot of sun, although Liam Roe, Facilities Project Manager for Cummins covering the United Kingdom, Europe, the Middle East and Africa, points out that the technology has improved tremendously in recent years. 
He says Britain is far from the sunniest place on earth, but the array atop the U.K. Logistics Center (UKLC) is expected to provide most of the facility's electricity for long stretches of the year, working with a near zero emission natural gas generator. The array is projected to pay for itself in five to six years and is one reason UKLC received an Outstanding rating under BREEAM UK's Code for a Sustainable Built Environment for non-domestic buildings.
Cummins has also worked to expand the availability of renewable power by supporting the expansion of a wind farm in a particularly windy corner of the company's home state of Indiana through a virtual power purchase agreement. While none of the power generated by the expansion of the Meadow Lake Wind Farm in 2019 goes directly to Cummins, the company's share of the expansion roughly offsets all of the electricity the company uses from the grid across the state.
SOLAR'S OTHER BENEFITS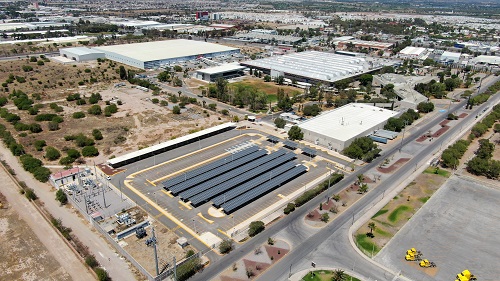 The company does have a number of sites that receive significant amounts of sun annually. India, for example, has been a point of emphasis for Cummins' solar efforts with 20 installations since 2018 that together have a maximum potential output of 11 MWp. The largest project in the country was a 1,250 kWp array during phase 2 of a solar initiative at the Kothrud Engine Plant in Pune, India. The total solar capacity at the plant is now 2,800 kWp, the largest installation in India.
Solar power is an important source of low-carbon energy in the country, especially in light of estimates that up to 70% of the electricity from the grid in India comes from coal-fired power plants. It's also, however, an increasingly important source of power as demands on the grid mount, said Pravin Ghodke, Energy Project Manager for Facilities and Operations in India.
Ghodke says he believes Cummins' experience with all the benefits of solar in India as well as the South Pacific and Africa will help as the company expands its investment in China, the United States and elsewhere.
A BRIGHT FUTURE AWAITS
Laura Jones, Cummins' Energy and Environment Manager in the U.S., can see the future as she watches work enter its final stages on the 3,600 kWp solar array at the engine plant in Rocky Mount. 
Located on 7 acres on the south side of the facility, the field of solar panels will be the first Cummins has employed using technology that enables panels to follow the sun for maximum power generation. While Rocky Mount receives plenty of sun, the rotating panels and other advances could make solar a low-carbon option for other regions of the country not so blessed.
"There's no question the technology is changing very quickly while becoming increasingly affordable," she said. "We're looking at it as an option in a number of areas."