Judging by all she's accomplished so far, Syntyche has a bright future ahead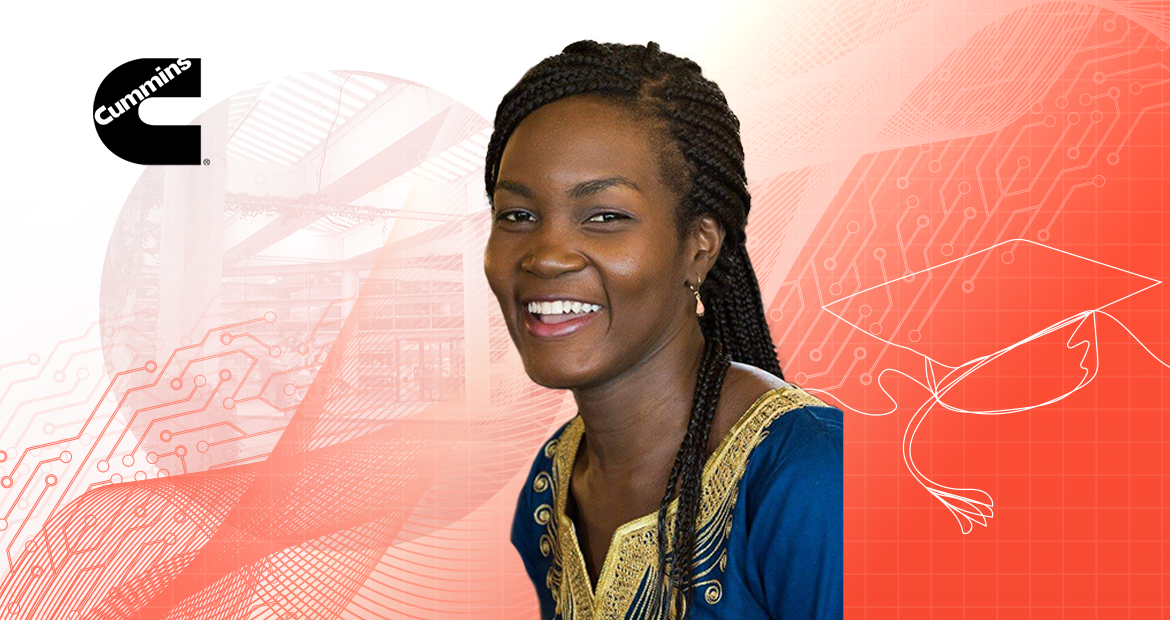 Calling Syntyche Koumaglo an overachiever just may be an understatement. Growing up in Togo, a small country in West Africa, she often had to deal with hardships such as unreliable electricity. "I remember growing up with frequent power shortages and outages. I would be doing my homework and couldn't finish because the power would just shut off. It's a problem that still exists there today." 
This is what first sparked Syntyche's interest in going to America to study electrical engineering. In 2011, she enrolled in Saint Cloud University in Minnesota where she received her B.S. in Electrical Engineering and was proud to serve as president of the university's Society of Women Engineers (SWE) chapter. 
During her time at Saint Cloud, Syntyche was also honored to receive numerous scholarships and an award for being the Orientation Leader with Most School Spirit. Yet, her greatest honor was being asked to give the commencement speech at her graduation.
My audience was approximately 6,000 faculty, students and their families. In the speech, I wanted to emphasize my gratefulness for education in the United States, encourage my peers to keep pursuing their 'Why' and take the time to invest in the next generation.
It is now five years after graduation and Syntyche's journey continues here at Cummins where she serves as a Service Training Developer and Instructor developing and delivering technical training for our power systems products. "I was drawn to explore Power Generation at Cummins, where I currently work on generators' software testing and train service trainers. So, now I'm the one training the trainers all over the world."
She may be out of college, but that doesn't mean the honors, achievements, and extracurricular activities are at an end. In 2019, Syntyche was proud to be named a judge at the Cummins TopTech Competition, an initiative designed to encourage, recognize, and retain top service technicians within the business. The winners of each region are sent to the final competition at Cummins Headquarters where winner goes home with $10,000 and the second prize is $5,000.
Out of the judges and competitors, 17 total, I was the only female judge grading technicians. My station was a 30 kW generator with three bugs. While one of the technicians was debugging, he introduced a fault which I had fun repairing.
Syntyche is also still involved with the Society of Women Engineers, now in a professional capacity as the Cummins Awards Committee Lead.
"The SWE Awards are the Oscars of the Women in Engineering world, and I led the awards applications process within Cummins. I was responsible for getting the word out about the awards through calls for nominations, leading the selection committee in decision making, and assisting the nominees with their applications. In the end, my work was very gratifying, as six Cummins nominees won awards."
Syntyche goes on to explain that it wasn't just the results that she enjoyed. "I found the whole process to be very rewarding. I got to meet and interact with some wonderful women engineers. I learned about them and their career paths and expanded the network of people I could ask questions to and help me with my own career."
That's one of the things I like most about Cummins, people are always willing to help you and share their time and experience with you.
Another aspect Syntyche enjoys is how much Cummins supports and encourages employees to give back to their local communities. True to her graduation speech, Syntyche is involved in inspiring the next generation by participating in SEEK (The Summer Engineering Experience for Kids) – a partnership between Cummins and The National Society of Black Engineers that gives elementary students the opportunity to learn about science, technology, engineering, and math (STEM) through weekly competitive projects.
As for where her STEM career is headed, Syntyche is exploring her options. "I'm kind of looking at a bunch of things right now. I'm not exactly sure, but I know it will be a mix of engineering and some type of design or management. I'm also looking at going back to school, which Cummins is very supportive of. Ultimately, it's my dream to empower the people of my country to be able to have the resources that I have access to here and help them grow."

Interested in a career with Cummins? Check out our careers section.
Want to hear more from our team? Find more employee stories here.