Cummins TEC and CARE bring career opportunities to Memphis and Nashville, Tennessee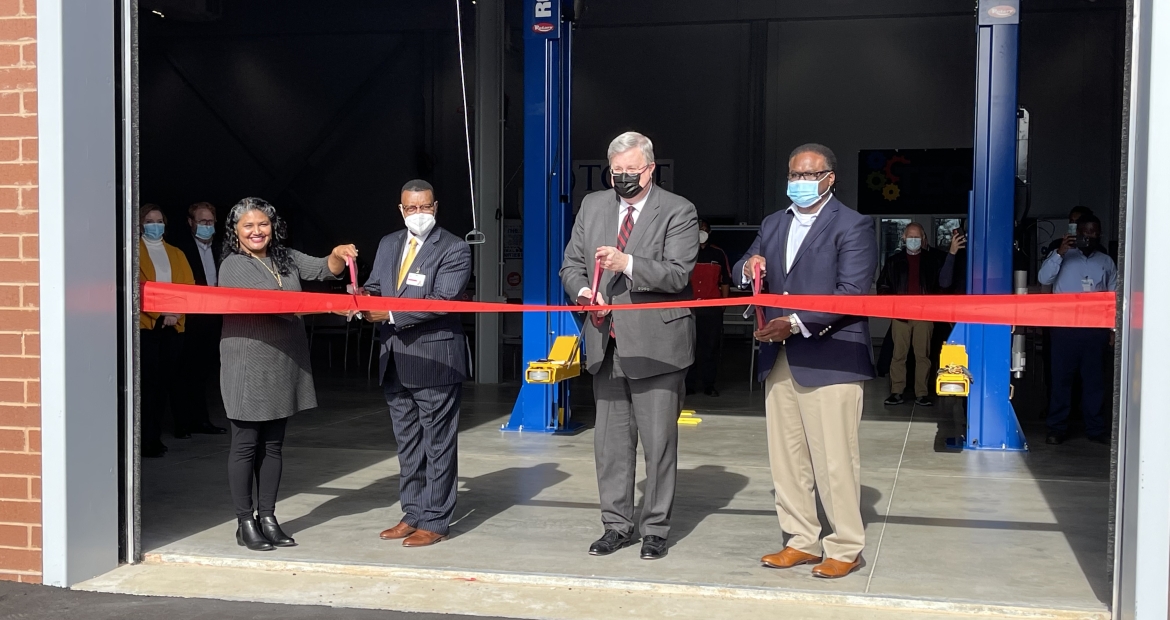 According to the U.S. Bureau of Labor Statistics, as of May 2020, the median wage for diesel service technicians and mechanics was $50,200, however that is just the middle of the pay scale. Some heavy-duty technicians make as much as $72,000 to $93,000 per year.
When Cummins Inc. created the Cummins Advocating for Racial Equity (CARE) initiative in 2020, launching new Technical Education for Communities (TEC) workforce development programs in identified U.S. cities was an opportunity to create educational pathways for Black residents to good, living wage jobs in transportation, logistics and other industries.
Last month, Cummins TEC partnered with the Tennessee College for Applied Technology (TCAT) to open a new facility to create technical career opportunities in Memphis, Tennessee. Through CARE, Cummins TEC and TCAT also forged a partnership with McGavock High School in Nashville, Tennessee to improve pathways for Black youth into prosperous careers in the diesel field.
"Cummins TEC seeks to transform lives through technical vocational education by training disadvantaged youth in employable skills to gain good jobs," said Tracy Embree, Vice President and President, Cummins Distribution segment. "Cummins and McGavock High School have been partners since 2006, and our employees have volunteered over 5,700 hours supporting the school, including renovating the school's courtyard, providing tours of Cummins facilities, and offering job shadowing opportunities."
Cummins and its partners including, Tennessee Trucking Association, Cumberland Trucking, and Velocity Trucking, have provided equipment and tools to the schools' Diesel Powered Equipment Technology and Automotive programs to enrich the students' hands-on learning experience.
"Cummins TEC is the first global strategic community program built by Cummins from the ground up. It targets the technical skills gap through local vocational education programs," said Mary Chandler, Vice President, Community Relations and Corporate Responsibility for Cummins. "The program helps disadvantaged youth around the world secure good jobs through school-based, industry-supported skills training, while delivering a standardized education platform to help school partners develop market-relevant curriculum, teacher training, career guidance and the practical experience needed by students."
"Now, more than ever, employers continue to struggle to find qualified candidates to fill good paying roles such as diesel engine service technicians," said Fernando Herndon, Cummins Executive Director, External Diversity and Inclusion Initiatives and CARE Leader. "TEC's purpose is focused on supporting and advancing communities, and across Tennessee many opportunities exist with companies challenged when it comes to finding, hiring and retaining good talent. We look forward to working together with TCAT, the Tennessee Board of Regents and other industry partners to help provide pathways to good jobs for the students." 
"Cummins is known worldwide for its general excellence, quality, innovation and great corporate citizenship, and we couldn't be prouder that the company is launching this tremendous program at our Colleges of Applied Technology in Nashville and Memphis and partnering high schools," said Flora W. Tydings, Tennessee Board of Regents Chancellor. "With 10 years of experience in 14 countries around the world, Cummins' Technical Education for Communities program has proven successful results: more than 2,000 graduates from disadvantaged backgrounds who have learned the skills they need for great jobs, which in turn helps their communities. I know that our partnership and its opportunities for students will have the same success here. On behalf of the Tennessee Board of Regents, I thank Cummins for this generous commitment to our students and our communities."
Click here to learn more about TEC, and here to learn more about TCAT.