Cummins L9 Powers Forest Firefighting Fleet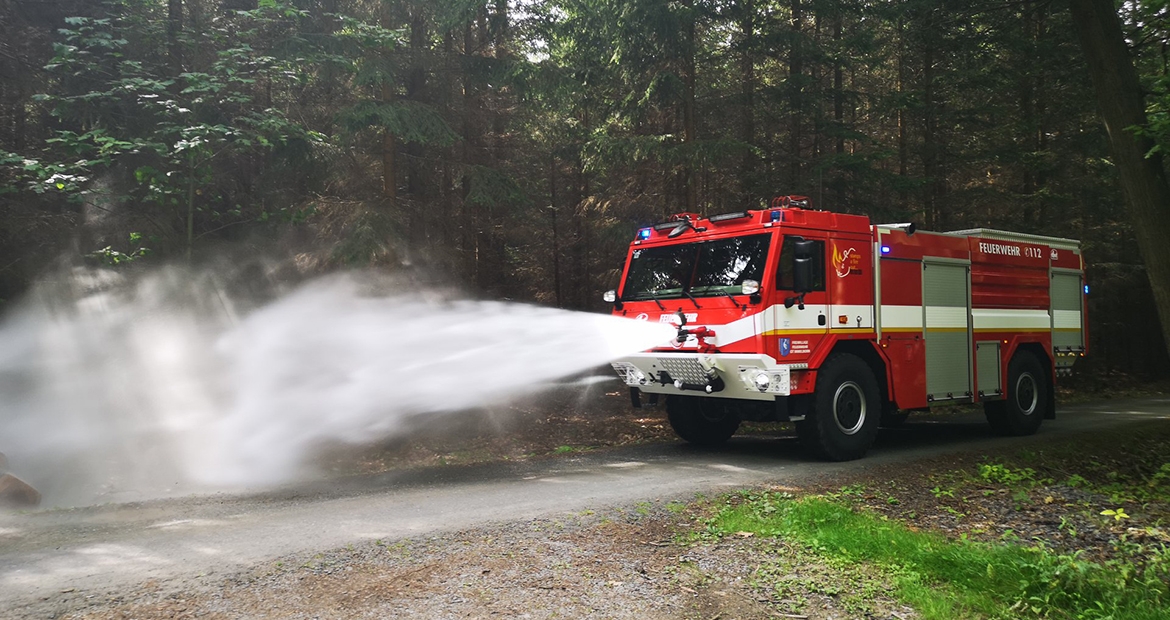 4x4 all-terrain TATRA FORCE will provide rapid response capability in high fire risk areas of Germany
A fleet of TATRA FORCE T815-7 firefighting vehicles with 4x4 all-terrain capability, powered by the Cummins L9 engine, are being deployed in the pine forest areas of north-east Germany, where the intensity and frequency of fires has increased in recent years. The 8.9-litre engine rated at 400 hp (298 kW) provides an ideal power match for the T815-7 by offering premium power characteristics for rapid response, for both on and off-road operations.
The first of 46 firefighting vehicles arrived in early 2021 in the states of Brandenburg and Mecklenburg-West Pomerania to begin familiarization with volunteer fire brigades (Freiwillige Feuerwehr). Although specially equipped to suppress forest fires, the twin water jet capability of the T815-7 is ready to deal with all types of fire and rescue emergencies.
The high-power density of the Cummins L9 contributes to the remarkable 62 mph (100 km/hr) top speed of the 18-ton max. permissible weight T815-7. The impressive 1700 Nm peak torque is fully utilized by the TATRA all-wheel driveline to enhance mobility over rough ground and when climbing steep gradients, with the powertrain protected against excessive heat and aggressive environments.
The TATRA FORCE T815-7 cab accommodates the driver, plus two crew with tilting access to the engine. The chassis is integrated with an equipment superstructure built by THT, featuring two water jets providing all-round fire extinguishing cover. The high rotating turret on the vehicle roof is manually operated, while the low turret mounted on the front bumper is activated in-cab with camera viewing. The body features a 4600-litre tank for the water jets and a 150-litre tank for foam concentrate, with proportioning and pumping pressure driven by power-take-off from the L9.
The vehicle is designed for operational self-sufficiency with an electrical generator, self-recovery winch, lighting mast, and it carries all necessary rescue equipment. Both the TATRA chassis-cab and THT superstructure are manufactured in the Czech Republic with the L9 engine meeting Euro VI very low emissions standards, supplied from the Cummins Darlington Plant in the UK. The L9 engine uniquely combines the robust, heavy-duty performance of a higher displacement engine together with the efficiency and lower operating costs of a smaller, midrange engine.
"The new fleet of TATRA FORCE vehicles is set to bring exceptional firefighting capability to forested areas where numerous and widespread wildfires have occurred in recent years. We are delighted that Cummins power will play an important role with the community Volunteer Fire Brigades in the frontline of suppression," said Josef Ksir, Cummins Engine Sales Manager, Czech Republic.
"We have worked very closely with TATRA to fully optimize the Euro VI engine installation and seamlessly integrate the engine management system into the vehicle controls. The driving performance results are impressive, and we anticipate that this may lead to the L9 engine being utilized in the larger 6x6 and 8x8 versions of the TATRA FORCE firefighter," added Ksir.