Great change, constant comfort and familiarity - Anna enjoys it all at Cummins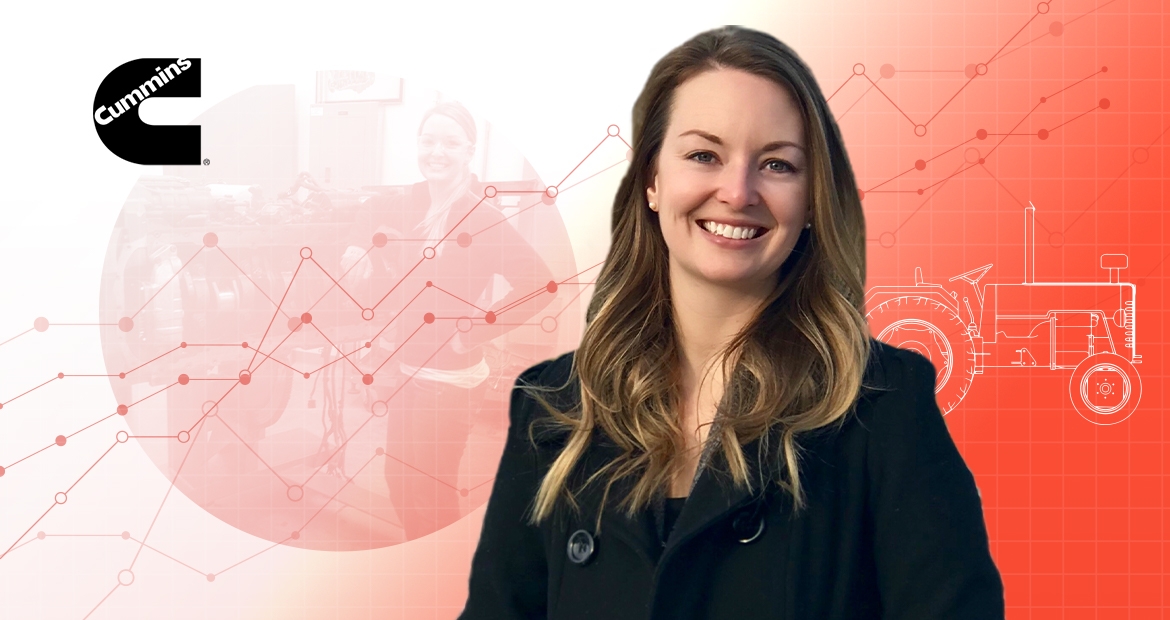 From the farm to the financial world and college to career, Cummins has always been part of Anna Neese's life as long as she can remember. "Cummins is headquartered in Indiana and I grew up on a farm in Indiana. So, we always had Cummins tractors, semis, pick-up trucks, what have you on the farm. So, I was very familiar with the Cummins name and that logo."
Little did she know it then, but that name and logo recognition would turn out to be huge for Anna in her entire adult life starting in college. It all began at a career fair at Purdue University when she was an undergrad. She spotted that familiar red logo, and the rest is, as they say, history. Anna has been part of the Cummins family ever since. 
The logo is what really drew me in. I said to myself, okay, I know them, I will have something to talk about. So, I went over to the Cummins career booth and liked everything they had to say.
She liked it so much, that Anna followed up and went to a Cummins company info session next. She remembers leaving the session really excited and with a good feeling. 
"Everything I heard convinced me that this would be a great place to start my career. So, I applied for an internship, got accepted and had a really good experience with that. Obviously, because here it is eight and a half years later and I'm still with Cummins."
As Anna tells it, she just wasn't impressed by what she heard about the company – she was really taken by the Cummins Purdue college recruiting team as well. At Cummins, the college recruiting teams are made up of employees who volunteer their time from different career areas including marketing, finance, IT and beyond. Anna really appreciated this aspect and said it gave her great insight into the company and our culture. 
"I was interested in Finance, so it was great to interact with people in the trenches so to speak and learn what the day to day was like at Cummins from a financial perspective. In fact, one of the recruiters I met that day leads my finance committee now. We still get to work together all the time and I still consider her a mentor."
Anna currently serves as a Planning, Forecasting and Reporting Controller – PFR for short, and it's the fourth position she has held at Cummins. 
I've never had to wait for someone to quit or move on in order to move up. That's one of my favorite things about Cummins. You can create your own career path.
All of her roles here have been in Finance, but Anna says they are all extremely different in nature. Over the years, she's experienced everything from general ledger accounting to mergers and acquisitions. It's this versatility and diversity that Anna says makes her even stronger in her current role. There's also an added benefit that Anna wasn't necessarily expecting but certainly enjoys.
Each new position feels like I'm starting a new job at a new company with all the excitement that goes with that. But I'm still at Cummins, so I have that stability, familiarity and all the great cultural aspects I've really come to enjoy. 
It's truly the best of both worlds. There's something else that feels very familiar to Anna – her continued connection with Purdue University. That's because, like the people who came before her and were so instrumental in her ultimately choosing Cummins, Anna is now paying it forward as one of the leaders of the Purdue recruiting team.
"Honestly, that's the whole entire reason I do this as a volunteer on top of my normal day job," Anna shares. "Because that's really why I came to Cummins – the Purdue recruiting team. There were several people who really mentored me through that process, and if I didn't have them, I might've made different decisions. As we go forward, I'm always aware of this and I continuously want my team and myself to be a great guiding force, making a difference for today's students as well."

Interested in learning more about a career with Cummins? Check out our careers site. 
Want to hear more from our team? Find more stories here.