I spy: A Cummins-powered scavenger hunt at the Indianapolis Motor Speedway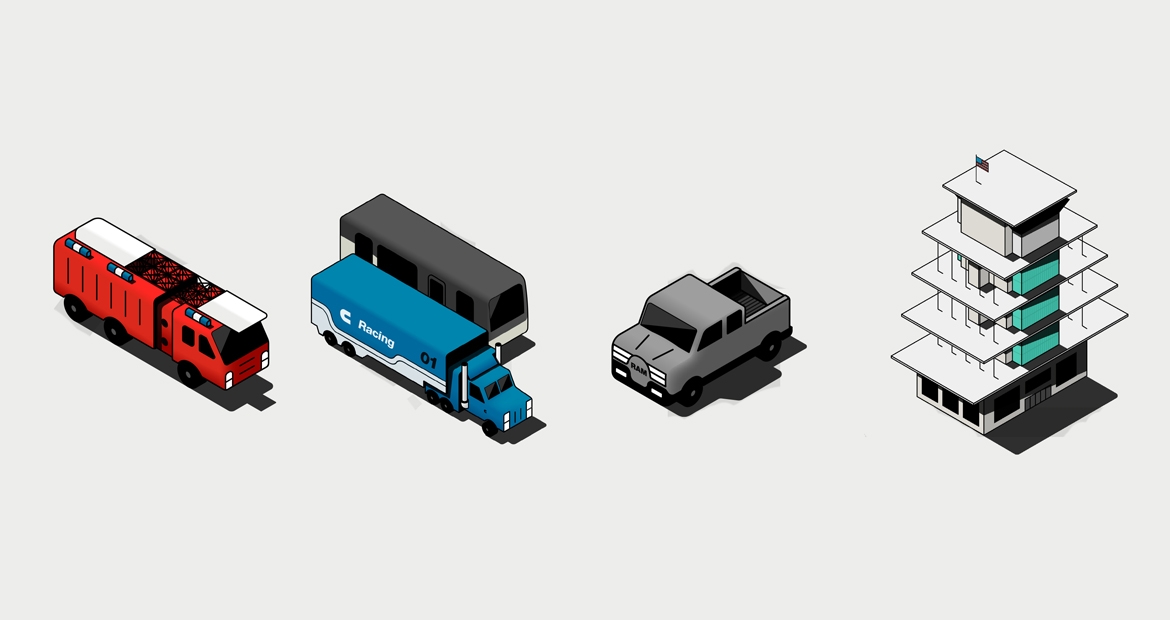 See how many Cummins-powered vehicles and applications you can spot during your next trip to the Indianapolis Motor Speedway
In terms of sheer size, the Indianapolis Motor Speedway - affectionately known to race fans and locals as simply "IMS" - is massive. 
How massive? 
We're talking massive enough that Churchill Downs, the Roman Colosseum, Vatican City, Liberty Island and the White House can simultaneously fit comfortably within the famed racetrack's 253-acre infield. 
Don't believe us? That's okay, because Snopes – the internet's favorite arbiter of all things true or not – backs us up on this one. 
As the largest sports venue in the world, when you spend a day at IMS it's like visiting a city within a city. And because the track's size makes its infrastructure a microcosm of...well, simply insert the name of your town here...there are few vehicle types or other applications requiring either a primary or auxiliary power source that you won't find while visiting the grounds of the world's most famous two-and-a-half mile oval. 
Going on a Cummins-powered scavenger hunt
Whether they're within plain sight or not, Cummins-powered applications - from data centers to trains (and everything in-between) - are everywhere.
The same can be said for just about any trip you and your family make to IMS. Whether you're attending the Indianapolis 500, the Brickyard 400 or any of the track's countless annual events and activities, you'll likely find yourself surrounded by Cummins technology. 
Spotting a Cummins-powered application at IMS is easy once you know what you're looking for. So to give you a bit of an assist - or a "boost" if we're using racing terms - we've compiled a list of Cummins-powered vehicles and other applications you might come across while roaming the grounds of the world's most famous racetrack.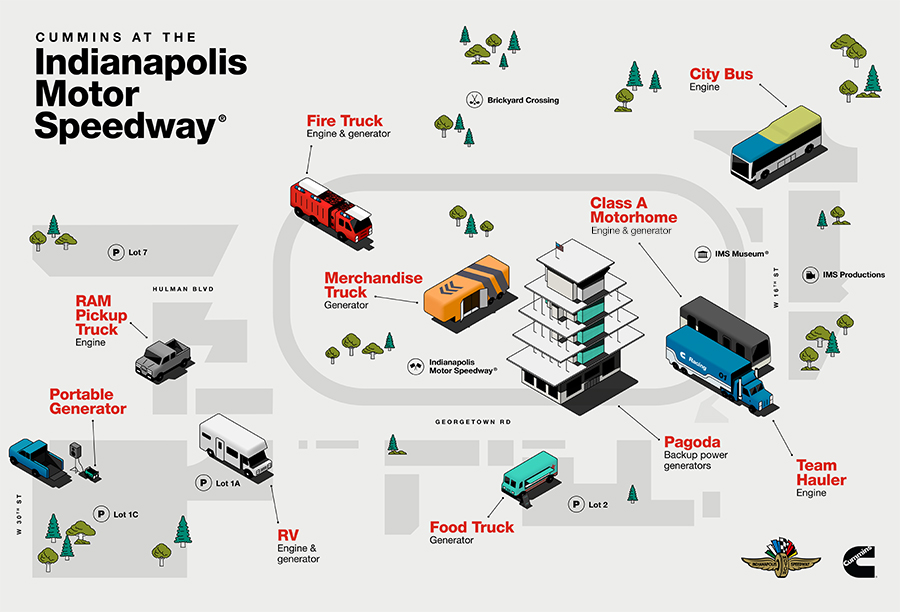 Cummins-powered RAM pickup truck
Fans that have attended any number of IMS' signature racing events throughout the track's 100-plus year history know there are few traditions that can top the thrill and excitement of enjoying a race from its massive infield. 
On race day, it can appear that there are just as many cars and trucks parked in the infield as there are fans sitting atop IMS' famous viewing mounds. Keep your eyes peeled as you scan the infield, because you're sure to spot a Cummins-powered RAM or two parked somewhere in that sea of racing fandom. 
Cummins and RAM have a history that has lasted for more than three decades. In 2019, the two companies celebrated a 30-year partnership that first started with the Cummins 5.9L Turbo Diesel in model year 1989. 
Know where to look: Turn your attention towards the infield near turn 3. Bonus points if you spot fans watching the race from the bed of their Cummins-powered RAM as race cars whiz past them at speeds in excess of 230 mph. 
Class A motorhome
There are few forms of travel as luxurious as your typical Class A motorhome. Take your house, put wheels on it…and voila! You get the idea. 
Perhaps that's why Class A motorhomes are often the primary mode of transportation and temporary residence of choice for most major touring musicians and race car drivers. After all, a life on the road can be grueling, and a Class A motorhome gives you that sense of "home away from home." 
If you happen to be at IMS during one of its signature races, or even attending one of the many concerts the facility hosts through the year, you don't have to search hard to find a Class A motorhome that's powered by Cummins. 
Pro tip: During race weekends, take a trip towards IMS' famed "Gasoline Alley" and you'll likely see row after row of Class A motorhomes powered by Cummins engines and generators. 
Race team hauler
We covered this extensively in a previous article, but many race teams count on Cummins to power the team haulers that are so crucial to helping them transport their equipment – cars included – to and from the racetrack.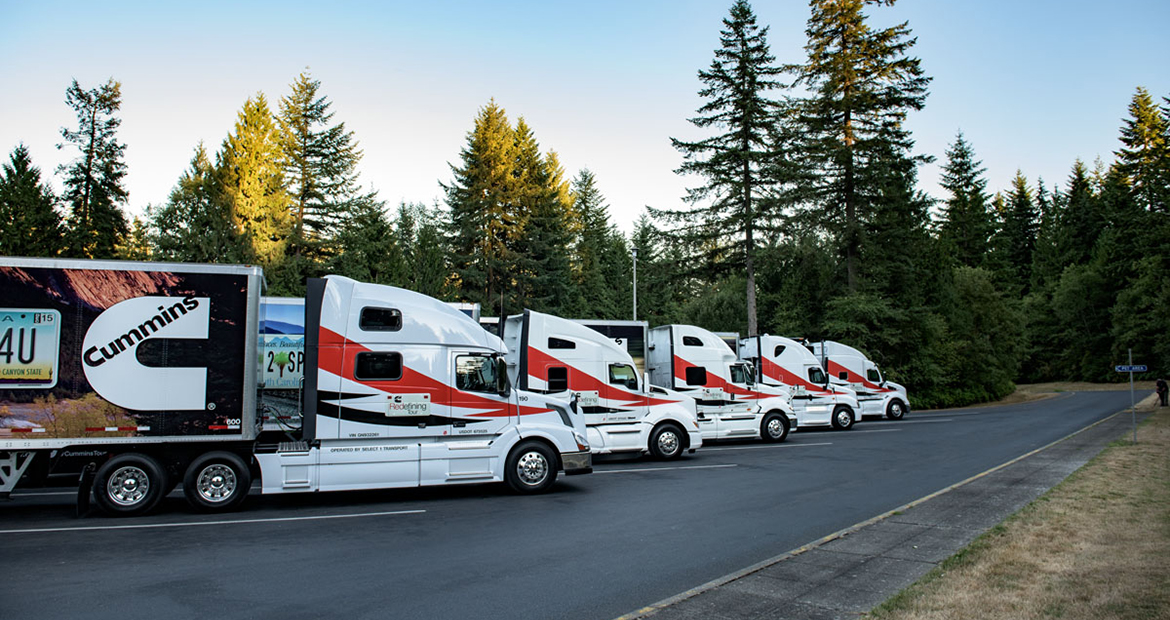 Hauler drivers are typically the first to arrive at the track and often the last to leave. Some even say they have the toughest job on the race circuit. That's a point we certainly won't argue, as the team haulers for Stewart-Haas Racing are usually on the road for more than 220 days a year, each covering about 70,000 miles annually. 
Merchandise trucks and trailers
No visit to your favorite racetrack is complete without a stop at one of the merchandise trucks and trailers located throughout the facility on race weekends. 
Often located both inside and outside of the main track, the next time you stop at the merch truck of your favorite driver or team ask yourself, "could this merch truck be powered by Cummins?" 
Speaking of race merch, have you purchased your Cummins race gear yet?
Sorry, we couldn't resist. 
Fire truck
You're bound to spot a firefighter or first responder sitting at the ready by their Cummins-powered vehicle at just about any major event held at IMS. 
The current population of Speedway, Indiana – the official home of IMS – is approximately 13,000 residents. With the town's population increasing by approximately 400,000 people during the month of May, first responders play an important role by keeping spectators and drivers safe. Cummins is proud to have earned their trust over the course of our 101-plus year history.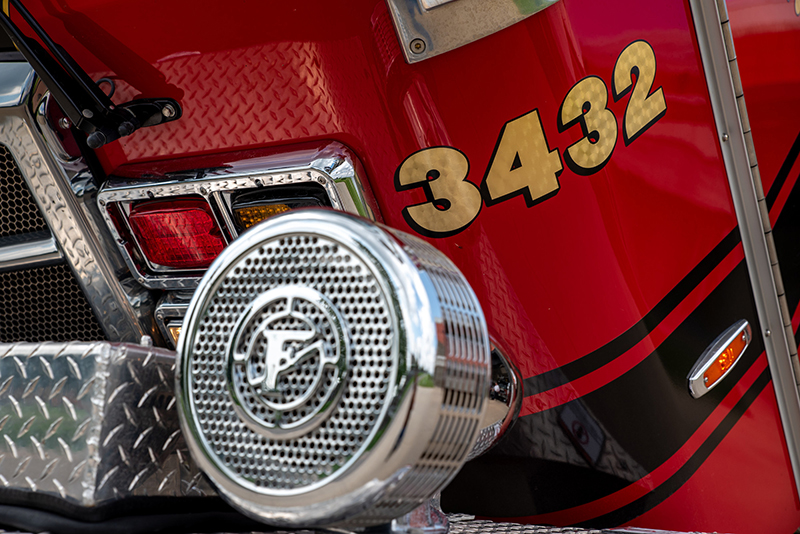 Fact: More firefighting and EMS professionals depend on Cummins than any other clean diesel engine. 
Food truck
Foodies of the world, rejoice! The next time you sink your teeth into a breaded pork tenderloin sandwich or enjoy a sip of a refreshing lemon shakeup, the food truck you're standing in front might be powered by a Cummins commercial mobile generator. 
IMS is almost as famous for its plethora of race-day food options as it is a certain race it hosts the last Sunday in May. Okay, perhaps that's a bit hyperbolic, but the world of food trucks is expansive and no trip to IMS is complete without grabbing a bite to eat at one of the many trucks that take up shop both inside and outside the track on race weekends. 
Corn dog, anyone? 
Recreational Vehicle (RV)
Is there a tradition as well-known and beloved to your average sports fan as tailgating? 
As the "Racing Capital of the World," the Indianapolis Motor Speedway attracts fans from all corners. With the record growth of the RV industry in recent years, it's little surprise that IMS has found a way to cater to, and indeed embrace, visitors who enjoy tailgating from the comfort of their RV.   
Cummins and Onan have a rich history providing reliable stationary and mobile power around the world, including engines and generators for RVs. If you find yourself at IMS on race day, direct your attention to the parking lots surrounding the track. We bet you'll see dozens of RVs equipped with Cummins power.  
Portable generator
Portable generators are small, convenient and designed to go wherever you do. In other words, they're the perfect source of power for camping, tailgating and outdoor events. They're also popular with motorsports teams and operators of food trucks. That's what we call versatility! 
Cummins offers three different portable generator models, each perfect for a day at the track depending on your power needs.
If you want to potentially spot a Cummins portable generator at IMS, just listen to your ears and follow the music. 
Indianapolis Motor Speedway Pagoda
No trip to the Indianapolis Motor Speedway is complete without stopping for a photo-op in front of the track's famed Pagoda. 
There have been several different Pagoda's throughout the track's 112-year history, each iconic and revered in their own right. The current Pagoda was built between 1998-2000, replacing the previous Pagoda that stood in its spot since 1957.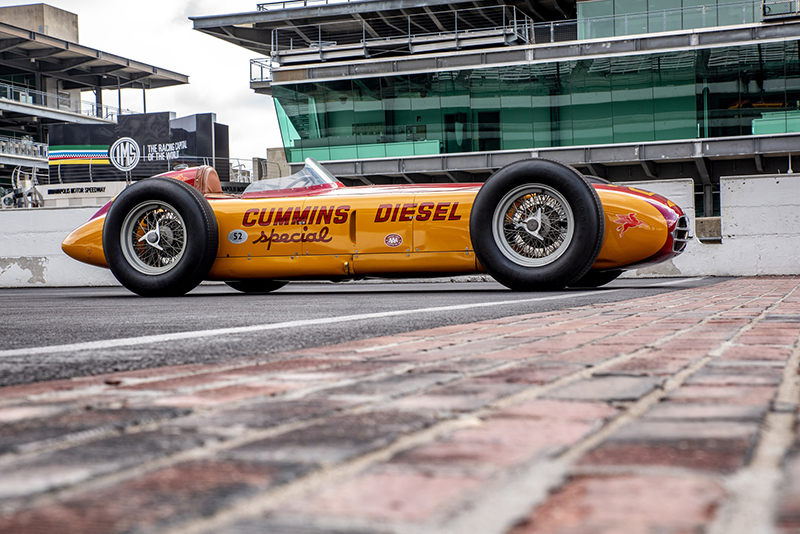 Today, Cummins provides the primary source of backup power to the structure that towers approximately 153 feet – ground to roof – over the track's famed Yard of Bricks.
When in Rome: After taking your photo in front of the Pagoda, don't forget to kiss those bricks! We promise you won't get in trouble. 
Racing Forward - For A World That's Always On
So the next time you and your family find yourselves "oohing and aahing" at the history and sheer magnitude of the Indianapolis Motor Speedway, take yourselves on a scavenger hunt by seeing how many of the above Cummins-powered applications you can spot.
Once you know what to look for, you'll start noticing Cummins technology just about everywhere.