Why Cummins selected Spain to expand its footprint for hydrogen generation
Cummins is locating one of the world's largest electrolyzer plants for the production of green hydrogen in Spain. The 22,000-square meter facility will produce the world's largest electrolyzer systems, with an initial production capacity of 500 MW/year and is scalable to more than 1 GW/year.
A site selection search is underway within Castilla-La Mancha, Spain, with the facility expected to open in 2023.
So, why Spain?
Government Support 
Spain's government is committed to accelerating clean hydrogen production through its hydrogen roadmap. Cummins' new electrolyzer plant will help the country make strides towards its goal of 4 GW of electrolyzer capacity by 2030. 
Large Hydrogen Market 
With this focus on shifting to hydrogen, Spain offers a large domestic market for hydrogen, both for current industrial and agriculture customers, as well as future mobility and other applications. The country's goals include ramping up hydrogen-powered bus systems, light and heavy vehicles and commercial rail lines.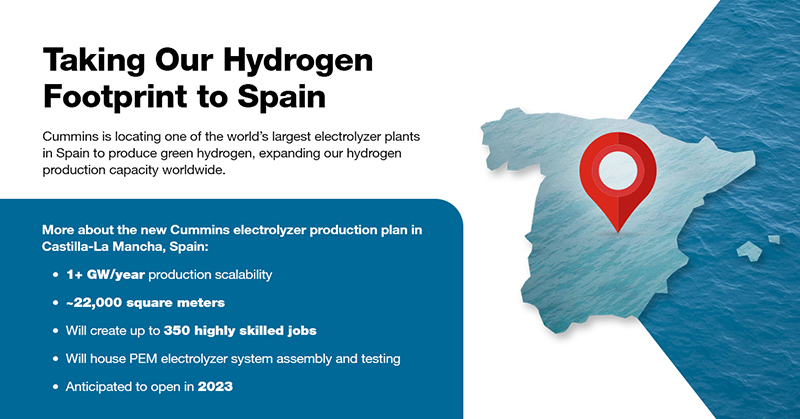 Positive Economics 
Solar costs in Spain have been dropping and are now among the lowest in Europe. This provides a competitive advantage for green hydrogen, both domestically and for potential export to the rest of Europe and beyond. 
Workforce Poised for Innovation 
With one of the largest economies in the European Union, Spain's robust technical and manufacturing workforce is a great home for expanded hydrogen production and innovation.
Spain offers an ideal environment to expand Cummins' hydrogen production capacity, while supporting their renewable energy goals through our leadership in alternative power technologies. Together, we can further decarbonization and accelerate the hydrogen economy.
Learn more about our plans to build one of the world's largest electrolyzer facilities in Spain.