Large-scale electrolysis' role in global decarbonization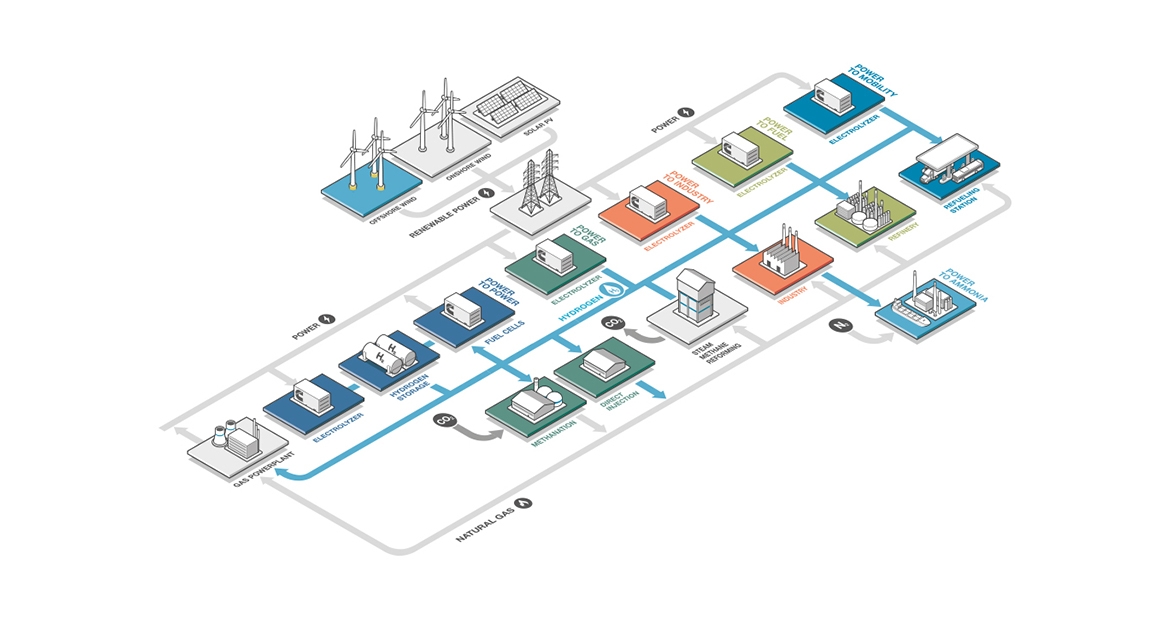 The world is racing to drastically lower greenhouse gas emissions and limit the earth's warming to 1.5 degrees from pre-industrial levels. To reach this goal, 189 parties, representing the producers of 83 percent of global emissions, have ratified the Paris Climate Agreement. In addition, 66 countries have now stated their intentions to be carbon neutral by 2050, with several passing these targets into law.  
How do countries reach these ambitious goals? Renewable hydrogen – produced through electrolysis from renewable sources – is a significant part of the answer. Developing and deploying green hydrogen solutions is one important strategy.  
What is large-scale green electrolysis? 
Electrolysis is a highly efficient electrochemical reaction that uses electricity to break down water (H20) into its constituent elements, hydrogen (H2) and oxygen (O2). Electrolysis is considered "green" if the electricity used comes from renewable sources, such as solar, hydro or wind energy. In these instances, hydrogen production emits no greenhouse gasses, making it green hydrogen.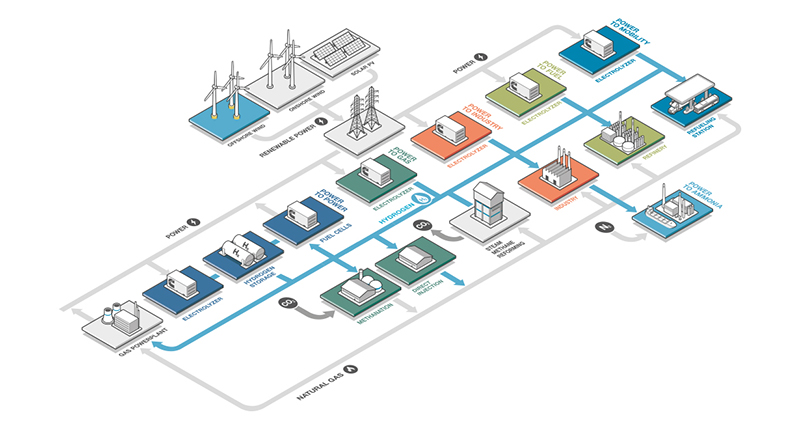 Large-scale electrolyzer installations can be powered directly by renewable electricity, helping to enable the efficient use of clean energy, despite the variability that characterizes some renewable energy sources. For example, when excess solar energy is produced (e.g. the sun is shining, but the demand for electricity is less than is produced), solar energy can power an electrolyzer to produce hydrogen, allowing energy to be storable for long periods of time.  
Currently, the Cummins electrolyzer system installed at the Air Liquide hydrogen production facility in Bécancour, Quebec, can produce nearly 3,000 tons of hydrogen annually using clean hydropower. It is the largest PEM electrolyzer in operation at 20 MW; however, the industry is rapidly rising to projects of 100 MW, 200 MW and beyond.  
Why is large-scale electrolysis important? 
Scaling up electrolysis projects and capabilities is important for several reasons.  
Decreasing the Cost of Hydrogen 
Today, hydrogen is expensive. The cost of hydrogen needs to come down to enable broad adoption. Thanks to economies of scale, as production cost decreases, so does the cost for customers, paving the way for adoption across more markets and regions. As the use of hydrogen becomes more widespread, infrastructure will follow suit.  
Expanding Decarbonization 
Cheaper hydrogen will allow other sectors, like transport, to decarbonize. Cheaper hydrogen will facilitate wider adoption of hydrogen fuel cell-powered vehicles.  
Achieving Global Climate Goals  
Many countries and cities have ambitious climate targets. Using green hydrogen for applications, like chemicals production or in the gas grid for heating homes, reduces impact on the environment.  
One country taking advantage of large-scale electrolysis to support its decarbonization strategy is Spain. Cummins is locating one of the world's largest electrolyzers in the Castilla La-Mancha area and partnering with Spanish utility provider Iberdrola to help the country reach its goal of producing 4 GW of installed hydrogen production capacity by 2030.  
Learn more about Cummins project and partnership pioneering hydrogen production in Spain.