Cummins Milton Keynes chemists celebrate Earth Week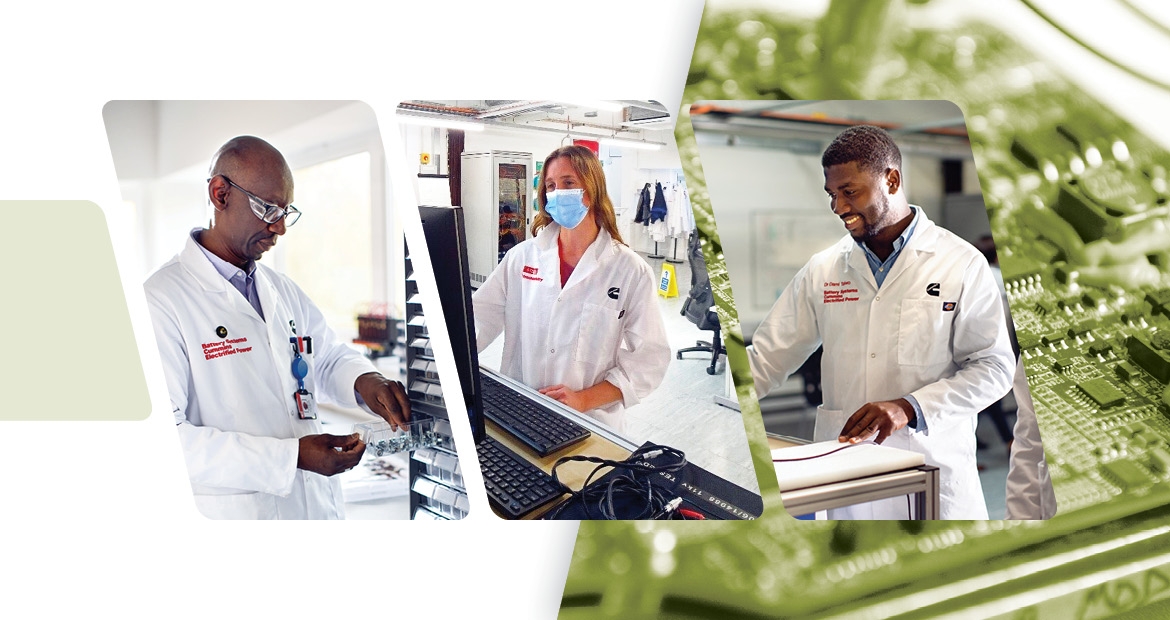 Happy Earth Day! On this planet-friendly day, we are celebrating Cummins electrochemists because this week is also Chemists Celebrate Earth Week. CCEW was created to co-exist with Earth Day and champion the positive role that chemistry plays in our world. Chemists have long promoted a better world through recycling, cleaner-burning fuels and green chemistry initiatives. 
Electrochemistry links chemical reactions and electricity. Understanding how it works and how to improve upon existing technologies is key to improving many aspects of our everyday lives. Without electrochemistry, we wouldn't have portable devices like mobile phones. Our electrochemistry capabilities are part of Cummins' secret sauce to advancing our innovations. For New Power, it helps us strategically innovate renewable energy technologies like balancing electricity generation and demand.
The Milton Keynes Electrochemistry Team is part of Corporate R&T's global team of chemists that are innovating through chemistry. At their lab based at New Power's site in Milton Keynes, UK, the team works closely with cell suppliers on new innovations in lithium-ion cell technology to develop Cummins' next generation of batteries. Their goal is to better understand the cell capabilities in terms of energy, power, lifespan and re-charge behavior in order to identify the right cell for the right application.
In honor of Chemists Celebrate Earth Week, members of our Milton Keynes Electrochemistry Team shared more about how they are driving Cummins' alternative power portfolio forward through chemistry. 
The one thing our chemists wish people knew about electrochemistry.
"The future of travel and energy storage relies on electrochemistry. This will be a combination of lithium ion battery and fuel cell technology, both of which operate on electrochemical principles. Electrochemistry has been around since life began and is critical for life to function. With every physical action and mental thought, there is an electrochemical process taking place." 
- Arun Patel, Milton Keynes Senior Mechanical Engineer
"Electrochemistry is vital in a wide range of industries and is becoming increasingly important in efforts to combat climate change. Because it is the basic science underlying batteries and fuel cells, electrochemistry is a vital foundation for prioritizing carbon-neutral life over the use of fossil fuels. The work we do in the lab allows us to gain a better understanding of the principles of electrochemistry and apply it towards how we create and store renewable energy."
- Stephanie Morton, Milton Keynes Mechanical Engineer
Why our chemists are excited to come to work every day.
"The quality of our products relies on the electrochemistry data we provide to our stakeholders. Being directly involved in electrochemistry programs that helps Cummins achieve sustainability goals is something I am really proud of." 
- Finn Kumbula, Milton Keynes Laboratory Operations Manager
"Thanks to the power of electrochemistry, we can store lots of electrical energy and use this energy whenever we want without releasing toxic materials or gases into the environment in the process!" 
- Dami Taiwo, Milton Keynes Senior Electrochemistry Engineer
Our chemists are bettering the environment of tomorrow through advancements in zero emissions products today.
"Lithium ion battery chemistry is ever evolving. Cells and batteries are becoming less expensive, have more energy density, are increasing in safety, and can last longer. These advancements help to facilitate the adoption of electrification in the different applications and markets we serve in New Power." 
- John Forgie, Milton Keynes Electrochemistry Manager
"Several key forms of sustainable energy generation and storage are rooted in electrochemistry, including fuel cells and batteries. As the understanding and skill with these systems increase, the number of viable applications increases. New Power is driving the continued adoption and improvement of these technologies for a cleaner and greener tomorrow." 
- Michael Snowden, Milton Keynes Senior Electrochemistry Engineer
Interested in learning more about electrochemistry and how it works? Read Electrochemistry is for Everyone.