Our diversity, our strength: Recognizing World Autism Day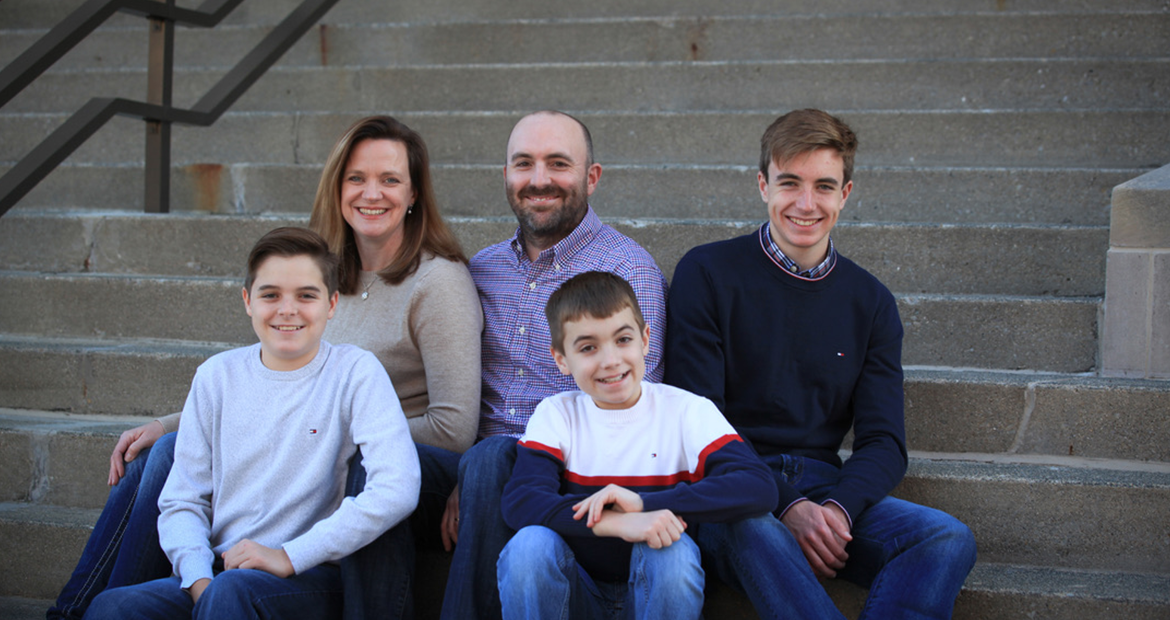 To celebrate and bring awareness to World Autism Day on April 2, Chris Sowers, EBU Operational Engineering, shares his perspective on why this day is close to his heart and the importance of providing people with Autism Spectrum Disorder the tools they need to succeed in a truly diverse, equitable and inclusive environment.
It was a Sunday in February 2018 and my family and I were out having an early dinner before heading home to watch the big game. All three of our boys were excited, as they were just getting old enough to really enjoy big events like this. The waitress interrupted our chatter as she came to take our order. 
"So, who's going to win tonight?" she asked, while collecting our menus. 
All of us gave our predictions. Well, all of us except our youngest son Gabe, who was eight years old at the time. "And what about you, young man? Who's going to win?" she asked.
Gabe looked at her, puzzled. The rest of us tried to help. 
"Gabe tell her who's going to win the Super Bowl tonight," I prompted.  
"The Eagles or the Patriots?" my wife asked him. Gabe continued to stare, unsure how to respond.
Another employee was cleaning a nearby table, listening. 
"Hey buddy," he said. "Who do you think is going to win tonight?" He placed special emphasis on the word, think.
"The Patriots," Gabe immediately responded.
The man looked at me and winked. "Sometimes it's all in how you ask the question," he said.
It was a brilliant reminder for us. 
Like many people on the autism spectrum, Gabe often operates at his best when information is presented to him in a certain way. He's extremely literal. He couldn't possibly know who was going to win the game; that wasn't the right question. But he sure could tell us who he thought was going to win. See the difference?
Asking the right question enabled him to fully engage in the conversation.
Gabe is blessed with some amazing superpowers. He can memorize all the dialogue from a 30-minute television show after just one viewing and repeats it nearly word-for-word several days later. He can tell you the make and model of every elevator in every hotel we've stayed in since he was four years old, not to mention which floor we stayed on. Along with a variety of other skills Gabe possesses, his attention to detail and ability to retain information is truly remarkable. 
But, to help unlock this information, you need to ask the right question.
As the dad of an autistic child, I want nothing more than for him to be happy, accepted for who he is and to have the opportunities to fulfill his incredible potential. I worry about his future and about him finding his place in the world. New information on Autism Spectrum Disorder only furthers this concern. Last year, the CDC published new data that approximately 1 in 54 children in the U.S. are diagnosed with an autism spectrum disorder. Additionally, 85% of adults on the autism spectrum are underemployed. That's a tremendous amount of untapped potential and unutilized superpowers.  
I strongly believe there is a place in this world for these abilities. We need unique thinkers like my son Gabe to enable a truly diverse, equitable and inclusive environment. I see first-hand the difference it makes to give Gabe the tools he needs to be successful. 
At Cummins, we believe Diversity and Inclusion are about recognizing and valuing our differences and using those differences to deliver superior results. It's about genuinely valuing the perspectives and experiences of all people, not regardless of their differences but because of their differences. Diversity and Inclusion is an opportunity for advantage. I believe there is not only a place, but also a need for individuals with autism and other differences and disabilities to one day take their unique skills into the workforce.
I want Cummins to be a place where neurodivergence is encouraged to shine. I want all of us, across differences to have the opportunity to bring our full selves to work and contribute to our highest potential. That's why I've gotten involved in our Inclusion of Neurodiversity initiative. Autism is just one of many elements of neurodiversity like attention deficit hyperactivity disorder (ADHD), dyslexia, dyspraxia, among others. At Cummins, we have a long and proud history of fostering diversity of thought, unique creativity, and innovation. Neurodiversity goes hand-in-hand with this history. 
We're building the foundation of this initiative now, starting with the fundamentals and looking for ways to bring our workplace to a common understanding of what neurodiversity means and how it can manifest at work. From there we plan to launch projects aimed at increasing inclusion of our current and future neurodiverse workforce.  
For more information on autism and other elements of neurodiversity, please check out the following resources: 
Together we can make Cummins a truly neuro-inclusive environment and a great place to work, for everyone.