Cummins moves the future of Hydrogen forward with new coalition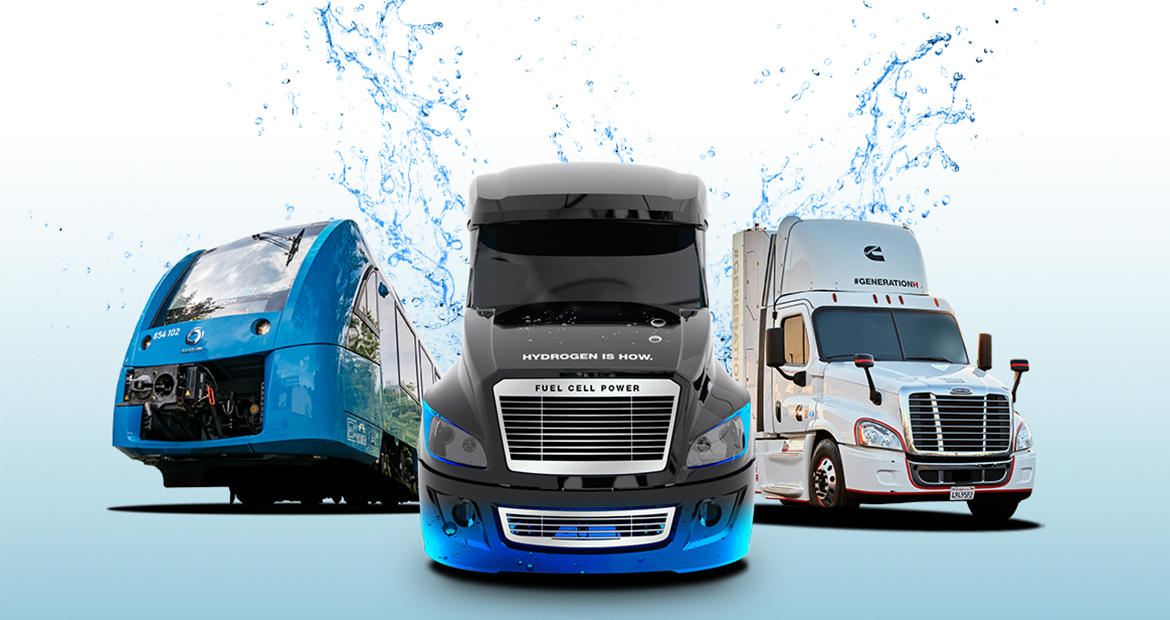 We believe hydrogen holds the key to a decarbonized future. As a founding member of the new Hydrogen Forward initiative, Cummins is partnering with other energy leaders to advocate for the advancement and adoption of hydrogen technology across the U.S.
Cummins has been hard at work building relationships with other leaders in the hydrogen space in order to push hydrogen forward as an energy solution. The latest of these efforts is the newly-formed Hydrogen Forward initiative.
Hydrogen Forward is a coalition of 11 companies focused on advancing hydrogen development in the U.S. As a founding member, Cummins is proud to join these partners in advocating for progress.
Uniquely Positioned to Influence
From source to service, Cummins is involved in every link in the hydrogen value chain. Whether it's in production and transportation or powertrains and storage, we have projects operating in almost every step of the hydrogen journey.
In addition to our technology, Cummins' long-standing relationships are a major catalyst for progress. Cummins has a 100-year history of working with customers to find the right technology and applications to get the job done. We serve customers in 190 countries and territories, with a finger on the pulse of what's happening in virtually every industry.
These partnerships are one of the key values Cummins brings to Hydrogen Forward. Customers trust Cummins to provide the right power at the right time, and that facilitates major potential for Hydrogen Forward to advocate on behalf of the customers who will be using hydrogen technologies someday — even in hard-to-abate sectors like construction, mining and marine.
Leading by Example
Cummins CEO Tom Linebarger is on the board of the Hydrogen Council, a global group of CEOs and leaders looking to promote hydrogen in aid of decarbonization. In conversations among global policymakers, it's become evident that the U.S. is significantly behind compared to progress being made in Europe and in Asia.
That's why we set out to take Cummins' existing efforts one step further, gathering partners to start a concerted effort to promote hydrogen adoption. This progress doesn't just take the form of policy — Hydrogen Forward will aim to inspire policymakers to imagine greater possibilities for hydrogen as renewable power.
Cummins' innovation is born out of both curiosity and commitment. These values are shared by the other members of Hydrogen Forward — global power leaders ready to encourage open minds, exploration and ultimately investment in the value of hydrogen by policymakers. With their partnership on Hydrogen Forward, Cummins has the power to make vital progress quickly in the interest of decarbonization.
Power in Partnership
By uniting cross-sectoral experts throughout the economy-wide value chain of hydrogen, Hydrogen Forward will create opportunity for vital conversations with policymakers around shared interests and goals for cleaner power. By aligning in advocacy for hydrogen, we can gain considerable influence and start making changes that will shape the future of our planet as we know it.
While Hydrogen Forward is in its early stages, focus will be on starting conversations and promoting open-mindedness while more large-scale changes and supportive policies are on the horizon. By initiating momentum along with our partners in Hydrogen Forward, we're confident that big wins are on the way.
The current moment holds tremendous opportunity for quick progress in hydrogen technology. With the U.S. on the precipice of investing potentially over one trillion dollars in decarbonization, hydrogen is well-suited to be a key enabler of job creation and a nationwide transition to new sources of clean energy. Innovation is happening, and Cummins is ready to dive in with Hydrogen Forward.
Learn more about Hydrogen Forward at www.hydrogenforward.org.