Cummins plays key role in producing masks to curtail spread of COVID-19
Cummins used its filter technology to produce 146 metric tons of filtration media for mask manufacturers around the world in 2020, enough to make more than 108 million masks to help reduce the spread of COVID-19.
That total includes media the company produced to make masks for its own employees, an initiative starting in June 2020 when Cummins announced it would purchase the necessary equipment to begin mask manufacturing at three sites. Those sites produced about 10 million masks for use companywide in 2020 and continue in operation today.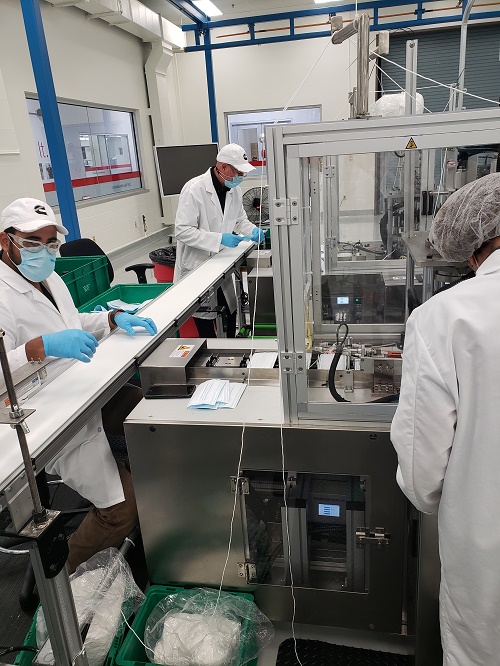 "When the pandemic first started, Cummins re-evaluated our supply base and manufacturing capabilities to identify how we could support healthcare professionals and essential workers who rely on critical personal protective equipment to do their jobs," said Steph Disher, Executive Director of Cummins Filtration, which designs and manufactures filtration products for diesel and natural gas powered equipment.
"It has been an honor to use our technology and workforce to help communities around the world during these challenging times," she said.
PARTNERING TO MAKE A DIFFERENCE
The overwhelming majority of the filtration media produced for masks last year went toward the standard masks people are wearing at work, school, shopping and other activities outside their homes. Cummins Filtration, however, also produced media for N95 and KN95 masks.
In addition, the company partnered with 3M to produce 566,000 filters for 3M's powered air-purifying respirators (PAPRs) used by health care professionals at risk of airborne pathogens. That partnership used equipment typically employed to produce diesel engine filters to manufacture the high-efficiency particulate filters used in 3M's PAPRs.
It was one of several partnerships resulting in Cummins playing a key role in the production of equipment to help guard against the spread of COVID-19. The company worked with DuPont to address the shortage of N95 respirator masks, using Cummins' NanoNet® filter media.
And Cummins partnered with the Department of Energy's Oak Ridge National Laboratory on a process converting microfibers into a fabric capable of reducing the spread of viruses, including COVID-19.
"Cummins was an ideal partner to scale what we had accomplished and help us produce material that passed all required testing for filter media," said Merlin Theodore, Director of the Carbon Fiber Technology Facility at the laboratory.
MASKS FOR EMPLOYEES
As part of the company's efforts to enhance safety for employees working in essential positions, Cummins reconfigured its plants to allow for social distancing, increased cleaning protocols, implemented health checks upon entry to open facilities and required masks. Early in the pandemic, the company scrambled to find masks for its thousands of employees until deciding to produce its own.
Cummins started mask manufacturing at company plants in Columbus, Indiana (U.S.); San Luis Potosi, Mexico, and Phaltan, India, with each site serving a particular region. Operations started first in Columbus and soon followed at San Luis Potosi and Phaltan. 
The company's virus prevention efforts have been overwhelmingly successful, with the vast majority of COVID-19 cases involving employees resulting from exposure outside Cummins facilities.
WHAT'S NEXT
The company's various mask production efforts will continue as long as they make sense to meet demand, Cummins officials say. Hopefully that won't be too much longer as vaccine distribution has started around the world.
Why is Cummins, a global power leader, so heavily involved in an activity like masks? Cummins believes a company is only as strong as the communities and the world around it. Using the company's knowhow to help guard against the spread of COVID-19 is merely the latest example in its more than 100-year history of Cummins living its values.