Stereotypes can't stand in the way of Crystal's passion for mechanical engineering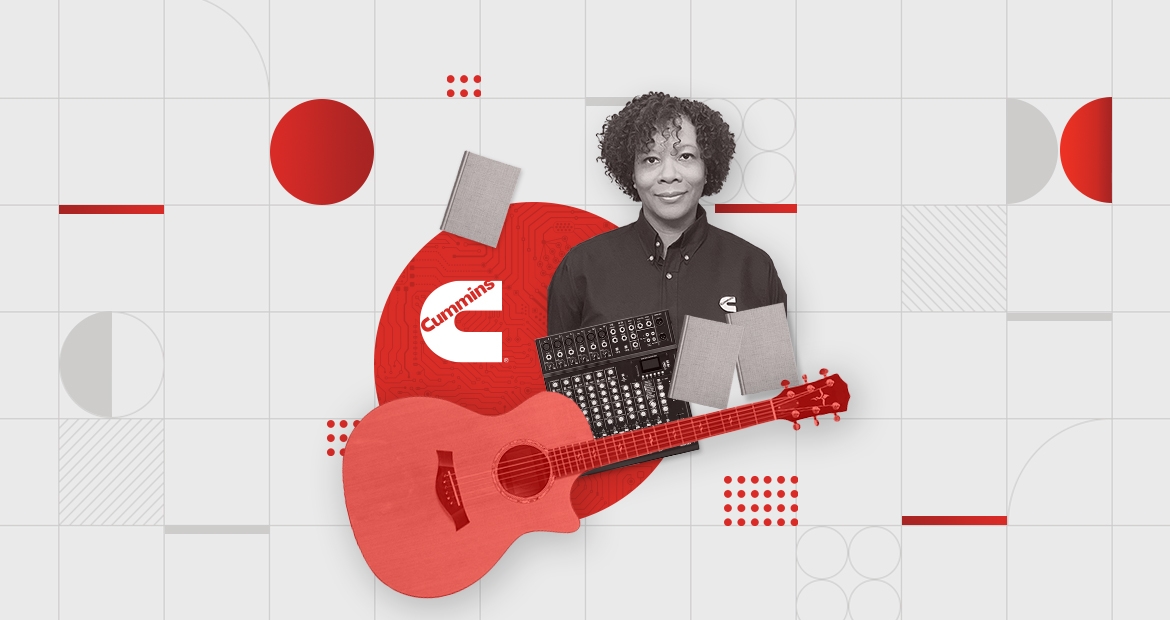 Crystal Gwynn spent countless hours in her childhood watching over her dad's shoulder as he worked on cars. Even a standard oil change was fascinating to her. As a high achiever, she was committed to performing highly in academics, sports and extracurricular activities. But all the while, Crystal held a passion and curiosity for mechanics.
"When I was about 15, a family friend was working as a mechanic, and I asked to work in his shop during the summer," she said. "He said that no man would let a woman work on his car and that I might get hurt."
That challenge was all it took for Crystal to set her sights on something bigger — something that others said she couldn't do. From that summer on, Crystal attended engineering camp and explored the different types of engineering she would one day claim as a career.

I thought, if guys won't let me work on their cars, I'm gonna go ahead and design, develop and test the engine. I've always been stubborn. If you tell me I can't do something, I will do it even better.

And that's exactly what she did. After obtaining her bachelor's degree from North Carolina Agricultural and Technical State University and her master's at the University of Illinois, Crystal completed a rotational engineering program at Ford Motor Company. In 2005, she returned to her roots in North Carolina to work at Cummins.
 
Meeting critical transport needs
Now, as a team manager for the Cummins Rocky Mount Tech Center, Crystal manages the implementation of new programs and products, offering end-to-end product support. On each project she oversees, her goal is to have a zero-defect launch with no issues in quality or assembly.

I empower my team to make decisions in rolling out new programs. Our engines are going out to Europe, South America, North America and all around the world. It's our job to make sure no issues reach the customer.

Crystal's impact goes beyond the technicalities of testing. As a mother of two, she knows how important it is that communities have reliable transportation to depend on — whether it's a city bus, delivery van, semi-truck or school bus, Crystal's work keeps vehicles moving safely.
"I don't want to think about my daughters not being able to get to school if their school bus breaks down," Crystal said. "Several people in my family are truck drivers, too. If I can help people get from point A to point B without breaking down, then I'm doing my part."
With family working in transportation, Crystal knows firsthand the impact of Cummins' reliability and innovation in the field. It goes beyond spec sheets — drivers on the road know they can depend on Cummins products.
"People come to me and they say they love Cummins," Crystal said. "Even if there is an issue, they know they will get a swift response and good service. People have pride in the brand because not only does Cummins have better quality engines, but we really care about our customers and end-users."

Committed to powering a more prosperous (and inclusive) world
Cummins may be a power technology company, but we're focused on people first. We're committed to creating a culture of inclusion where all people are empowered to be their best selves, no matter your gender, race, orientation or culture.
"Being a woman in engineering, there can be a lot of ignorant stereotypes you have to deal with," Crystal said.

At Cummins, I haven't had a lot of obstacles because the company is so driven by diversity and inclusion. The leadership team is incredibly diverse, and that representation at the next level makes me feel represented and empowered.

At Cummins, diversity isn't about fulfilling quotas and checking boxes — it's about hiring people committed to excellence and informed by unique perspectives. We want our company to look like our communities, so we're always searching for new ways to enrich our workforce.
"Cummins is taking inclusion to the next level with new hiring initiatives to recruit and accommodate neurodiverse and differently-abled individuals," Crystal said. "Inclusion goes beyond hiring, too. No matter who we hire, we ensure we can retain them by creating a successful, inclusive, happy environment. No matter who you are, what you look like or where you come from, you can be successful here.
 
Interested in learning more about a Career at Cummins? Check out our Careers site.
Want to hear more from our team? Read more stories here.