Cummins-Enbridge project brings large-scale hydrogen blending to North America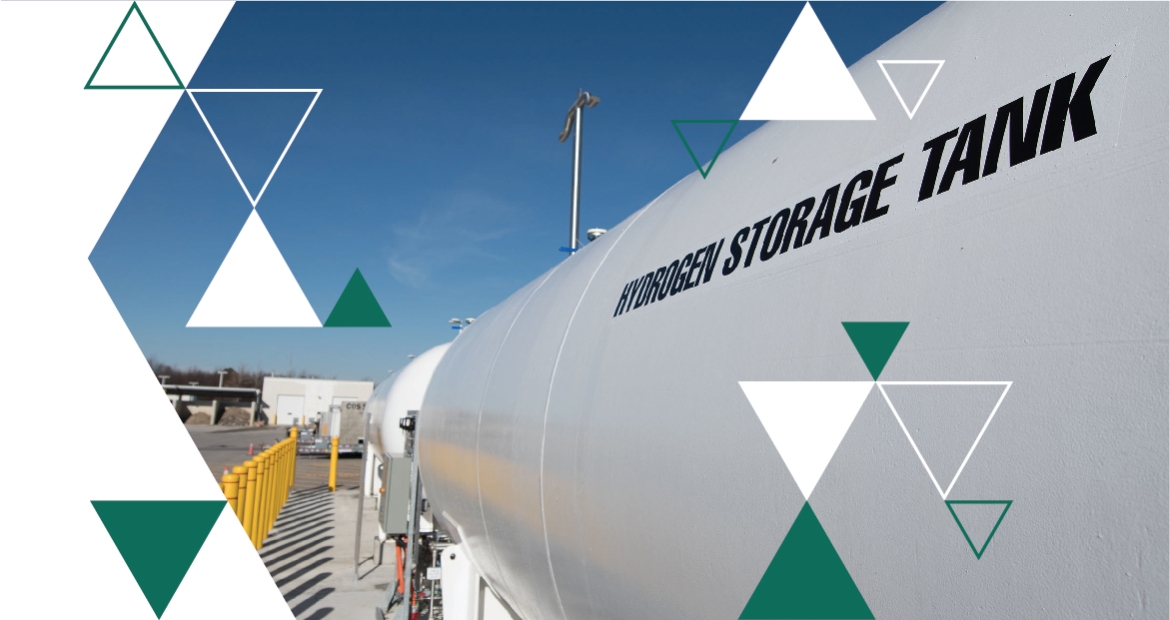 Greener natural gas may be coming soon to a grid near you. With the approval of a project by Cummins and Enbridge Gas to blend low-carbon hydrogen into Ontario's natural gas network, a future with lower-emission natural gas is within reach.
Thanks to this blend, the pilot project will bring cleaner natural gas to the residential market on a major scale for the first time in North America.
The hydrogen for the project will be fed from the existing Cummins-Enbridge Power-to-Gas Electrolyzer Facility in Markham, Ontario. The plant was developed with support from the Canadian government, and it already has a demonstrated capability to convert the province's surplus electricity into hydrogen— effectively balancing Ontario's supply and demand of electricity.
The 2.5 megawatt electrolyzer facility — designed and built on a 5 megawatt scalable platform — features next-generation PEM electrolyzer from Cummins. The Cummins PEM electrolyzer has the highest power density, efficiency and smallest footprint of any such system in the world, making it an ideal power technology for this leading-edge pilot project.
"The Enbridge and Cummins partnership on innovating power-to-gas technology is further underscored by news of approval to proceed with injection into the gas grid. Cummins is invested and positioned to succeed as a leader in the world's energy transformation to the hydrogen economy, and today's announcement continues to build toward that success."
– Amy Adams, Vice President of Fuel Cell and Hydrogen Technologies at Cummins

Building customer trust
Through the pilot project, Enbridge will provide blended gas distribution service to over 3,600 customers in Markham, Ontario in 2021, preventing up to 117 tons of carbon emissions per year from entering the atmosphere.
With blending permitted up to two percent, this project would account for over 2% of hydrogen per year. This increase in demand will go a long way in further developing the hydrogen economy, setting a precedent for similar large-scale projects to follow.
Hydrogen blending is new, and many utility customers have questions about what using hydrogen-blended natural gas means for their everyday lives. After all, many of us depend on natural gas to keep our homes warm, heat our water or power common appliances on a daily basis.
To answer these questions and ensure customers of the safety and dependability of hydrogen blending, Enbridge completed a compatibility study on appliances in the blended gas distribution area. The study showed that the blended gas will have no adverse effects on appliances.
This is great news, as the home heating market has traditionally been a challenging frontier for low-emission solutions. This pilot helps further demonstrate how hydrogen can bridge the gap between greener power solutions and slow-evolving markets.
Successful implementation of the project will support Enbridge Gas in pursuing additional and larger-scale hydrogen blending activities in other parts of its distribution system, enabling the province to further reduce its carbon footprint in a major way.
"This project serves as an example of hydrogen's capabilities, whether it's to store energy or help reduce emissions in residential markets. This is just another example of how Cummins continues to innovate to provide our customers the power solutions they need."
– Amy Adams, Vice President of Fuel Cell and Hydrogen Technologies at Cummins
Thinking bigger picture
The value of hydrogen as a greener source of power reaches far beyond natural gas blending. Hydrogen is also a practical solution for storing renewable energy from intermittent power sources like wind or solar, which don't have a dependable output thanks to unpredictable weather.
In this process, power-to-gas takes extra electricity from renewable energy sources and converts it into renewable hydrogen through electrolysis (the use of electricity to prompt a chemical reaction) for future use. Like electricity, hydrogen is an energy carrier with many uses.
The progress of the Cummins-Enbridge hydrogen blending pilot project demonstrates just one of the multitude of purposes electrolyzers can serve beyond the transportation and industrial sectors. Thanks to hydrogen, the world's most common element, we have the opportunity to keep homes warm, heat water and even cook meals while showing our planet some much-needed kindness.