Treating water for a second act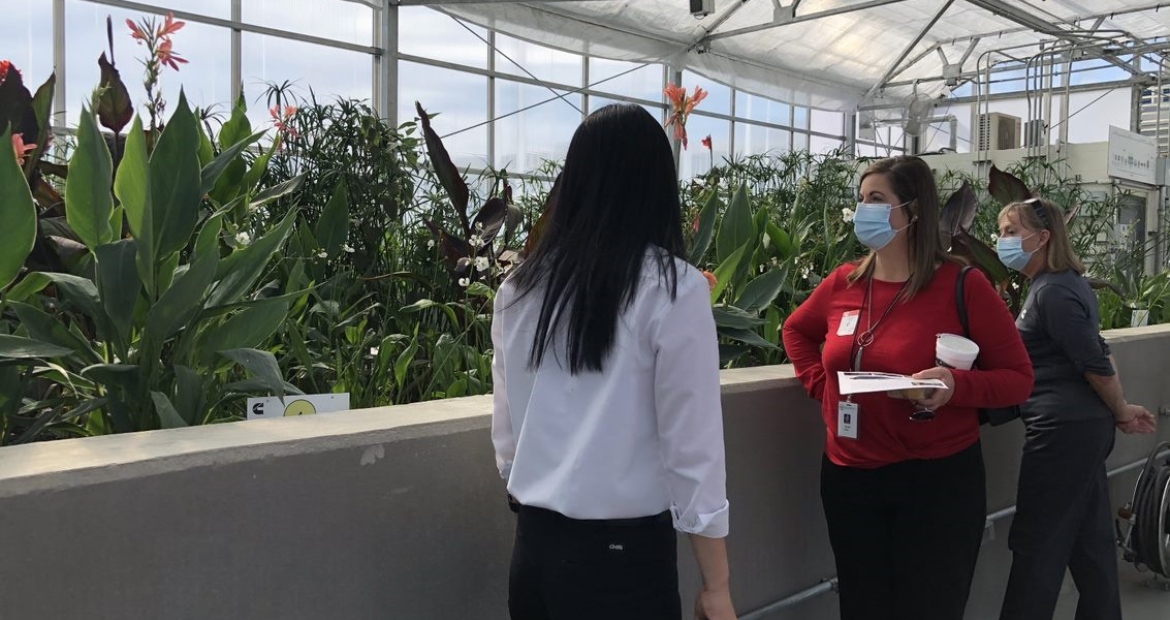 No, the greenhouse at Cummins' Rocky Mount Engine Plant (RMEP) doesn't mean the company is diversifying into fruits and vegetables.
It's part of Cummins' commitment to reduce water use in the North Carolina (U.S.) community where the plant is located. RMEP has a new system employing multiple technologies including hydroponics – using plants as a filter –  to treat millions of gallons of water annually so it can be returned to the facility for non-potable use.
A similar system – minus the greenhouse – is conserving millions of gallons annually at Cummins' Jamestown Engine Plant in western New York (U.S.). Both plants expect to cut city water use by about a third – collectively saving more than 25 million gallons annually.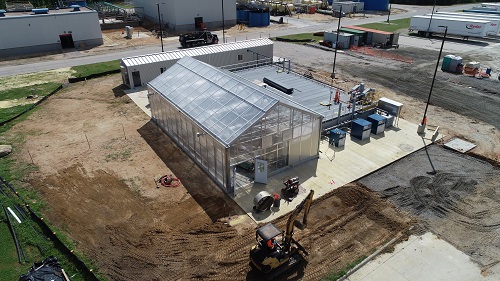 The projects will likely play an important role in reaching the goals established in PLANET 2050, Cummins' environmental sustainability strategy to reduce the company's impact on the climate and other environmental challenges.
The strategy calls for reducing absolute water consumption in facilities and operations companywide 30% by 2030 or more than 200 million gallons annually. The strategy calls for reusing water and returning it clean to communities as a 2050 aspiration.
In 2019, the company used 895 million gallons of water, down from 949 million gallons the previous year, about a 6% reduction.
"What we learn at these locations could be applied elsewhere when we update facilities in the future," said Nichole Morris, Cummins' Manager for Water and the Environment. "Each site has unique characteristics that will help us as we move forward."
Unfortunately, replacing every Cummins treatment system with the latest technology is cost prohibitive. These new systems, however, could provide lessons for other locations when investing in new systems makes sense.
THE POWER OF THE PLANTS
Rocky Mount earlier this quarter held a ribbon cutting to celebrate what it calls its WaterHub. The multi-faceted system includes anaerobic and aerobic treatment, allowing micro-organisms to break down organic materials.
Hydroponics provide additional microbiological treatment coupled with membrane filtration to remove fine solids. A final stage uses a reverse osmosis process to address any remaining undesirable constituents.
The hydroponic plants are critical to the functionality of the WaterHub. Root surfaces provide supplemental aeration and catalyze an ecology of grazing micro-organisms (protozoa and micro-crustaceans) to help reduce sludge and increase overall efficiency.
"These technologies have been around for many, many years," said Gary Keffer, Director of Health, Safety and Environment at the plant. "What makes this innovative is it puts all of these technologies together to produce the ultra-clean water we need for our manufacturing processes."
Working with four different outside contractors, the system took nearly four years to complete and has a treatment capacity of about 75,000 gallons per day. Most of the water is returned to the plant's cooling tower, which is used to cool various machinery such as air compressors. The water must be ultra clean to prevent degradation within the tower, which includes several sensitive metals.
The old system had been updated several times but essentially went back some 40 years. Plant leaders hope the greenhouse will host school tours, providing hands-on learning opportunities on the importance of clean water.
"This project has not been without its challenges," said Tim Millwood, Vice President of Manufacturing at Cummins, speaking remotely at the ribbon cutting because of COVID-19. "Probably the pandemic was the ultimate challenge. But, thanks to your commitment, this team got the WaterHub over the finish line. I'm really, really proud of you all." 
PLANT WITHOUT PLANTS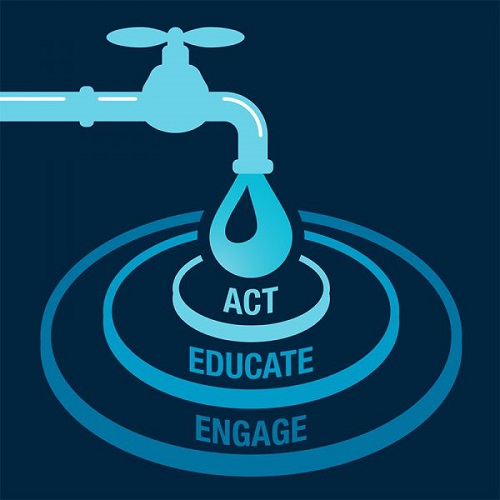 The Jamestown plant's new system has been around a little longer, and lacks a greenhouse, but it, too, could provide important lessons for other Cummins sites.
Over the past 18 months, the plant has been working to upgrade the treatment system, which was largely original to the more than 40-year-old plant.
While there's no hydroponics, the Jamestown system also includes a reverse osmosis and filtration process to polish wastewater so it can be re-used in the plant's manufacturing processes, said David Burlee, Health, Safety and Environment Leader at the plant.
"We are finding the high quality of the reclaimed wastewater is dramatically reducing the number of regeneration cycles required on our deionized water system and increasing the efficiency of our cooling towers," Burlee said.
Jamestown is significantly north of Rocky Mount and the low temperatures it gets most winters would likely not be as conducive to a greenhouse as the warmer climate in North Carolina.
The system looks a little more industrial, which might be fine in many settings while a system with a greenhouse could be more visually pleasing for plants close to residential areas.
 
THE PATH FORWARD
Given the company has around 125 major manufacturing sites in various locations and climates around the world, Morris is happy to have multiple examples to share moving forward. She says a one-size-fits-all approach isn't likely to work.
While 10 years might seem like a long time, she often feels those 2030 goals are lurking just around the corner.
"The reductions from these systems are significant," she said of the Jamestown and Rocky Mount projects. "But we still have a long way to go to reach our 2030 goals and beyond. It will take many different approaches to get there."