Electrolyzers 101: What they are, how they work and where they fit in a green economy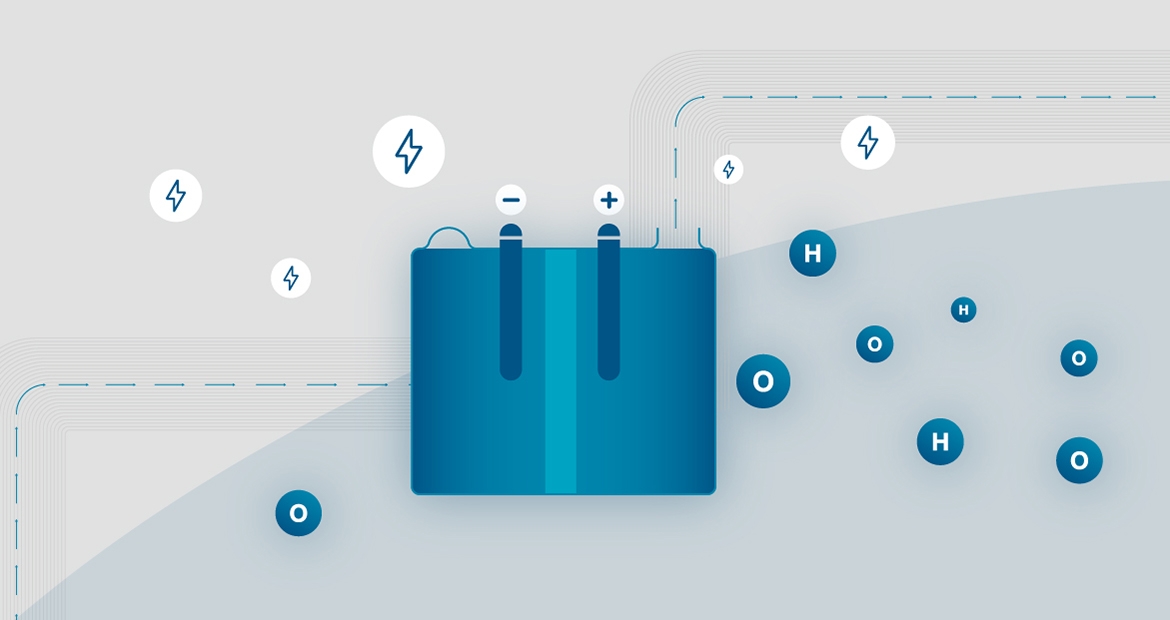 As Cummins looks to the future, we see a shift in the energy market. With that change comes new possibilities and opportunities beyond our traditional product set. To better serve our customers and our planet, Cummins is innovating new, sustainable forms of power and bringing a wide range of new possibilities to the New Power product portfolio, providing a way to produce clean hydrogen to power hydrogen fuel cells, supply industrial processes or produce green chemicals like fertilizers, renewable natural gas and methanol. 
Cummins offers a variety of hydrogen-based technologies, including electrolyzer systems, and recently announced it will provide its 5-megawatt PEM electrolyzer to convert surplus hydro power to clean hydrogen for the Douglas County Public Utility District in Washington state (USA). But what exactly is an electrolyzer, how does it work and where does it fit in our green economy? 
What is an electrolyzer and how does it work?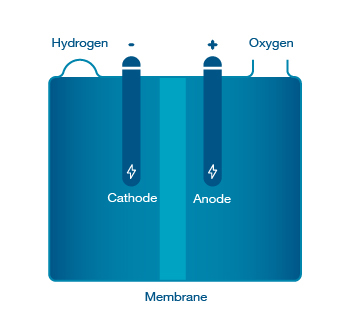 An electrolyzer is a system that uses electricity to break water into hydrogen and oxygen in a process called electrolysis. Through electrolysis, the electrolyzer system creates hydrogen gas. The oxygen that's left over is released into the atmosphere or can be captured or stored to supply other industrial processes or even medical gases in some cases.
The hydrogen gas can either be stored as a compressed gas or liquefied, and since hydrogen is an energy carrier it can be used to power any hydrogen fuel cell electric application — whether it's trains, buses, trucks, or data centers. 
In its most basic form, an electrolyzer contains a cathode (negative charge), an anode (positive charge) and a membrane. The entire system also contains pumps, vents, storage tanks, a power supply, separator and other components. Water electrolysis is an electrochemical reaction which takes place within the cell stacks. Electricity is applied to the anode and cathode across the proton exchange membrane (PEM) and causes the water (H20) to split into its component molecules, hydrogen (H2) and oxygen (O2).
Are there different kinds of electrolyzers? 
Yes, they range in size and function. These electrolyzers can be scaled to meet a variety of input and output ranges, ranging in size from small industrial plants installed in shipping containers to large-scale centralized production facilities that can deliver the hydrogen by trucks or be connected to pipelines.
There are three main types of electrolyzers: proton exchange membrane (PEM), alkaline and solid oxide. These different electrolyzers function in slightly different ways depending on the electrolyte material involved. Both alkaline and PEM electrolyzers can deliver on-site and on-demand hydrogen, pressurized hydrogen without a compressor and 99.999% pure, dry and carbon-free hydrogen.
The difference between the three main kinds of electrolyzers include: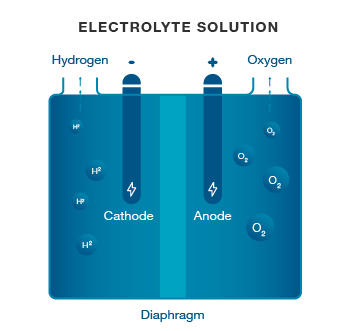 Alkaline Electrolyzers
Uses a liquid electrolyte solution such as potassium hydroxide (KOH) or sodium hydroxide (NAOH), and water. 
The hydrogen is produced in a "cell" which consists of an anode, cathode and membrane. The cells are typically assembled in series in a "cell stack" that produces more hydrogen and oxygen as the amount of cell increases. 
When current is applied on the cell stack, the hydroxide ions (OH-) move through the electrolyte from the cathode to the anode of each cell, with hydrogen gas bubbles generated on the cathode side of the electrolyzer and oxygen gas at the anode, as represented here.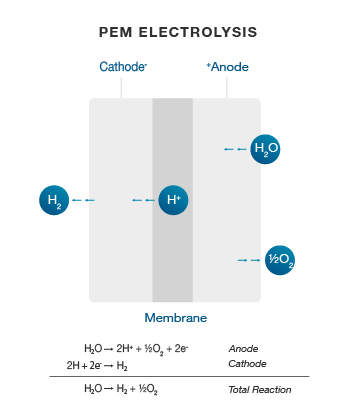 Proton Exchange Membrane (PEM) Electrolyzers
PEM electrolyzers use a Proton Exchange Membrane which use a solid polymer electrolyte.
When current is applied on the cell stack, the water splits in hydrogen and oxygen and the hydrogen protons pass through the membrane to form H2 gas on the cathode side.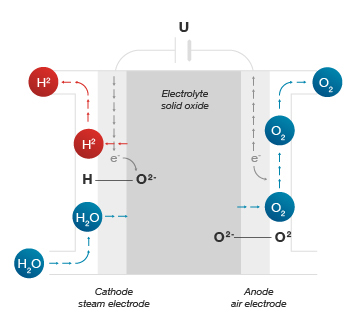 Solid Oxide Electrolyzers (SOEC) 
Uses solid ceramic material as the electrolyte
Electrons from the external circuit combine with water at the cathode to form hydrogen gas and negatively charge ions. Oxygen then passes through the slid ceramic membrane and reacts at the anode to form oxygen gas and generate electrons for the external circuit
SOECs operate at a much higher temperature (above 500C) than alkaline and PEM electrolyzers (up to 80C) and have the potential to become much more efficient than PEM and alkaline.
How are electrolyzers commercialized based hydrogen production?
There are four main ways that electrolyzers can be commercialized:
Power to mobility: Hydrogen can be used as fuel at refueling stations for fuel-cell electric vehicles such as buses, trains, and car.
Power to Fuel: Be used in refineries to remove sulfur from fossil fuels. 
Power to Industry: Be used directly as an industrial gas in the steel industry, flat glass plants, semi-conductor industry, etc.  It can also be injected directly into the natural gas grids for lower carbon heating and other natural gas applications.
Power to Gas: Be used in the production of green chemicals such as methanol, fertilizers (ammonia) and any other liquid fuel, even jet fuel!  

What's so unique about hydrogen fuel cells?
The hydrogen produced from an electrolyzer is perfect for use with hydrogen fuel cells. Working much like a battery, fuel cells do not run down or need charging and produce electricity and heat as long as fuel is supplied. You can learn more about batteries and fuel cells here. The fuel cells use the hydrogen to generate electricity with zero emissions at the point of use. That means no fossil fuels or harmful emissions come from the tailpipe.
Even better, when the electrolyzer system is powered by a renewable energy source, such as a hydropower from the Columbia River Dams, the hydrogen produced is considered renewable and CO2-free from well to wheel. Learn more about well to wheel emissions in all-electric and fuel cell applications.
Why is hydrogen such a good option for clean energy?
Hydrogen presents an opportunity for mass market change in the energy industry. Energy systems across the globe are undergoing a fundamental transformation to focus on lower emissions and less negative impact on the environment.
To decrease the negative impacts of climate change and decarbonize the power sector, renewable technologies like wind and solar have emerged as key ingredients to providing a solution. But integrating these intermittent energy sources into the power grid can be challenging.
Hydrogen can act as an energy storage medium to address these grid challenges, allowing renewable power to be more easily used outside the electric power grid. Hydrogen is a stable way to store and transport renewable electricity efficiently over long periods of time. That way, renewable electricity generated by wind and solar that isn't being used right away can be used another time or in another place. Hydrogen's potential for storing and transporting energy makes it a key enabler of a global transition to renewable energy.
What is Cummins doing with electrolyzers?
Cummins made a bold entry into the hydrogen economy in September 2019 with the acquisition of Hydrogenics, a global hydrogen fuel cells and electrolyzer technology manufacturer. Cummins continues to make quick progress in innovating new products and applications in the hydrogen space, and currently, there are two different types of electrolyzers offered by Cummins:
The HyLYZER® Polymer Electrolyte Membrane (PEM) Electrolyzer uses an ionically conductive solid polymer and is better suited for large-scale hydrogen production.
The HySTAT® Alkaline Electrolyzer uses a liquid electrolyte and is well-suited for small- to medium-scale hydrogen production. 
Cummins is proud to be leading the charge in new hydrogen technology. With a century of experience in a multitude of power sources and drivetrains, we work with our customers to provide the right solution for the right customer at the right time. Whether it's battery power, diesel, natural gas or fuel cells, your power is your choice.