Four markets you may not know Cummins can power with hydrogen fuel cells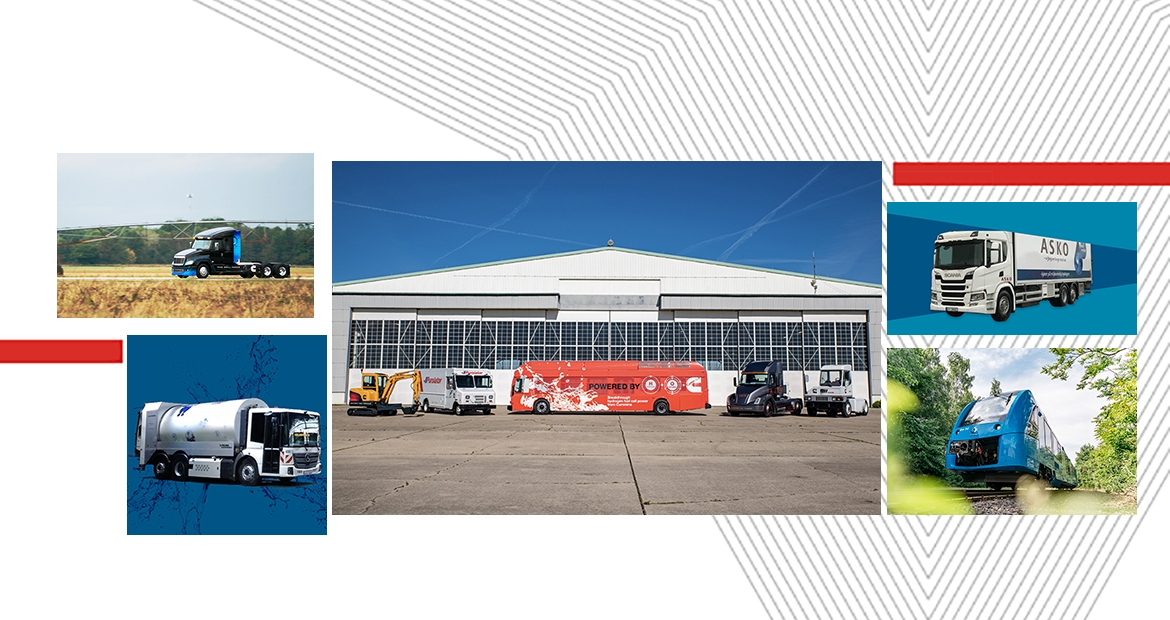 Cummins began developing its fuel cell and related technologies more than 20 years ago and through its Hydrogenics Business, which is a part of Cummins, there is more than 70 years of participation within the hydrogen market. The company is investing in fuel cell technologies that will utilize hydrogen and convert it to electricity; while developing fully integrated fuel cell powertrains, fuel cell range-extender powertrains and stationary fuel cell systems.  
Cummins will participate in the hydrogen ecosystem as both the provider of fuel and powertrains solutions, which means the company will be able to offer a full, differentiated hydrogen solution from start to finish, seamlessly integrated for customers.  
Fuel cells can provide zero tailpipe emissions, instantaneous torque, excellent range and rapid refueling. Additionally, Cummins sees increased subsidies and incentives focused on hydrogen-based technologies and infrastructure. 
Several fuel cell solutions have been introduced in key markets to help the company continue leading the industry in fuel cell technologies, including the four below: 
Fuel Cell Trains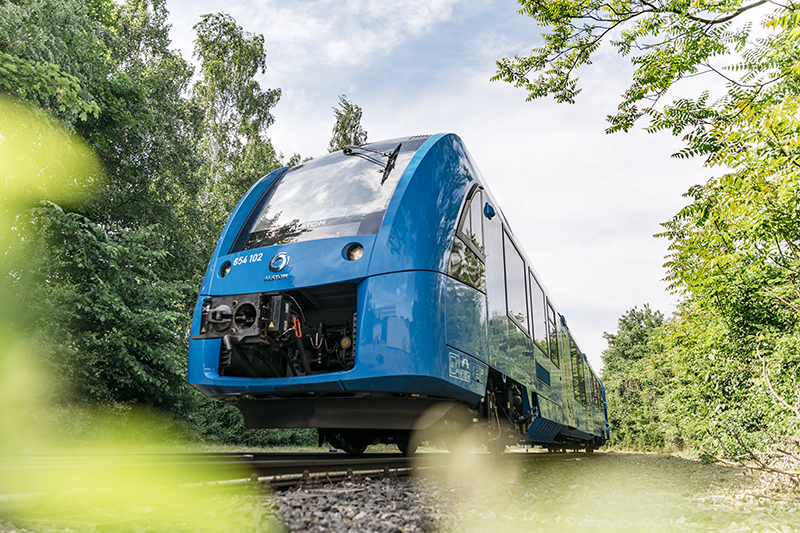 Although powering a passenger train with hydrogen sounds like science-fiction, it's a reality in Europe. Hydrogen fuel cells are recognized as one of the innovative solutions necessary for a carbon-neutral future, generating enough energy to power passenger trains. The French railway manufacturer Alstom is among the first railway manufacturers in the world to develop a passenger train based on such a technology. Powered by Cummins-supplied fuel cells, the first trains are in regular service, running in the northern German town of Bremervorde. Following this successful test operation in Germany, now Alstom's Coradia iLint train, powered by Cummins' fuel cells, will run in Austria for the first time in regular passenger rail service for ÖBB, the Austrian Federal Railways. 
Fuel Cell Delivery Trucks 
Currently, there are four Scania trucks powered by Cummins' hydrogen fuel cell modules in Trondheim, Norway. The trucks are part of a pilot with ASKO, Norway's largest grocery wholesaler. ASKO looked to fuel cell technology as they are focusing on efficiency, low emissions and sustainable development in its extensive distribution network. This pilot will serve as the basis for further learning and development for the fleet and operations. Additionally, it is putting ASKO on a path to reducing energy consumption by 20%, becoming a self-sufficient provider of clean energy, using 100% renewable fuel. 
Fuel Cell Refuse Trucks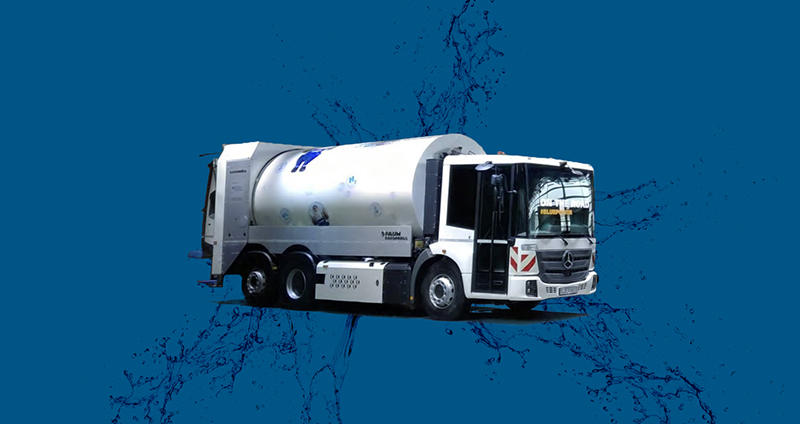 Though waste may not always make prime time news, the technologies helping with waste management have made great strides, and Cummins is pushing those strides even further by providing fuel cells for some of the first licensed and commercially operational fuel cell refuse trucks in Europe. To date, Cummins has provided more than 20 fuel cell power modules, often referred to as fuel cell "engines," to a range of truck builders across Europe. Cummins supplied fuel cells for FAUN, a leader in waste collection vehicles and sweepers in Europe, for their electric refuse truck program. Once FAUN integrated the fuel cells into their vehicles, each truck has a 100% electric drive and is 100% emissions free, with a range up to 560 km (approximately 350 miles); enough to run the collection route multiple times carrying 10 tons of waste. 
Fuel Cell Class 8 Demonstrator Truck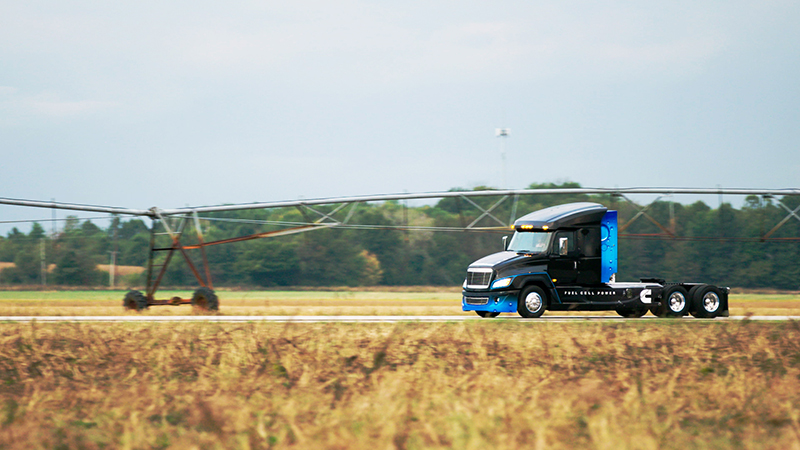 The culmination of more than 20 years of research and development around fuel cell technologies was unveiled during the 2019 North American Commercial Vehicle (NACV) show, when Cummins displayed a heavy-duty truck with fuel cell and battery electric power. The zero-emissions class 8, 6x4 cab tractor is a technology demonstrator suitable for vocational applications, including regional haul, urban delivery operations, port drayage and terminal container handling. The truck was designed for 90 kW fuel cells and is scalable in 30 kW or 45 kW increments, up to 180 kW. The fuel cell truck also has a 100 kW lithium-ion battery capacity; with a range of 150 - 250 miles between filling up, but that range can be extended with additional hydrogen tanks, increasing the tank storage pressure, or installing additional fuel cells to optimize management of the vehicle load factor. 
Today, fuel cell vehicles are not cost competitive without incentives, but a glidepath to reach cost parity with the internal combustion engine is visible in the next decade for some markets and applications; and Cummins is positioned to continue delivering the right technology solution, at the right time at the highest level of value to its customers, continuing to be an industry trailblazer.