In its second year, North America's first multi-megawatt power-to-gas facility shows hydrogen's potential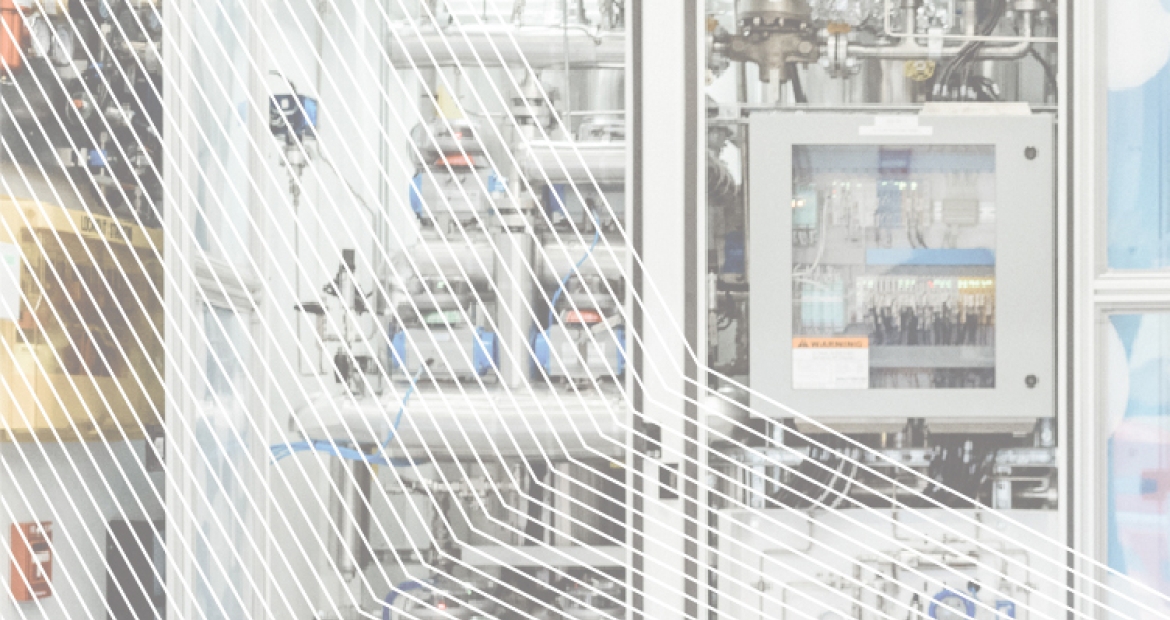 With 250,000+ kg of hydrogen produced, this Joint Venture project demonstrates the value of Power-to-Gas technology and renewable hydrogen.
Cummins continues to build the future of hydrogen with its electrolyzer technology. With more than 11,000 hours of operation providing regulation services to the Independent Electricity System Operator (IESO) and the production of more than 250,000 kg of renewable hydrogen, Enbridge-Cummins' Canadian-located Energy Storage Facility is celebrating its second year of innovation as North America's first multi-megawatt Power-to-Gas facility.  
A collaboration between Cummins and Enbridge, a leading energy delivery company in North America, the Enbridge-Cummins energy storage facility is designed and built as a 5MW plant that features Cummins' next-generation PEM electrolyzer technology, which has the highest power density and smallest footprint of any such system in the world. The current 2.5MW plant occupies just 126 square meters, and its capacity can be doubled on the same footprint. 
Located in Markham, Ontario, the 2.5MW facility was commissioned in May 2018 and is dispatched by the IESO to help manage real-time supply and demand imbalances for Ontario's electricity grid and ensures its reliable operation. Every two seconds the plant adjusts immediately to the signal setpoint with a new load level within its operating range, and it never is limited by a fixed state of charge—it can run at any setpoint indefinitely.  
 "We believe hydrogen will play an important role in Ontario's shift to lower‐carbon, sustainable energy solutions. We are extremely pleased with the success of our joint Markham-located power-to-gas facility over the past two years and are excited about the potential this technology offers for the future growth of green energy solutions."
— Cynthia Hansen, Executive Vice President & President, Gas Distribution & Storage of Enbridge Inc. 
In addition to providing regulation services, Enbridge has recently received the go-ahead from the Ontario Energy Board to begin construction of a hydrogen gas blending unit adjacent to the Markham, Ontario-located Energy Storage Facility. Renewable hydrogen produced using Ontario's clean electricity generation mix at the facility will be injected into the natural gas grid. The blending of hydrogen into natural gas pipelines is a way to increase the viability of many forms of renewable power, including wind.  
On their own, wind farms produce more energy than can be immediately used — and without a means of storing and transporting that energy, much of the unused power is wasted. Power-to-Gas converts surplus carbon-free electricity into renewable hydrogen which is used to decarbonize the natural gas grid. Here is a schematic of Power-to-Gas.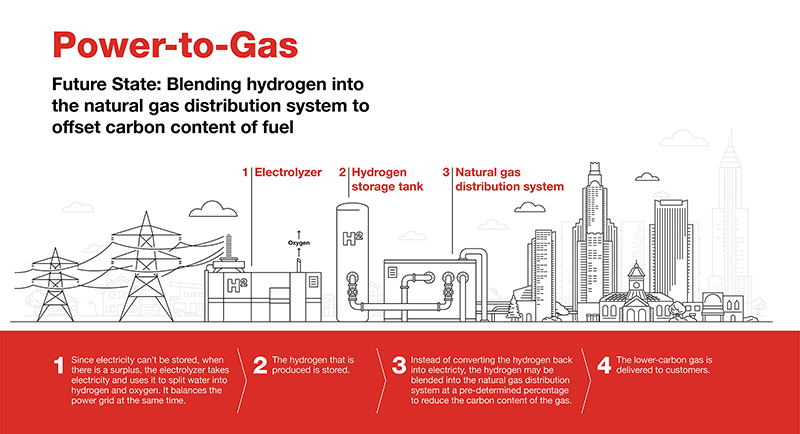 The existing natural gas pipeline network has a terawatt-hour (TWh) of storage capacity. It has the potential to store large amounts of surplus carbon-free electrical energy and benefit Ontario ratepayers by lessening the need for new electrical generation and storage infrastructure. At the same time, it provides a new pathway for reducing the carbon content of natural gas for customers in Ontario by blending this hydrogen into the natural gas system. 
This project is a successful example of collaborations between Cummins and Enbridge that will further advance the deployment of renewable energy into our gas networks and help enable Ontario and Canada to meet climate target commitments. Hydrogen energy storage solutions play a key role in that goal, and Cummins is energized by the success of this project. 
To learn more about Cummins' energy storage solutions for renewable power, check out our other posts on energy storage for Douglas County Public Utility.