Employees team up to advance low-carbon energy in Minnesota cities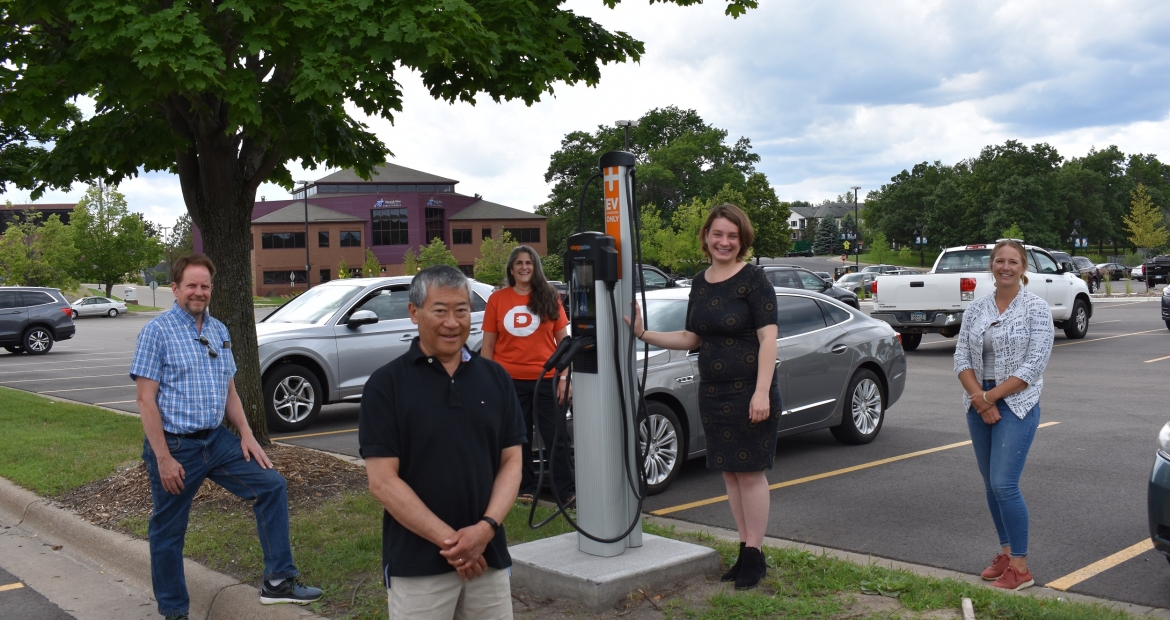 Corporate Responsibility Leader Emily Kocik thought a project to develop electric vehicle (EV) charging stations in communities near Cummins' offices outside Minneapolis, Minnesota (U.S.), would be a good one, but she wanted to be sure.
So, she turned to Mary Bjork, who was sitting nearby (pre-pandemic), and, more importantly, drives an electric vehicle to work. Knowing a charging station can be critical, especially at the height of a cold Minnesota winter, Bjork emphatically agreed and soon Kocik was plugged into a new group of employees she hadn't known existed.
"It turns out there's an unofficial community of EV owners at Cummins," said Kocik, who manages the company's community engagement initiatives for Cummins' offices in the greater Twin Cities area. "We just expanded out from there."
Partnering with the cities of Shoreview and White Bear Lake, as well as the Great Plains Institute, an innovative group in Minnesota dedicated to working with communities to reduce their carbon impact, the Cummins team helped develop one new charging station earlier this year and is working on a second. 
"I really like this project because it involves a partnership between cities and a company that can provide technical and marketing expertise, and that can make such an important difference," said Diana McKeown, the institute's Clean Energy Resource Team Leader. "Cities are really strapped for resources these days."
A PERFECT FIT
The partnership was ideal for Cummins, too, because the area is headquarters of the company's Power Generation business, a world leader in the design and production of power generation equipment for a host of applications. Employees understand both the technical aspects of the business and customers' growing interest in reducing their carbon impact. 
In 2019, Cummins adopted PLANET 2050, a new strategy to reduce its environmental impact, targeting 2050 for carbon neutrality at the company. Among the strategy's goals: making community environments better "because we are there."
"It really makes sense given the evolution of our company," said Bjork, Global Commercial Mobile Marketing Manager at Cummins. "A lot of people still think of Cummins as a diesel engine company, but we're really evolving into a global energy technology company."
Working with financial support from the Cummins Foundation, the team brought both resources and a natural passion to the project. They learned how to use their job skills to partner from idea creation through government approval and ultimately to reality.
Shoreview, where the first charging station is located, and White Bear Lake are two of 141 cities and tribal nations participating in the Minnesota GreenStep Cities initiative, a voluntary challenge program that helps communities share insights and best practices to reach their sustainability goals. The program is celebrating its 10th anniversary. 
Projects like the charging stations can help cities meet their sustainability challenges, and also promote economic development by encouraging drivers to patronize nearby businesses while their vehicles are charging. 
THE BIG PICTURE
Cummins' connection with the Great Plains Institute stems from the work of Satish Jayaram, Innovation Leader for Power Systems. Previously, his job at the company included developing partnerships involved in promoting low and zero carbon forms of energy. He was so impressed with the Great Plains Institute's ability to work across political, municipal and geographic lines, he is today a board member.
"This project enables our employees to engage with their local communities in a way that's very tangible and related to their job skills," said Jayaram, who first suggested Kocik consider some kind of partnership involving the institute. "Plus, it allows them to gain skills in working with government to get things done. It's just a start. I'd like to see us do more."
That's the plan, according to Kocik. After all, electric vehicles won't charge themselves. At least not yet.