Company honored for initiatives on the environment, veterans and creating a great place to work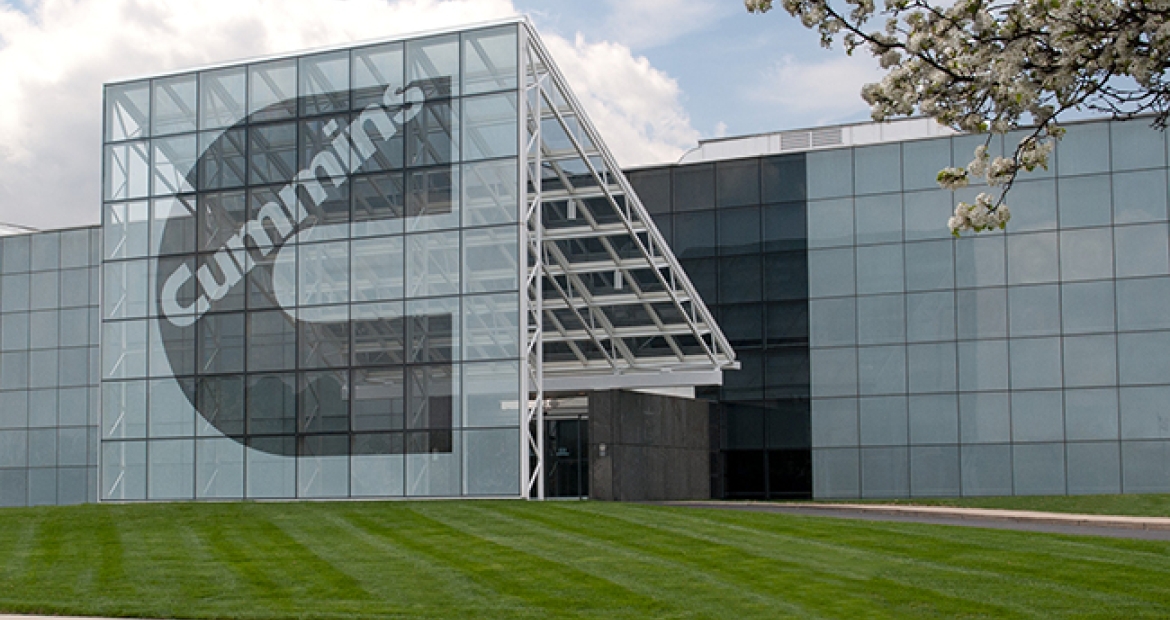 Cummins has been recognized for its efforts on the environment, providing opportunities for veterans and creating a great place to work from a trio of organizations.
The company's historic Columbus Engine Plant (CEP) was recognized by Indiana (U.S.) Gov. Eric Holcomb for a range of initiatives to save energy, conserve water and reduce waste. The company was also named a 2021 Military Friendly Employer® for providing opportunities to veterans and their spouses. Finally, Forbes and Statista named Cummins to its 2nd Annual America's Best Employers by State list for Indiana.
GOVERNOR'S ENVIRONMENTAL AWARD
CEP was one of six Indiana organizations and government agencies honored for its work on the environment as part of the governor's annual awards for environmental excellence.
"By using innovative environmental practices, they have reduced waste, saved money, and contributed greatly to environmental protection efforts for Hoosiers," Indiana Department of Environmental Management Commissioner Bruno Pigott said of the honorees.
The Cummins plant was specifically recognized for five years of continuous environmental improvement, including an upgrade to more energy efficient LED lighting in 2017, an energy-saving manufacturing controls project started that same year enabling CEP to convert a continuously running coolant system to on-demand service, and engine test cell improvements saving 3.4 million gallons of water per year in the system to cool engines undergoing testing.
CEP also achieved Zero Disposal status under Cummins' environmental management program, and the plant's popular Community Recycling Day for residents in the company's headquarters city of Columbus diverted some 740,000 pounds of material from reaching area landfills.
"To have a successful environmental management system, it takes every department, every team and every individual working together to create change," said David Wehrkamp, CEP's Environmental Supervisor. "This recognition is the result of their hard work and dedication."
MILITARY FRIENDLY EMPLOYER
Cummins was also one of 240 employers recently named to the 2021 Military Friendly Employers list for its work in the U.S. to create opportunities for veterans and their spouses both through employment and supplier initiatives. 
"Companies that have earned this designation have invested in substantive programs to recruit, retain and advance veterans within their organizations," said Josh Rosen, who leads the organization that puts the list together. "To them, hiring veterans isn't just the right thing to do. It's good for business."
Employers are evaluated using public data sources and responses from a proprietary survey. Established in 2003, the Military Friendly Employers list provides a comprehensive guide to veterans and their families. In addition to Cummins employment efforts for veterans, the company has a very active employee resource group dedicated to veterans and veterans are also included in Cummins' supplier diversity initiatives.
The recognition as a Military Friendly Employer follows the company's designation in July as a Top-Scoring Company on the 2020 Disability Equality Index, a national benchmarking tool that offers business an opportunity to evaluate their disability inclusion policies and practices. Companies scoring 80% or higher are recognized as "Best Places to Work for Disability Inclusion."
BEST EMPLOYERS BY STATE 2021
Finally, Cummins was named to the 2nd annual list of America's Best Employers by State 2021 for the company's headquarters state of Indiana.
The list is prepared by Forbes magazine and Statista, which specializes in consumer and market data. It is based on an independent survey of more than 80,000 U.S. employees working for companies employing at least 500 people in their U.S. operations. The surveys were administered using a series of online panels selected to get a representative sample.
Cummins is one of 80 top employers on the list for the state, ranking only behind Salesforce in Indiana. Other highly ranked employers include Eli Lilly and Company (third) and the Indiana University School of Medicine (fourth).