Cummins pushes forward to meet 2020 environmental goals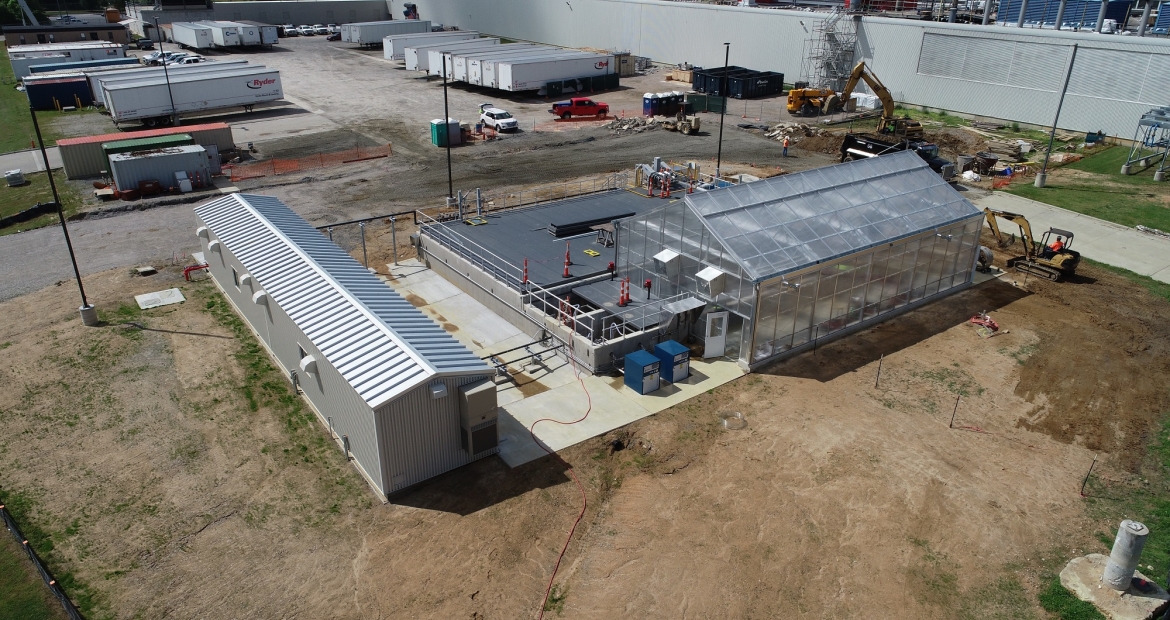 Six years after announcing its first global environmental sustainability plan, Cummins achieved three of seven 2020 goals a year early and was very close to a fourth.
Meanwhile, the company significantly offset the electricity it uses with renewable energy – part of the energy and greenhouse gas (GHG) goal it narrowly missed achieving in 2019.
But it's unclear how many of the 2020 goals the company will actually achieve when the books are closed on the year in early 2021. Some of the goals are adjusted for hours worked, which declined significantly in 2020 due to company-announced actions in response to COVID-19. 
The global pandemic forced shut-downs at many Cummins locations to fight the spread of the virus. When facilities reopened, operations changed significantly to keep employees safe. Hours spent on extensive cleaning and disposal of personal protective equipment could offset any environmental savings from the shut-downs. 
2019 HIGHLIGHTS
Cummins in 2019 continued to exceed the carbon dioxide (CO2) savings it expected to achieve by 2020 through partnering with customers on fuel economy projects, avoiding 17 million metric tons of CO2 through the end of 2019.
The company also surpassed its 2020 water reduction target in 2019, a goal that was increased just a few years after Cummins' global environmental sustainability plan was announced in 2014. The target was raised after the company surpassed its original goal.
Cummins also reached its goal of establishing 15 water neutral sites in 2019 as company plants worked with local communities to offset their water use by establishing new water sources or developing community-based water conservation efforts.
The 2019 year-end energy intensity performance was just one percentage point shy of the company's 32% goal. Cummins, however, made a significant step forward in its goal to use and promote renewable sources of energy. A northwest Indiana (U.S.) wind farm expansion the company is supporting through a virtual power purchase agreement completed its first full year of operation in 2019.
While the power generated by the expansion doesn't go directly to Cummins, the company's share of the expansion is now producing nearly as much electricity as Cummins uses at its facilities in its headquarters state of Indiana.
The company also exceeded its goal to certify 40 of Cummins' highest energy use facilities to the ISO 50001 Standard, which makes efficiency part of the company's everyday operations.
CHALLENGING AREAS
But Cummins saw only a modest increase to 91% toward its recycling goal of 95% as waste reduction efforts also reduced the volume of some relatively easy to recycle items.
The number of sites certified as Zero Disposal increased from 15 in 2018 to 23 in 2019 as the company made solid progress toward its goal of 30 sites by the end of 2020.
Cummins also saw progress in its logistics goal to reduce CO2 per kilogram of goods shipped, reaching 7% compared to its goal of 10%. 
LOOKING AHEAD
No matter what happens in 2020, the company will continue to be goal driven when it comes to its environmental performance in 2021 and beyond. That's because in 2019 Cummins adopted a new environmental strategy called PLANET 2050. It includes goals for 2030 and aspirations extending to 2050.
"Since our communities and businesses depend on a healthier planet, we will take strong action on climate change and work toward a future where we waste nothing," said Brian Mormino, Executive Director of Technical & Environmental Systems at Cummins.
To learn more, check out the report on the company's environmental performance starting on page 20 of the 2019 Sustainability Progress Report.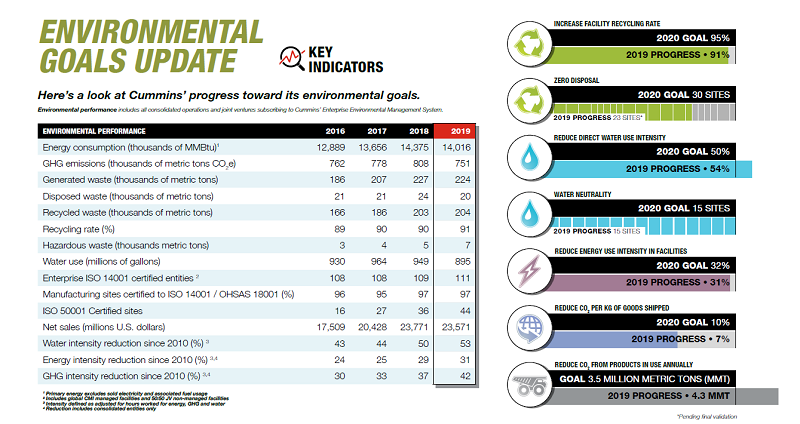 .