Cogeneration technology offers electrical efficiency at expanded agricultural waste management facility in Spain
Waste treatment plants are sophisticated operations, and running efficiently with new technologies that make better use of resources is critical to site operations. That's why cogeneration solutions are increasingly popular in these applications, and gas-fueled generator sets are proving their all-round viability.
TROIL Vegas Altas S.C. is a second-grade cooperative dedicated to the transformation of olive oil mill by-products. Many expansions have been made over the years at the site in Valdetorres, Spain, and a combined heat and power application was selected as the most cost-effective and reliable solution to power the new site expansion. Electrical efficiency and reliability of the Cummins QSK60G lean-burn gas generator set, coupled with the existing long-standing relationship with Cummins Power Generation, were the key reasons why TROIL Vegas Altas S.C. chose Cummins again.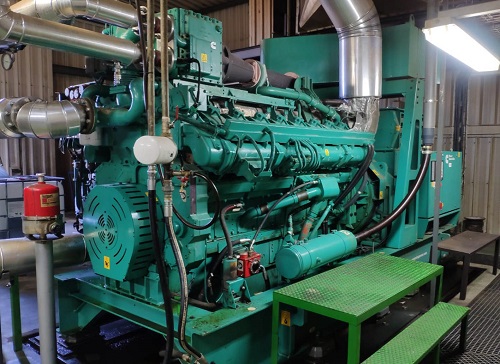 "Cummins has provided us with confidence to renovate and install the new generation of gensets in our facilities to run another 60,000 hours cycle," said Jose Calama, General Manager of TROIL Vegas Altas S.C. 
The power generated by the existing two gas generators and the Cummins QSK60G generator installed within the plant is used for processing the byproducts. At the same time, the power from the exhaust gases is used to heat air in a gas-air exchanger reaching a temperature of around 360°C, with the excess heat used to dry out the wet pomace produced in the mill. Through this cogeneration application, TROIL Vegas Altas S.C. can gain significant fuel and financial savings by also exporting any excess power generated to the national grid. 
Read more about the cogeneration solution at TROIL Vegas Altas S.C. in this case study.