National and state parks to visit in each of the 50 states during your next RV vacation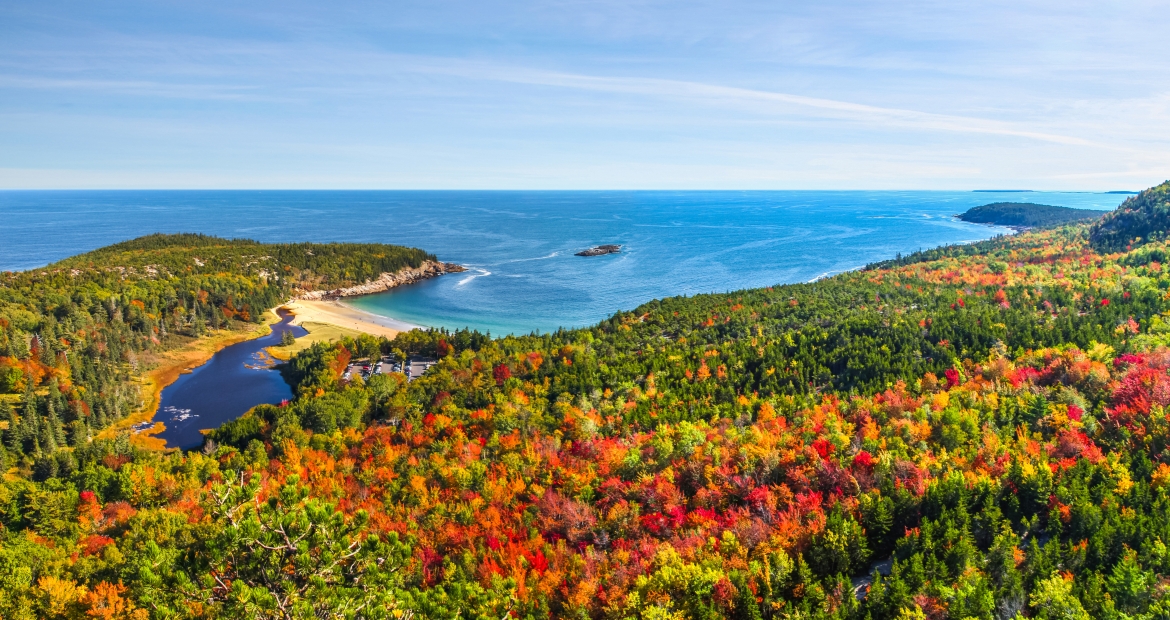 RV vacationing has been on the rise in recent years and is expected to increase in popularity, as many seek to generate their new normal with an RV. An RV vacation offers your family expanded personal space both along the way and at the destination. 
This article aims to inspire your next family adventure with an RV, and lists one national or state park to visit in each of the 50 states during your next RV vacation*.
Alabama
Natchez Trace Parkway is where you can enjoy the 444-mile scenic drive, and follow the footsteps of American Indians and European settlers through a historic travel corridor. While not driving, you can enjoy biking and horseback riding too. Height restriction for RVs is 14 feet since there are few bridges with clearances under 15 feet along the parkway.
Alaska
Denali National Park and Preserve is the third largest national park in the U.S. and spreads over six million acres of wildland. It is also home to North America's tallest peak.The park is very popular among RVers from late May to early September.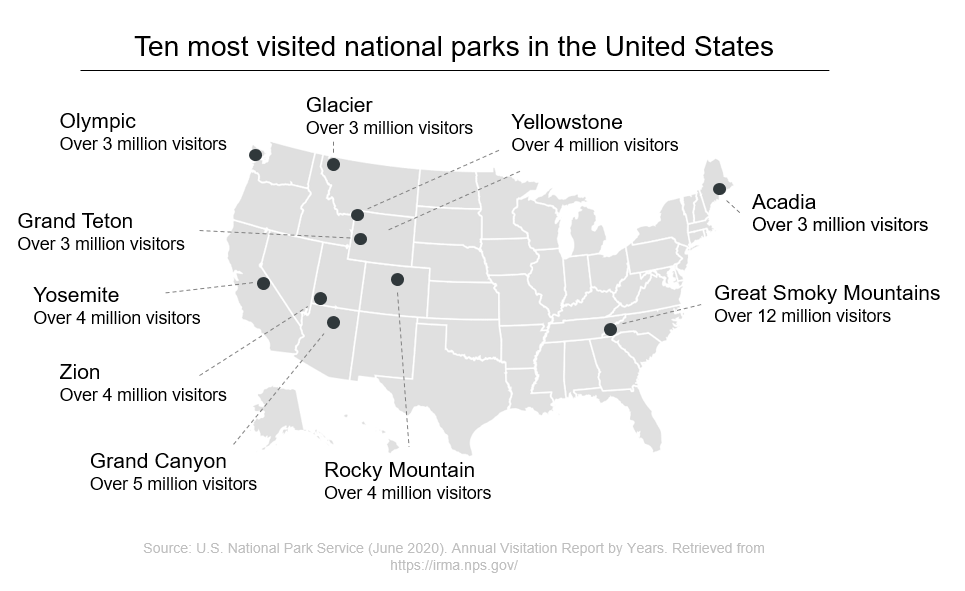 Arizona
Grand Canyon National Park is the second most visited national park in the U.S. and features one of the seven natural wonders of the world: the Grand Canyon. Within the park, beyond the world-famous canyons, lies a little-known Indian Reservation, Supai Village, accessible through hiking and only with advanced reservations.
Arkansas
Hot Springs National Park offers its visitors a variety of experiences including ancient thermal springs, mountain views and forested hikes. While it is one of the smallest national parks, its location within the city of Hot Springs makes it a unique experience for visitors. 
California
Joshua Tree National Park is located at the intersection of two desert ecosystems: the Mojave and the Colorado. The night sky in the middle of the desert offers visitors breathtaking views of the Milky Way.  The park also features 8,000 established rock-climbing routes, making it a destination for climbers all around the world.
Colorado
Rocky Mountain National Park is the perfect destination for visitors interested to experience the subalpine and alpine worlds and spend time within a spectacular mountain environment. Moreover, you can experience Trail Ridge Road, highway to the sky, within your RV. The 48 miles of highway reaches to 12,183 feet elevation and offers visitors thrilling views.
Connecticut
Hammonasset Beach State Park is Connecticut's largest shoreline park and attracts over a million visitors each year. You can start the day on the land with bicycling and hiking, stroll through the boardwalk and spend the afternoon fishing and sunbathing on the beach.  
Delaware
Cape Henlopen State Park was one of the nation's first "public land," and was established over 300 years ago. Beyond its history, visitors also come here for beaches, pine-covered dunes and trails. Visitors can also try some of the unique activities including surf fishing and enjoy their time at the disc golf course.
Florida
Everglades National Park, a World Heritage Site, is the largest subtropical wilderness in the United States. While many think of the American crocodile as the rare species to see at the park, a few lucky visitors may see the mysterious Florida panther during their visits. 
Georgia
Chattahoochee River National Recreational Area has something to offer to any visitor. You can paddle to enjoy the Chattahoochee River, choose to cycle between the hilly trails and a fitness loop or fish on the river to catch a trout.
Hawaii 
Hawaii Volcanoes National Park offers its visitors two of the world's most active volcanoes, Kīlauea and Mauna Loa. One of the most unique experiences the park offers is the hike through the rainforest and the 500-year old lava tube where hot lava once flowed.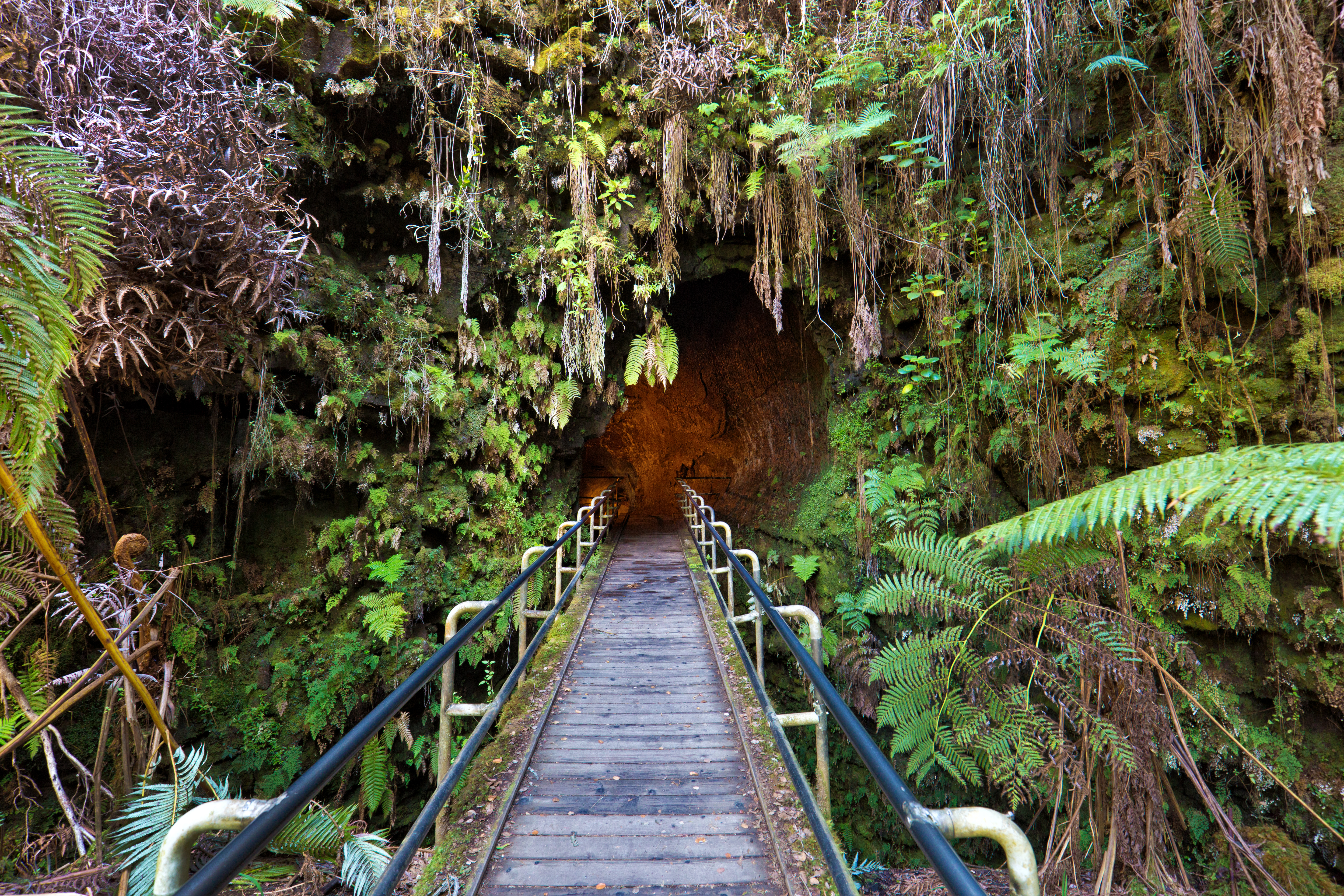 Idaho
Craters of the Moon National Monument and Preserve is a volcanic wonderland with activities that can fit any schedule. If you are just driving by towards your next destination, you can take the scenic 7-mile loop drive or take a couple of hours to hike to Big Craters. If you plan to spend a night, you can camp in the wilderness but would need to plan in advance, since fewer than 100 people a year obtain overnight camping permits.
Illinois
Starved Rock State Park offers its visitors 13 miles of trails to access waterfalls and spectacular overlooks. The canyons in the park feature vertical walls of moss-covered stone formed by glacial meltwater. You can also enjoy time on the water through kayaking, canoeing or fishing.
Indiana
Indiana Dunes National Park is famous among bird watchers where more than 350 species have been observed. Moreover, National Park Service ranks it fourth among all national parks in terms of biological diversity, thanks to over 1,000 plant species existing in the park. The sand dunes, that gave the park its name, rise to almost 200 feet and are located near the park's beaches.
Iowa
Backbone State Park was Iowa's first state park, and offers activities ranging from rock climbing and bicycling to canoeing and hiking to its visitors. While there, you can also investigate the unique masonry work within dams and rustic cabins built by Civilian Conservation Corps.
Kansas
Tallgrass Prairie National Preserve is much more than just grass. You can find over 150 species of birds to watch and a few short trails to catch expansive vistas of this pristine beauty.
Kentucky
Mammoth Cave National Park is home of the world's longest cave below ground, which extends over 400 miles. If this is not impressive enough, you can also hike through a forest and enjoy the navigable river, which is 20 miles long. 
Louisiana
Fontainebleau State Park is packed with activities for any visitor's need. You can move around the park by hiking, bicycling and in-line skating. The sandy beach facing the lake is great for relaxation and sunbathing. Birdwatchers can enjoy a variety of bird species thanks to the convergence of diverse ecosystems in the park. 
Maine
Acadia National Park has many unique aspects in what it offers to its visitors and in its history. To begin with, it is the first national park where private owners donated land to the federal government to establish the park. Visitors can enjoy the hikes around the highest point on the Atlantic seaboard, Cadillac Mountain, and be the first to see the sun rise in the U.S. from October to March.
Maryland
Assateague Island National Seashore is where you can enjoy the ocean at the edge of the continent. You can enjoy horseback riding on the beach, hike through the barrier island or discover the bays through crabbing and clamming.
Massachusetts
Cape Cod National Seashore features 40 miles of sandy beaches, marshes and ponds. You can relax on the beach before taking a hike or ride on the seashore trails. A combination of the coast, the wetlands, and the woods create an ecosystem where you can explore over 450 species of amphibians, reptiles, fish, birds, and mammals.
Michigan
Porcupine Mountains Wilderness State Park is the largest state park in Michigan and  home to roaring waterfalls, rivers and streams. Visitors can hike across 90 miles of trails to access Lake Superior's shoreline and many other smaller lakes. Many water activities including canoeing, kayaking, boating and fishing are enjoyed by its visitors.
Minnesota
At Voyageurs National Park, water takes the prime spot, where close to half of the park is water: lakes and other waterways. While boating, canoeing and kayaking tend to be the popular activities, visitors can also enjoy hikes where they can see Earth's oldest rock formations. 
Mississippi
Tishomingo State Park offers its visitors a mix of history and scenic beauty. It is believed that the Paleo Indians have inhabited the area as early as 7,000 B.C. Today, visitors can observe unique rock formations and colorful wildflowers as hike through the trails once walked by Native Americans. 
Missouri
Table Rock State Park bring together water recreation and land-based activities. On land, you can bicycle on paved trails or jump onto one of the mountain biking trails. On the water, you can rent ski boats, paddle boards, kayaks and all the accessories. 
Montana
Glacier National Park is the perfect destination for hikers seeking solitude and wilderness. The park still lives up to its name and features 26 named glaciers, even after completely losing nine glaciers over the last five decades. RVs that are shorter than 21 feet and narrower than eight feet can also travel through the Going-to-the-Sun Road to travel across the Rocky Mountains.
Nebraska
Chadron State Park is Nebraska's first state park and the perfect destination for mountain bikers with over 100 miles of trails and roads available between the park and the adjacent forest. Visitors can also catch trout or relax in the park's swimming pool overlooking the pines.
Nevada
Great Basin National Park offers its visitors various experiences ranging from exploring the underground Lehman Caves to hiking up to Wheeler Peak, with a summit at 13,063 feet. The park once hosted the world's oldest living tree, Prometheus, estimated to be 4,900 years old when it was cut down a few decades ago. It is very likely  there are still many older bristlecone pines across the park waiting for visitors to discover.
New Hampshire
Pawtuckaway State Park has something to offer all visitors. Hiking enthusiast can enjoy trails that feature points of interest such as a mountaintop fire tower. Nature lovers can observe beavers, deer and great blue herons. Families seeking to relax can spend time on the beach next to the lake.
New Jersey
Paterson Great Falls National Historical Park differentiates itself from other parks on this list by offering its visitors a combination of nature and engineering marvels. The park's centerpiece is Great Falls of the Passaic River. The Great Falls raceway and power system became a Historic Civil Engineering Landmark in 1977, and enabled many innovations ranging from submarines to aircraft engines.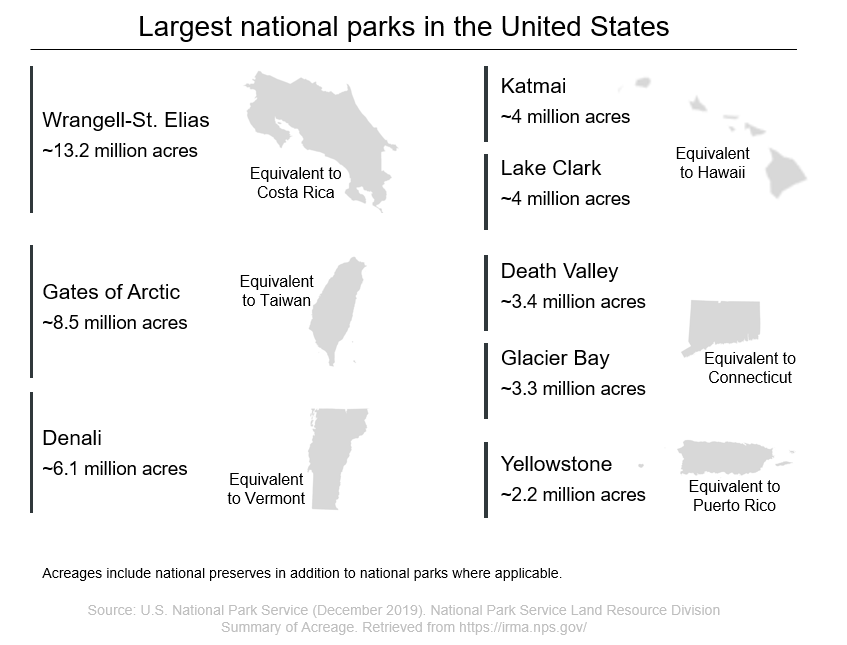 New Mexico
White Sands National Park offers its visitors views of the world's largest gypsum dune field with plants and animals unique to this habitat. The park is home to more than 800 animal species, including over 200 species of birds to watch. If you are lucky, you can even see an African oryx, a large antelope native to the Kalahari Desert;  introduced to the areas adjacent to the park in 1970s. 
New York
Adirondack Park is one of the largest parks in the U.S.; in fact, it covers an area equivalent to the state of Vermont. Visitors can stroll around charming villages and quaint towns when they are not exploring the nature. Hiking, paddling, fishing and climbing are some of the more popular activities visitors of the park enjoy. 
North Carolina
Great Smoky Mountains National Park is America's most visited national park, and offers visitors a diverse ecosystem. You can run into many of the over 100 native tree species during your hike through the ancient mountains.
North Dakota
Theodore Roosevelt National Park impresses its visitors with breathtaking views of the Badlands and the iconic animals such as the American bison, big horn sheep and elk. The park is a special spot for many natural parks lovers, since it was named after Theodore Roosevelt, the 26th president of the United States and often called "the conservation president."
Ohio
Cuyahoga Valley National Park is famous for the Towpath Trail, where visitors can hike, bike or even ride a horse through it. The trail follows the historic route of the Ohio and Erie Canal, which opened  Ohio to the rest of the settled eastern United States in 1830s. 
Oklahoma
Chickasaw National Recreation Area is a water-lover's heaven. Visitors can spend time boating, fishing and swimming. Moreover, the park offers great bird watching opportunities, as it is in the Central migratory flyway.
Oregon
Crater Lake National Park is located atop the Cascade Mountain Range and offers its visitors stunning views of the deepest lake in the U.S. The lake is located at a tall peak and the purity of its water is due to being fed only by rain and snow.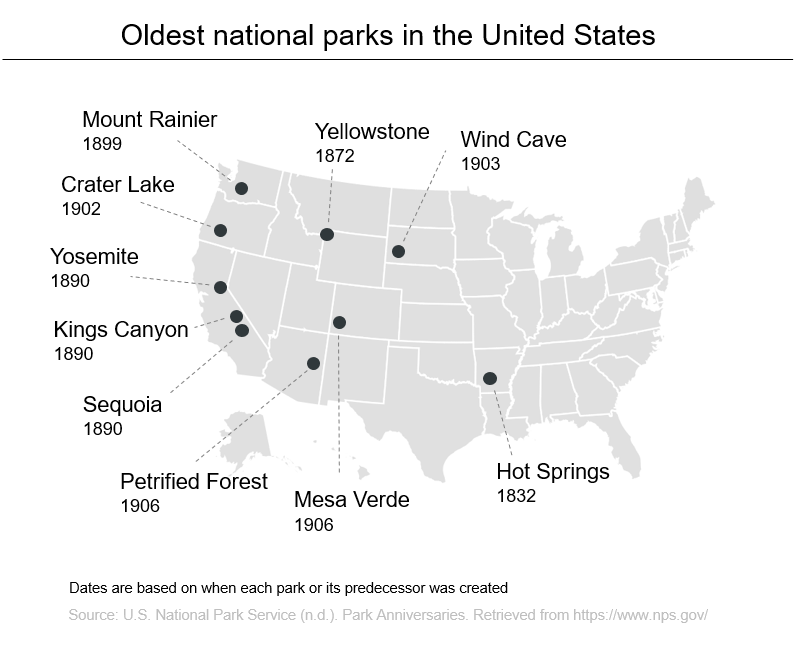 Pennsylvania
Ricketts Glen State Park boasts many waterfalls including the 94-foot Ganoga Falls, accessible through the Falls Trail System. Lake Jean offers visitors opportunities for fishing, swimming boating and relaxing on the beach.
Rhode Island
Burlingame State Park offers its visitors a mix of terrains including the woodland, freshwater beach and the Watchaug Pond. A range of activities including mountain biking, fishing, swimming and canoeing are available for visitors. 
South Carolina
Congaree National Park is one of the newest national parks and a great place to experience a floodplain forest. It offers visitors a nourishing ecosystem fed by nutrients and sediments brought by Congaree and Wateree Rivers. Visitors can experience the wilderness through fishing, canoeing, hiking or camping.  
South Dakota
Badlands National Park contains one of the world's richest fossil beds. Moreover, you don't need to be a paleontologist to enjoy your time around the fossils. In fact, a seven-year-old from Georgia found a rare museum-quality saber tooth cat skull at Badlands in 2010.
Tennessee
Roan Mountain State Park bring together rich hardwood forests, the beautiful Doe River and the majestic Roan Mountain. Visitors have activities ranging from hiking along the creeks and ridges, and mountain biking to fishing for three species of trout on the Doe River.
Texas
Big Bend National Park's dark nights are well-known among stargazers; it has the least light pollution of national parks in the lower 48 states. Beyond the nights, you can spend your days birdwatching across different habitats within the park, hiking across desert and mountain trails, or taking a river trip on the Rio Grande.
Utah
Zion National Park is well-known with its scenic canyon views. Meanwhile, the little-known aspect of the park is its diverse ecosystem that hosts over 1,000 species of plants and many species of animals. The park is neighbored by the Mojave Desert, the Great Basin, and the Rocky Mountains; this creates abundant opportunities for visitors to experience diverse habitats. 
Vermont
Woodford State Park is located on a mountain plateau surrounding Adams Reservoir, which is surrounded by a dense forest of fir, spruce and birch. Visitors can relax on the sandy beach or get active with hiking, boating and wildlife viewing. Adams Reservoir is also excellent for trout fishing.
Virginia
Shenandoah National Park is famous among RVers with its Skyline Drive; and there is much more to do while you are in the park. Fishing opportunities are abundant in the park with over 70 mountain streams. There is a hike suited for every visitor's need across over 500 miles of trails; and the nights could be spent stargazing some of the 2,500 stars visible to the unaided eye. 
Washington
Olympic National Park offers its visitors three distinctly different ecosystems. The temperate rain forests where annual precipitation ranges from 12 to 14 feet. Then comes the glacier-capped mountains including Mount Olympus with a 7,980-foot summit. Finally, over 70 miles of wild coastline featuring beaches, tidepools and off shore sea stacks.
West Virginia
New River Gorge National River park's centerpiece is the New River, one of the oldest rivers on Earth. Meanwhile, the activities in the park go beyond the water focused activities; visitors can bike along an old railroad grade and hike along the trails.
Wisconsin
Apostle Islands National Lakeshore includes over 20 islands on Lake Superior. It is not a surprise that water activities ranging from paddling to sailing take the centerstage. Meanwhile, hikers can still leverage over 50 miles of trails to explore lighthouses, beaches and scenic overlooks on their way.
Wyoming
Grand Teton National Park is known among climbers and mountaineers that visit the park every year to reach one of the peaks within Teton Range. Visitors can also experience fishing in one of the alpine lakes or paddle the lakes while watching breathtaking views of Teton Range.

National and state parks are perfect getaways for the families interested to discover history and explore nature. Meanwhile, you can generate your new normal with an RV during these trips. Before you start your next RV adventure, consider taking advantage of these additional resources.

* Due to the rapidly changing nature of the current pandemic, some of the parks might face partial or complete closures; please check the parks' websites for the latest updates.