Olivia integrates her passion with a career at Cummins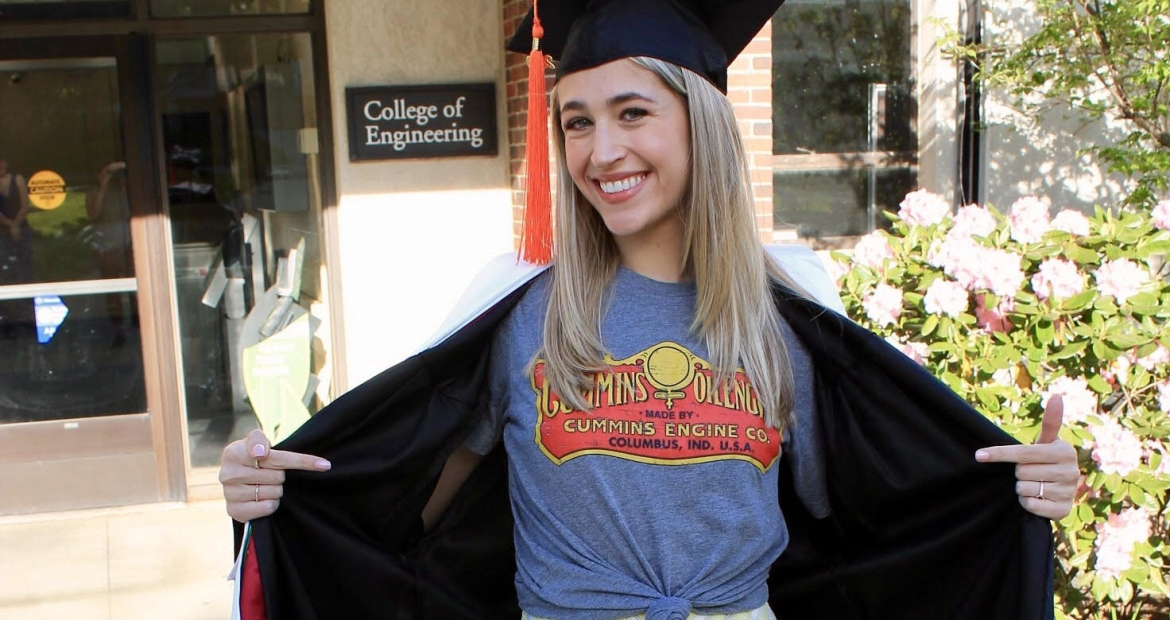 Growing up, Olivia was encouraged to take interest in the stereotypical girl hobbies and toys like ballet, cheerleading, and dolls. It wasn't so much that she didn't like those things, but that she was always drawn to things her brother enjoyed like cars, ATVs, and other mechanical interests. As a kid, she frequently played a game while waiting in the car - who could name the most makes and models of the other cars in the parking lot? As she grew, her parents nurtured these unconventional interests and helped Olivia's passions take hold. 
Students in my high school were generally drawn to the arts or sports over science, making me very atypical. When I enrolled as a first-semester freshman in 'Introduction to Technology,' a class of five students, I was the only female.
This introductory class sparked her interest in science and engineering even further. She soon signed up for any and all technical electives she could get into - everything from computer science, to physics, to STEM. But still, those classes were small and she was almost always the only girl in the room. One teacher of those same technical classes was steadfast in his encouragement of Olivia. He urged her not to give up and to feed her curiosity. Coupled with a counselor, they nominated Olivia for her first Society of Women Engineering Outstanding Junior Award. This nomination solidified her plans to apply exclusively to mechanical engineering programs in her senior year of high school. 

Growth through SWE 
As she started her degree program in Mechanical Engineering at the University of New Haven, she knew she wanted to be active beyond her direct class assignments. She made it a point to join her local chapter of the Society of Women Engineers (SWE), where she later served as President throughout her junior and senior years. Through this same network, she was able to gain her first internship with Cummins Inc. after her Sophomore year as a North American On-Highway Applications Engineer. The following summer, she returned to do product validation engineering with the Fuel Systems Integration team at Cummins. 

A long-held passion for Cummins
Olivia was first introduced to Cummins at an early age. Growing up with many diesel and engine fanatics, she attended truck shows and races in various forms, including events like Diesel National at Raceway Park in New Jersey. At this same event in 2016, she remembers seeing Cummins' large tent showcasing the X15 and garnering massive crowds. This piqued her interest even more, especially as a college student thinking about her future. After hearing firsthand from employees volunteering at the SWE conference later that year, specifically other female engineers, she knew it was the right place for her. 
When I asked real people, real engineers (who were all women), about their experiences at Cummins, their responses were the final influence that drove me to pursue a career here. 

Olivia was elated to get an interview shortly after her conversations at the Cummins SWE booth. There was no better birthday present than an offer to intern with Cummins that summer. Even better, she notes the relationships she made with other interns during this time, many of which went on to accept full-time roles with Cummins like herself. 

Values that #ShapeTheWorld
For Olivia, International Women in Engineering Day (INWED) on June 23 is the perfect opportunity to shed light on the many contributions and accomplishments of female engineers. 
It's a day to celebrate the contributions of the women engineers have made historically and continue to make today. For me, it means we can celebrate, acknowledge, and remind others of the many problems female engineers have solved that can be forgotten on most days.

She goes on to note that she believes INWED doesn't stop with educating herself on the position of being a woman in engineering; she also believes it's important to place emphasis on educating others on what it's like to be a woman in a male-dominated industry through open conversations with other women engineers in her own network, male coworkers, non-engineers, and family and friends. She also takes days like INWED as an opportunity to celebrate, learn more, and amplify the voices of Black, Indigenous, People of Color (BIPOC) women in engineering support of equality. She encourages others to have these conversations about women, equality and facilitating change. 
Interested in more on a career at Cummins? Click to read more from our team or search for available opportunities.