Ryan uses his role in New Power to create energy innovation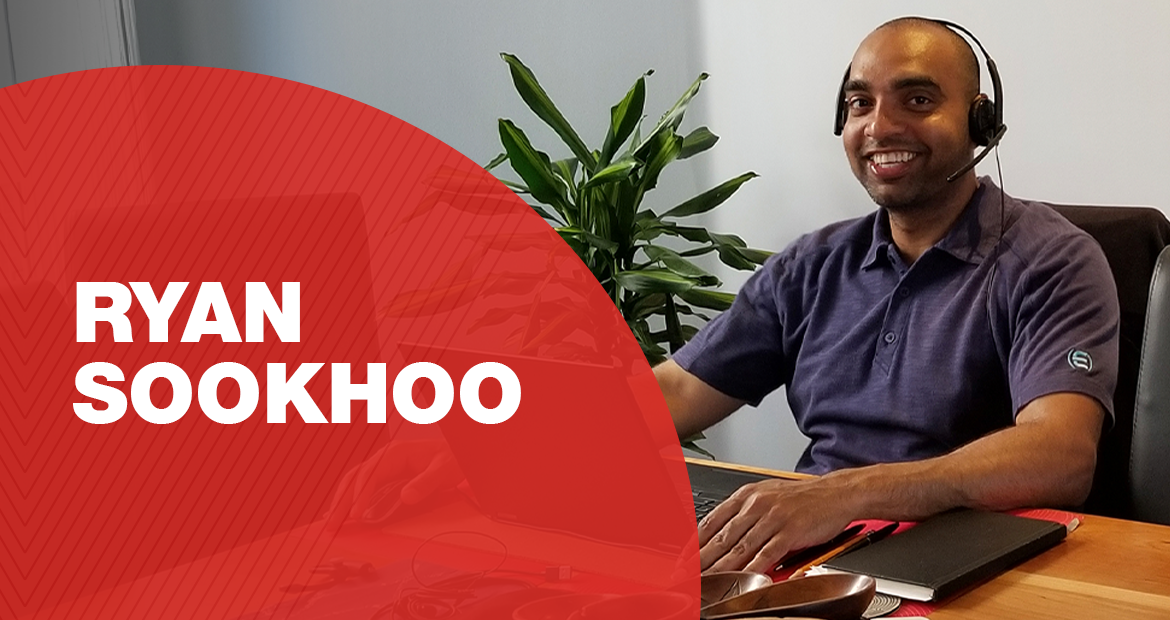 Our world today is in an age of unprecedented change, one where protecting our environment is a global concern, and fuel cell and hydrogen technologies engineer Ryan Sookhoo is proud to be at the forefront. Ryan is one of many new engineers to join Cummins through the acquisition of Hydrogenics in 2019 and is excited about the prospect of further developing the hydrogen energy market to meet the world's growing energy demands in an environmentally sustainable way. 

The world is embarking on an energy revolution. There are many options for power and energy, and helping to enable productive change is what I'm passionate about.

The first of its kind
Ryan enjoys interfacing with the general community and having the chance to show them real-world applications of zero-emission fuel cell vehicles. He enjoys working in an environment where each day the application or the opportunity can change, and the chance to work on something new is always exciting. Ryan takes pride in helping to usher new types of projects with hydrogen technology. He has been part of many "first of its kind" projects, but he doesn't do it alone. 
 


I am supportive of the team approach in my role; we are in it together to drive real change in the industry. We much embrace a global perspective when developing opportunities, using both our knowledge of the technology and the state of the marketplace.

Tangible technology
Ryan brings over 14 years of experience with hydrogen to the New Power team. Starting his career as an electrical engineer working on fuel cell power modules, he then moved on to manage large scale projects. His technical and practical background created a solid foundation that allowed him to leverage his experience and apply it to a business development and sales role. It was a natural progression for him in an industry that he is passionate about. 
He is now responsible for new business growth opportunities in various markets including transportation as well as stationary power. He works with key stakeholders to champion growth and product ideas, brings customers through the sales cycle, and helps support projects through their design and implementation. It's Ryan's experience across a multitude of projects that gives him a well-rounded perspective on the industry. He enjoys interacting with the energy community and having the chance to show them real-world applications of zero-emission fuel cell applications.

It's exciting to see and experience their realization that the technology is not intangible. Breaking the misconceptions is motivating. There are no silver bullets or perfect solutions to solve the present emission challenges globally, but finding what works or more importantly, what doesn't work, motivates me. Solutions to these questions require the combination of many technologies and that's exciting to be part of.

Due to his engineering background and the nature of his role, he is largely results-driven and believes "if you start something, you finish it" when it comes to his work approach. "The solutions we develop to overcome challenges bring us closer to the end goal. We do not give up when the barriers go up, we get creative and determined to finish what we've begun." 

Creating impactful results
Ryan relies on developing and maintaining relationships inside and outside of the organization to achieve his objectives, so practicing open communication is key. "Communication is not a one-way activity and the importance of talking through issues is invaluable, building rapport and leading us to steady and impactful results." 
Ryan's role has allowed him to work from home throughout the shelter in place order and adapting to the new way of working has been second nature for him. Staying in touch with customers through video calls has been crucial and is something Ryan has a lot of experience with. 

I have been working with customers in different times zones and countries for years, so using technology to keep me connected and keep projects progressing is nothing new to me. We have the tools to continue to develop business remotely and market interest is still strong. But I do look forward to meeting customers, prospects, and colleaues in person again. There's something about a face-to-face handshake that's missed in this new environment.

Ryan has been adding some excitement to his day by taking meetings and calls from his side porch turned office at home. "Where I work at home right now is very weather dependent, sharing the time between my interior home office and my front porch, or what I like to refer to as my exterior home office."
Outside of work, Ryan stays active with his family by hiking and fishing, and enjoys playing basketball or hitting the gym. With more time at home, he has recently been working on developing a green thumb with mixed results. With some time, he has no doubt that he'll create a new garden much in the same way he has been helping create a new energy market. From the seeds he grows in his garden to the hydrogen projects he helps develop, change is sprouting up and around the world, and Ryan's happy to be a part of it. 
Interested in learning more about New Power at Cummins? Explore our careers. 
Want to hear more from members of Cummins' New Power team?