Employee drives Meal Train to feed health care workers on the front lines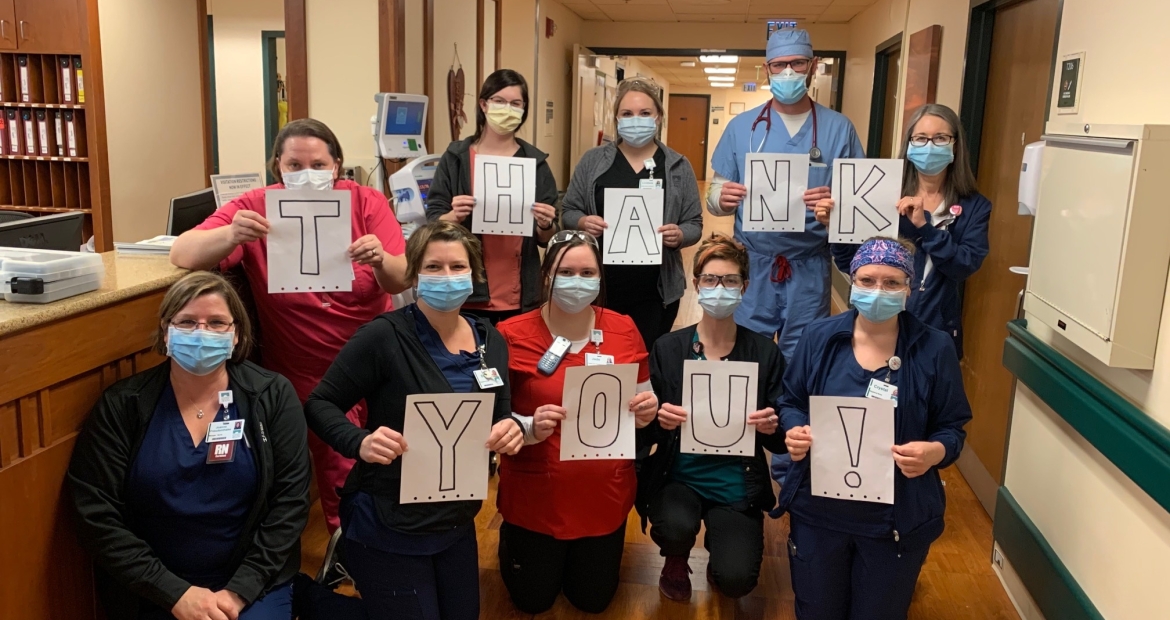 Healthcare workers have been on the frontlines since COVID-19 first arrived. Cummins Tax Accountant and former Columbus Regional Health (CRH) employee Courtney Imlay knows better than most what they have been enduring during this pandemic and felt compelled to help. 
Imlay had been thinking and praying for guidance to make an impact in her home community of Columbus, Indiana, and help her former colleagues at Columbus Regional Hospital. Her prayers were answered when she heard about a Meal Train taking place in Indianapolis, Indiana. 
"I heard on the news an individual in Indianapolis had created a Meal Train to provide meals for essential employees at the hospitals in Indianapolis," Imlay said. "I thought that's it! I could create one to provide meals for essential employees at Columbus Regional Hospital in the critical needs departments."
Meal Train is a crowd sourcing platform based in Burlington, Vermont, that was created in 2010 after a couple organized meals to support a neighborhood family that had a baby. The site allows community members to sign up to pay for meals from community restaurants that are then delivered to recipients and is now used by people around-the-world.  
PUTTING THE TRAIN INTO MOTION
As a former CRH employee, Imlay knew who she needed to contact to make the Meal Train happen and reached out to the CRH Director of Volunteer Services to get everything going.
"After connecting with Rebekah (Walsh) to make sure everything was good at CRH, I posted about the Meal Train on my personal Facebook page, reached out to churches in the community and asked them to post on their social media, and asked CRH to share on their social media." 
The response by the community was immediate; several individuals, families and small groups signed up to fill the available meal slots. Additionally, several people donated money toward the effort. The response allowed the Meal Train to go beyond frontline workers at CRH and extend to two clinics in the area, PromtMed COVID Clinic and the Family and Internal Medicine COVID Clinic. 
Imlay's Meal Train provided lunch and dinner for 30 individuals at CRH, lunch for 18 employees at PromptMed COVID Clinic, and lunch for 18 employees at the Family and Internal Medicine COVID Clinic. 
"We were able to provide meals for an entire two weeks leading up to the hospital opening back up on May 4," Imlay said. "On May 4, when the hospital opened back up allowing procedures to happen, we had 500 ice cream sundaes delivered to CRH and 18 delivered to each COVID clinic by Dairy Queen, as a welcome back and to thank the workers for everything they have done during this pandemic." 
SIMPLE ACTS OF KINDNESS
Imlay doesn't have any additional Meal Train meals planned, however, she has continued to help during the pandemic by cutting out fabric to make masks and grocery shopping for family members at high risk for the virus. She also has some advice for others looking to help but who don't know how.
"Simple acts of kindness can go a long way," Imlay said. "There are so many ways you can give back even from your home, whether that be cutting out fabric for homemade masks, sewing homemade masks, buying groceries for the elderly, making cards to send to nursing homes or shut-ins, etc. Simply sharing a smile with someone will go a long way."