Woman Owned Business Ezzell Electric Continues Legacy of Home and Small Business Power Generation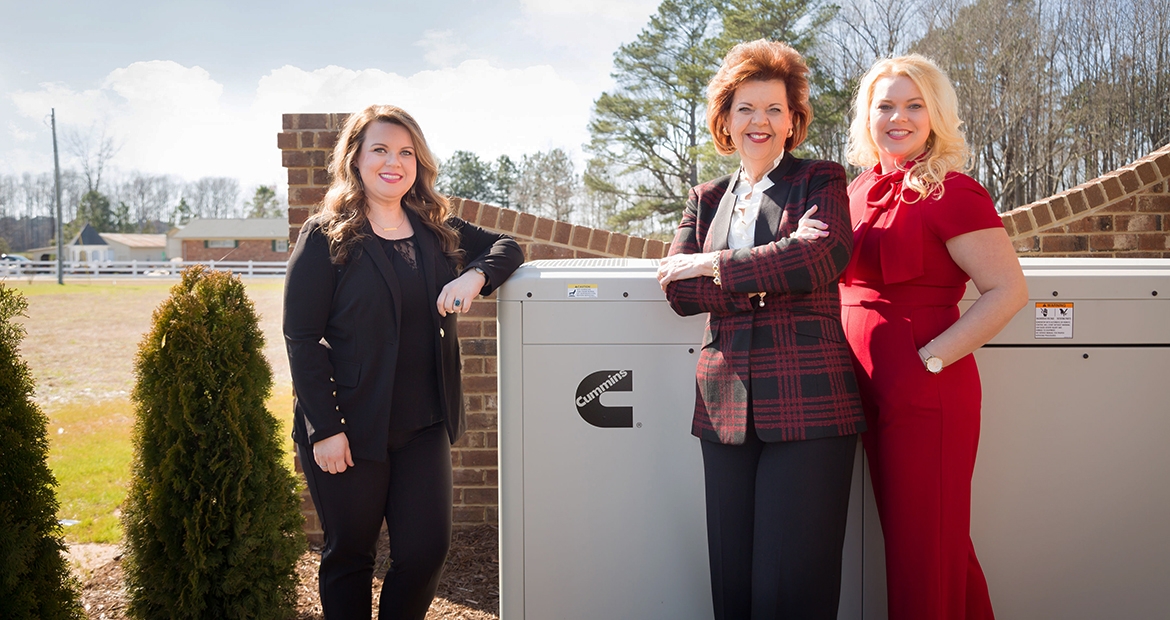 Photos were taken before COVID-19 social distancing measures. 
Cummins Home and Small Business generator channel partner Ezzell Electric in North Carolina is the legacy of Joe Ezzell, an entrepreneur who perfected his craft, reputation, and brand. After his passing in 2016, his wife Nancy and daughters Nancy Jo and Natalee have continued his legacy of integrity by devoting themselves to learning the ins and outs of business ownership, generator installs and maintenance, and relationship building. 
Living in an area that often experiences hurricanes and severe weather, Joe Ezzell started his business supporting the agriculture industry and quickly progressed to supporting homes and small businesses.
"My dad was a hometown person and looked after his customers personally. Mom remembers on more than one occasion he received a call in the middle of the night and after getting his bearings about him told the customer to hold the phone up to the generator so he could hear it, and he was able to walk them through fixing the issue," recalls Nancy Jo, "People called him when no one else had an answer."
A woman owned business in a man's industry
In a traditionally male dominated field, the female trio has never questioned their resolve. Since their marriage in 1984, Nancy was the rock on which Joe laid his foundation.
In a beautiful tribute to her mother's contribution to the business, Nancy Jo says of Nancy "If truth be told, my mom ran the business from the beginning. She is the strength, stability, support, and foundation. When things get rocky or difficult, we look at her. In the beginning of the business when things were tight, she worked other jobs, plus doing dad's books, so that our family had insurance. She did it to build Ezzell Electric. She was the strength, dad was the face, and Ezzell was the name. Because of her, Natalee and I know that we can continue running this business."
Starting at Ezzell Electric in 2009 after earning her MBA from Campbell University's Lundy-Fetterman School of Business, Nancy Jo worked alongside Joe. While Joe had the technical skill and personal relationships that were the foundation of Ezzell Electric, Nancy Jo brought a refreshed business approach to the company and worked alongside her dad to make the company more successful than ever. Their new business relationship strengthened their personal relationship. Natalee received her BBA from Campbell University's Lundy- Fetterman School of Business and joined her sister after her father's passing in 2016.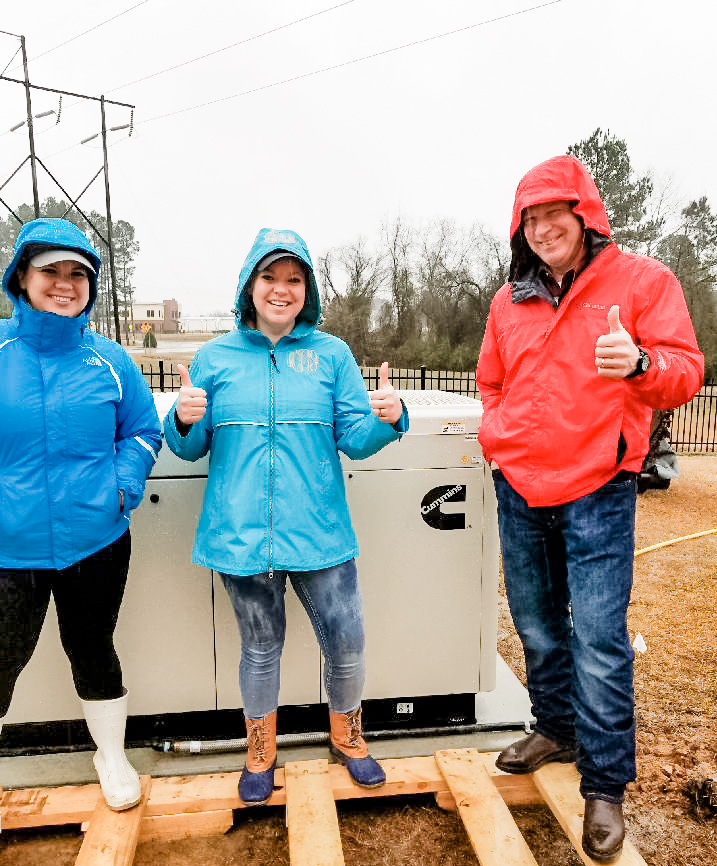 "It has been a challenge as a women owned business in a man's industry. You absolutely have to know what you are talking about. We do a lot of listening when we are with technical people, and we definitely pay attention. We try to connect dots and see patterns. When I started quoting generator installs, I paid attention to everything the electrician would do when he went with me, and asked him several questions. It is much better to say to I don't know the answer to that rather than making something up. We are young, educated women, and must always be on our toes. We study, read, and take advantage of the training courses that Cummins has made available through its Quickserve website," says Nancy Jo of being a woman owned electrical business.
Offering advice to other woman owned generator dealerships, Nancy Jo says "There is a place for you. I grew up thinking that a generator was a man's world and there wasn't a place for me in the business. I was wrong. I know how a generator works. I can set the clocks and exercise times. You can do it. There is a place for you. I could learn the technical side and work in the field, but that's not what I want to do. I rely on my team for that and focus on my leadership."
The Cummins Home and Small Business partner support
Cummins Home and Small Business partners are carefully selected to represent the Cummins brand.
Dad took pride in being a Cummins dealer. He believed in the quality of the product, and so do we. Cummins brand invests in their dealers, takes care of their dealers, and supports their dealers. They want to see us be successful."
Cummins channel partners also look out for each other. Those with 20-30 years of experience are available to Ezzell Electric to offer their expertise, support, and advice. Cummins is proud of the quality network of experienced professionals in the Home and Small Business Partner Channel.
To learn more about Cummins Home and Small Business Generators, please visit homegenerators.cummins.com
If you're interested in becoming a Cummins Home and Small Business Dealer, please fill out the inquiry form.