Cummins employees serve community through assistive technology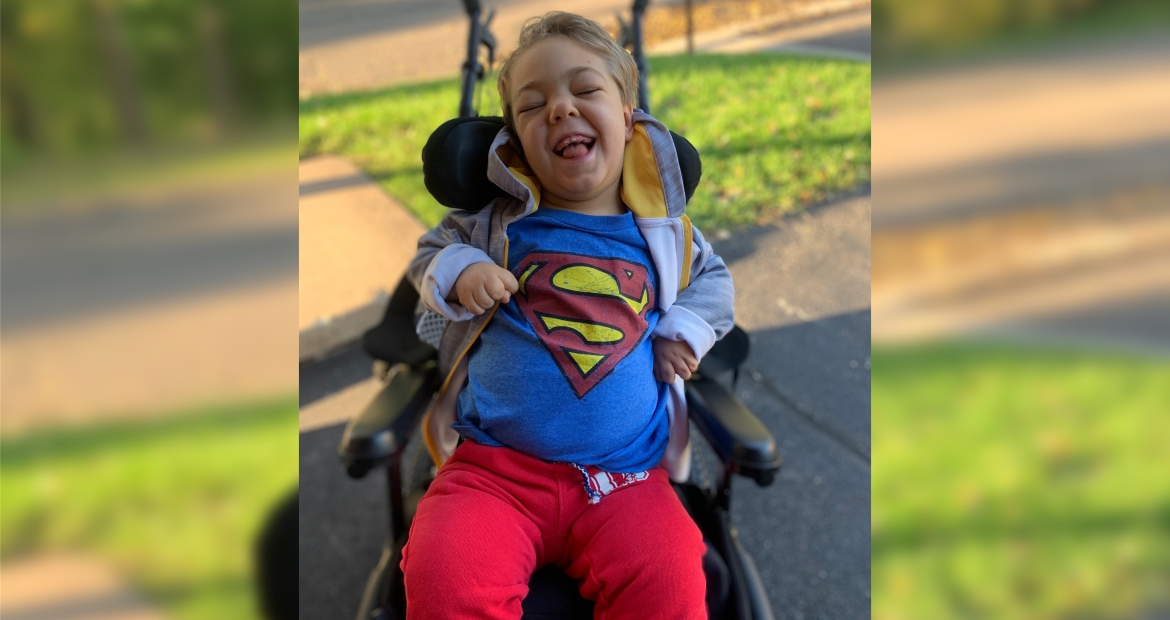 Dempsey Becker, a five-year-old boy living in Minneapolis, MN (USA), relies on toys for more than just entertainment. 
He uses them as a critical part of his occupational therapy at Courage Kenny Rehabilitation Institute, a state-of-the-art rehabilitation and resource center for individuals with disabilities and complex or chronic medical issues. 
Cummins employees in the Greater Twin Cities have partnered with Courage Kenny since 2006 to adapt, customize and invent both mechanical and electronic devices for children, like Dempsey Becker, and adults with disabilities using broad engineering and technical skills through design work known as assistive technology. 
To date, they have modified more than 7,000 toys and devices for Courage Kenny clients. Last year alone, when they reached a record level of involvement with the center, Cummins employees used their technical skills to modify more than 1,100 toys for children, making the toys more accessible and better matched to their abilities. These toys also serve as therapy enablers, encouraging children to continue developing physical and motor skills when possible. 
Dempsey, who primarily uses a wheelchair, enjoys being transferred to a battery-powered car during therapy sessions. He uses switch activators mounted to its headrest to drive it around the Courage Kenny facility. It's more than just a thrill ride, though; this gives him practice controlling his head movements and strengthening his neck muscles. His favorite toy is a puppy guitar that was modified with bright lights to accommodate his vision impairment. 
"He lets us know how much fun he's having by kicking his feet and giving a good belly laugh," said Dempsey's mother, Kelly Becker. "He doesn't realize he's working; he's just having fun playing with toys."
It's fun for the volunteers, too. Brian Haupt, Cummins Electrification Integration Software Engineer said, "I like volunteering with Courage Kenny since it uses my skills as an engineer and doing things I already enjoy doing. I also like that it is helping people who otherwise can't achieve the same quality of life without what we provide or contribute."
"Working in the Adaptive Devices lab is a great activity because it allows me to put problem solving, design and fabrication skills to use," shared Conor Youngblood Bruce, VPI Service Senior Engineer at Cummins. "There are all kinds of opportunities to make someone's life easier by creating something unique and simple that can make a difference. Sometimes it's simple, like a bracket to mount a cellphone to a wheelchair, or sometimes it's more complicated, like a flexible stylus to make a smartphone easier to use."
This work expands beyond the Minnesota-based team. They join Cummins colleagues in Dubai, Singapore, and the United Kingdom by sharing assistive technology designs to partner with organizations and serve individuals with disabilities. 
"Our relationship with Courage Kenny is really special," shared Gary Johansen, Cummins Power Systems Engineering Executive Director. "Through our partnership over nearly 15 years, our employees and the clients and staff at Courage Kenny have shown us what a true community partnership can become when we combine our heads, hearts and hands."
Kids like Dempsey would agree about the success and strength of this partnership.