Employee uses analytical skills to help hospital plan for COVID-19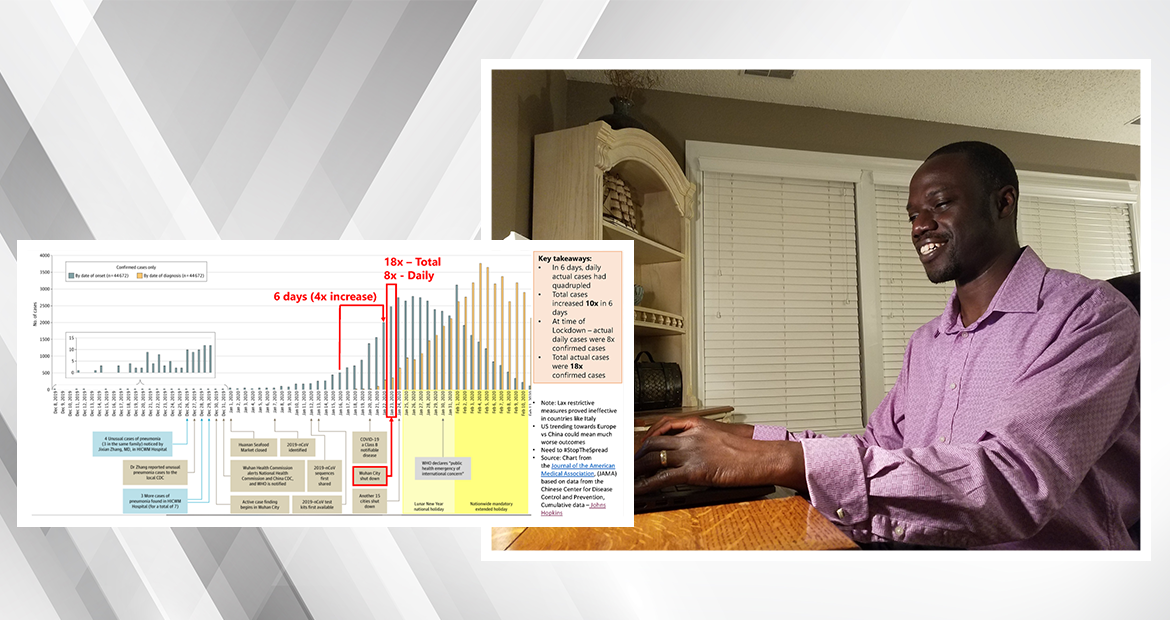 Having grown up in western Africa, Stephen Aryee is no stranger to health epidemics and the devastating impact they can have on communities.
When he read a news article in early March about COVID-19 cases in the U.S. where he lives now, Aryee was curious to understand how the virus could impact his local community. He thought he might be able to help others gain insights because of his work at Cummins in strategy and market intelligence.
"I felt a sense of urgency when I saw the data," said Aryee, a Market Insights Segment Leader in the Strategy group. "I felt compelled to find a way to help." 
MINING THE DATA
Using data he found on Johns Hopkins University's website, he began building a model focused on Bartholomew County, Indiana, where he currently lives and works and where Cummins has its headquarters. In under a week, the model was complete, producing four key outputs:
•    Actual infections compared to confirmed cases, showing community leaders how the virus may be spreading but hasn't been captured by confirmed tests.  
•    Potential hospitalizations based on real cases instead of confirmed cases. 
•    Time for a surge to reach hospitals, helping health officials with capacity planning, so they have enough resources to respond. 
•    Expected peak of infection if social distancing guidelines are implemented. 
 
"I knew that if we were behind the curve when the surge hit our community, it would result in a lot of lost lives," Aryee said. "We've got to have a handle on this. I thought if I could make the right models, it would help leaders make informed decisions." 
PERFECT TIMING
He presented his work to a Cummins business leader, who immediately connected him to Jim Schacht, Executive Director of Community Relations and Corporate Responsibility, and also a member of a Columbus, Indiana, based coronavirus task force. Schacht quickly shared Aryee's work with leaders at the city's hospital, Columbus Regional Health (CRH). 
Aryee's work couldn't have come at a better time. The executive team at CRH was already working with an analytics group to apply state-level data but needed help localizing it to the 11-county region the hospital serves. He shared his work with CRH leaders to help with modeling data as they define action plans.
"His current role at Cummins requires using lots of data to create a forecast," said Jahon Hobbeheydar, Executive Director of Corporate Strategy. "I'm proud of him for applying his unique skills to benefit his community in this critical time of need."