Cummins CEO highlights employee safety, ingenuity at Annual Meeting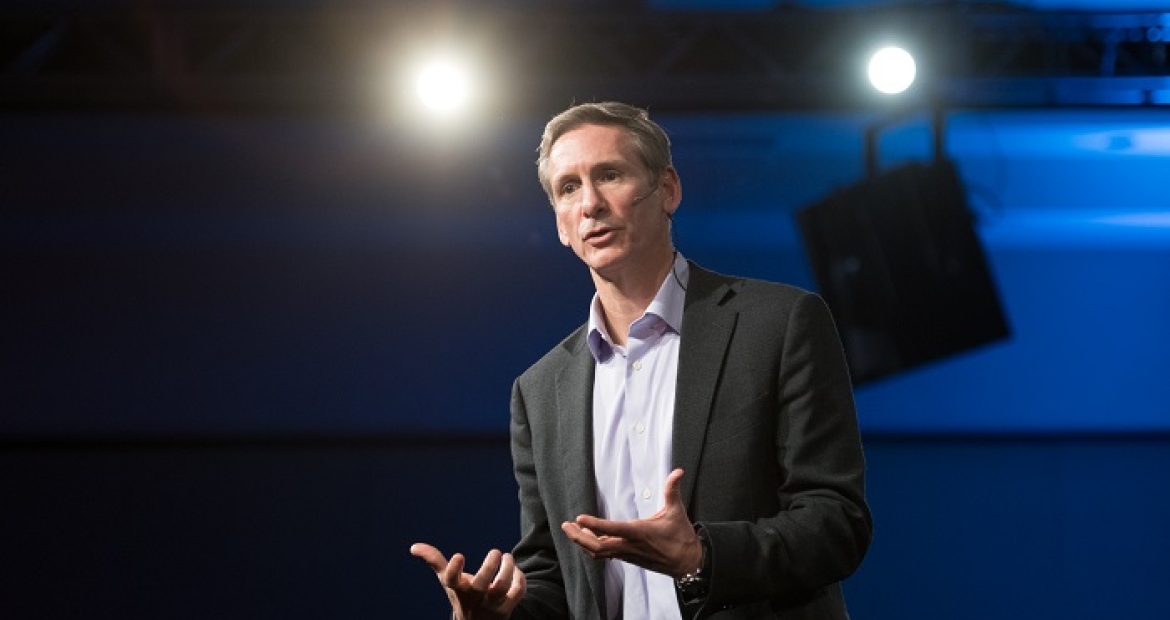 Cummins is taking numerous steps to protect employees from COVID-19, Chairman and CEO Tom Linebarger said at the company's Annual Meeting Tuesday.
The company has implemented health screenings and temperature checks for those entering plants, increased cleaning protocols and established a response center supported by medical personnel to answer employee questions 24 hours per day, seven days per week, Linebarger said.
He told shareholders the company has also established a leadership committee to respond to reported problems and a planning team focused on planning for future developments. Linebarger said the health and safety of employees and the communities where Cummins operates are the company's first priority as it moves forward in these uncertain times.
"Most office employees around the world at Cummins are working from home as we comply with stay-at-home orders to reduce the spread of the virus," Linebarger said. "At the time of this meeting, several of our plants have gone through periods of shutdown or reduced capacity, and many locations are now resuming operations, though at a very reduced level. …Things look very different now than how we operated prior to COVID-19."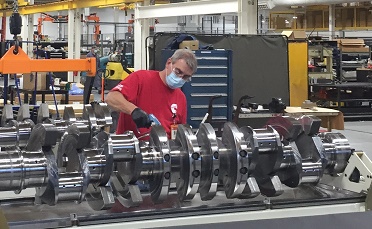 Linebarger said with most office employees staying at home, the company has been able to divert cleaning resources to facilities where employees are coming in to work every day, significantly increasing cleaning and disinfecting protocols. For those employees working in plants, in addition to the screenings and temperature checks, immediate care is available for anyone displaying symptoms for COVID-19.
 For employees whose work requires them to be in close proximity to others, the company has additional personal protective equipment for them to wear.
A DIFFERENT WAY TO WORK
Cummins has also redesigned certain processes and facility layouts to allow employees to operate safely and effectively, re-configuring assembly lines and entrances and exits to promote social distancing and ensuring common surfaces are cleaned regularly. In addition to answering questions, the response center is available to conduct contact tracing to determine people who might have been exposed to someone with COVID-19.
The company is using medical personnel from Cummins' LiveWell health center in Columbus, Indiana, to support the COVID-19 response. center.
Linebarger said the company has benefitted from having dealt with the crisis since January when the virus was first discovered in China. Cummins has several facilities in Wuhan, China, considered the epicenter of the outbreak. All of Cummins' plants in China are now back in operation and business has been brisk as the company's customers have responded to pent-up demand.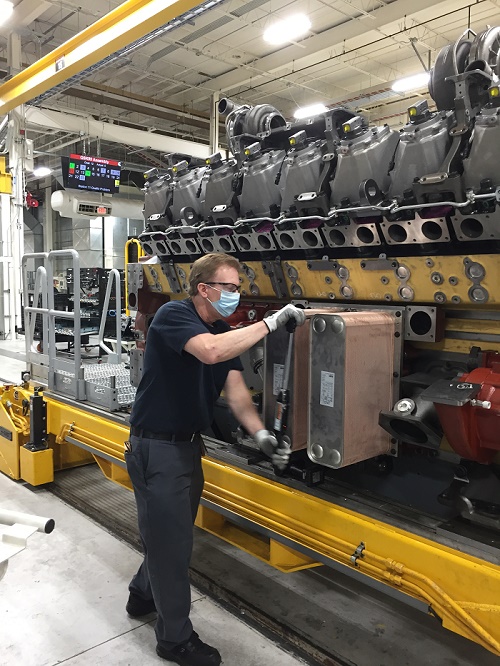 OPTIMISTIC SIGNS
That is only one hopeful sign. Linebarger said Cummins is also in a strong financial position. At the end of the first quarter of 2020, the company had cash and cash equivalents of $2 billion, strong credit ratings and Cummins' pension plans are fully funded. Linebarger said aggressive action to cut costs such as reducing pay and hours for some employees, while painful, will serve the company well during this unprecedented downturn.
Even in the middle of the crisis, Cummins has maintained its investment in low- and no-carbon technologies like hydrogen fuel cells and battery electric power platforms that will position the company well for the future when more normal conditions and demand returns.
"During our 100-year history we have encountered several unforeseen crises and economic challenges," Linebarger said during the virtual meeting, another first caused by the pandemic. "I am confident we will successfully navigate this one as we have done before and emerge stronger as a company."
He said also true to the company's history, Cummins employees have risen to the challenges presented by COVID-19, responding in new and creative ways to help the company and the communities where they live and work.
Employees have engaged in a host of activities, from helping day care centers and hospitals plan for COVID-19, to powering essential shipments of food and medicine, building and servicing the generators at emergency medical centers around-the-world, and partnering with other companies to increase the production of personal protective equipment.
"It will come as no surprise to you that our employees around the world have stepped up and responded to the needs of their communities in innovative ways," Linebarger said. "…As always, our employees and our company are doing all that we can do to address this crisis in new and creative ways, and we remain committed to powering a more prosperous world."