Team saves test using Cummins' ingenuity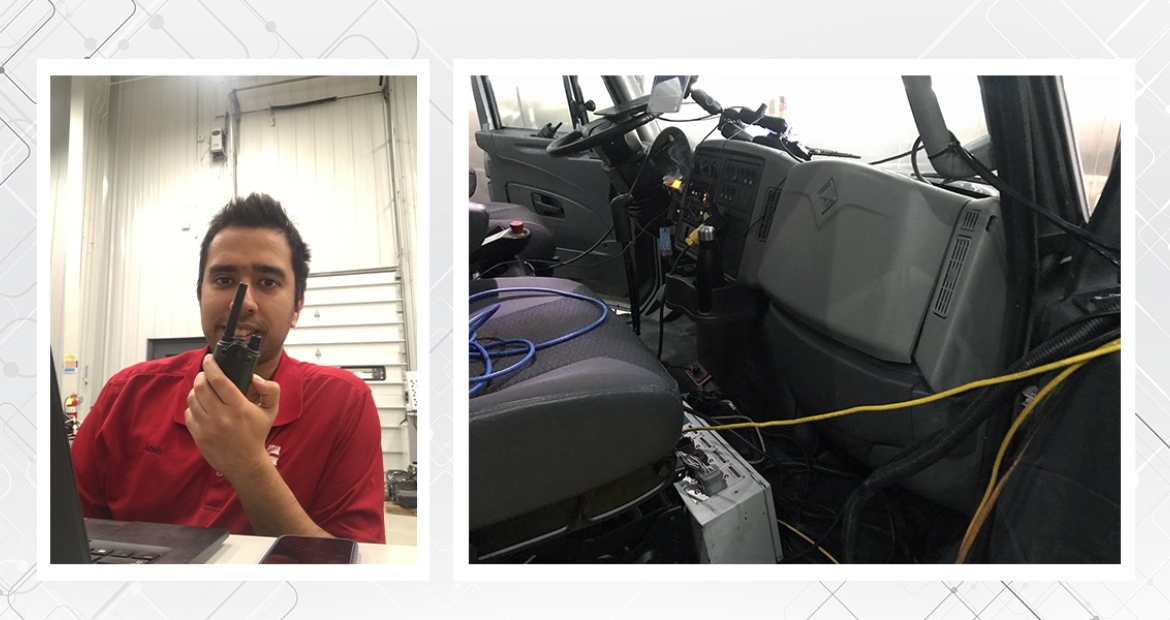 On-Board Diagnostic Misfire Testing is as complex as its name would suggest. Keeping a recent test moving forward might have been even more complicated.
The labor-intensive test requires a driver and technician sit side by side to test an engine under "real life" circumstances to prove to regulators its onboard diagnostics are capable of detecting a misfire due to a component failure that produces excessive emissions. The testing is critical to keeping the regulatory process moving forward on the engine model for 2021.
The testing had been taking place at a college several hours away and was at a critical moment when the school suddenly had to shut the lab down as part of its response to the COVID-19 crisis. As the Cummins team quickly made plans to shift testing back to Columbus, Indiana, a feat in itself, plans were also being forged by the test team group leader Alex Marin Cruz to finish the critical testing at the Olympia Building (OLY) – this time while maintaining all the recommended COVID-19 safeguards, including the six-foot social distancing rule. 
FINDING THEIR INNER MACGYVER
In the midst of all the other personal and professional stresses caused by the fast-paced global pandemic, a team of engineers and technicians from both OLY and the Cummins Technical Center (CTC) quickly brainstormed a safe solution.
They pulled more than 50 feet of ethernet and specialized cables from rarely used storage closets in CTC and OLY. Two-way radios that hadn't been used in some time were dusted off. The testing was slightly reconfigured, so the driver and technician no longer had to sit together but could still communicate using the radios. 
The team lost just under 48 hours, but testing was ready to continue.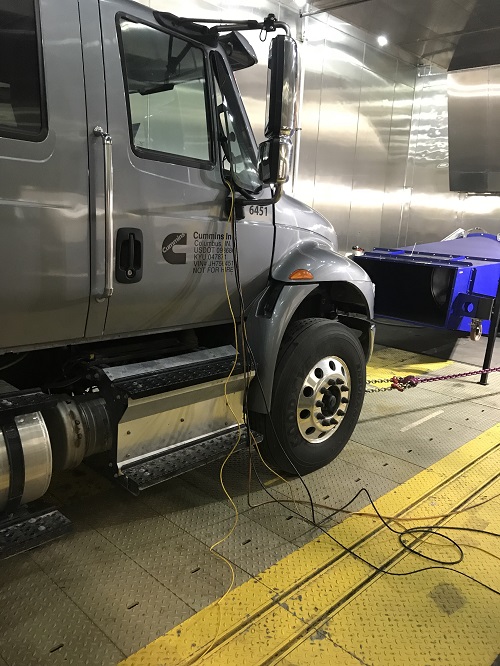 NEVER A DOUBT
"We never had any doubt," Marin Cruz said when asked if he ever thought the testing would have to be postponed. "We were just focused on safety and keeping us six feet apart."
They are now on track to submit data as part of the certification package to the California Air Resources Board (CARB) by the regulator's deadline. Their extraordinary efforts to keep the engine testing on track will likely be critical to keeping the project moving forward.  
Team members in addition to Cruz include Shelley Knust, Curt Barnhart, Justin Owen, Ansh Sharma, Michael Tress, Shashank Sharma, Celso Gomez, David L Adams, Arun Shori D Sundaravel, Daniel Holle, and Robert S. Jones.
They demonstrated, once again, that both the company's value of teamwork and its vision to innovate for its customers are alive and well at Cummins. Even in the midst of a global pandemic.