Energy IQ: How working from home impacts the energy footprint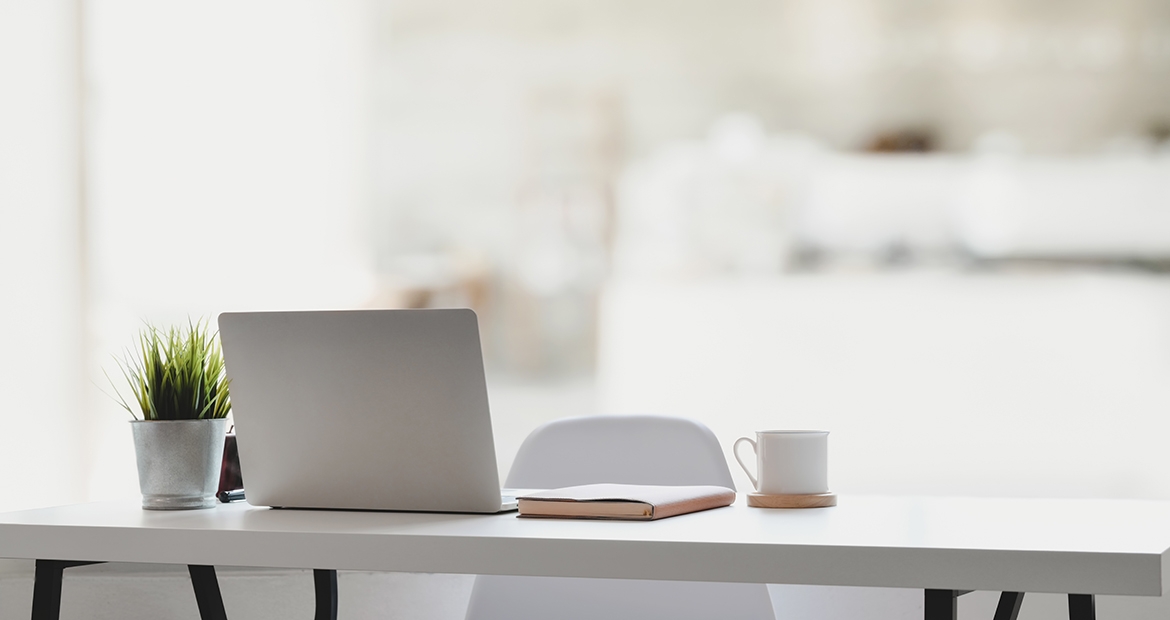 This is a very difficult time for everybody, but make no mistake we will get through this together.
COVID-19 continues to impact many aspects of our lives. While the health and safety of the world Is everyone's top priority, the short and long-term impact of COVID-19 will also be seen across different industries. Even after this is over, our healthcare systems, hospitality and entertainment sectors, and many other industries will face new and different operating realities. 
Similarly, the energy sector is also adjusting to a world with COVID-19. This article outlines the three immediate impacts of COVID-19 and associated national lockdowns and stay-at-home orders on our energy footprint, with a special focus on electricity.  
No. 1: World's electricity consumption is likely to decrease briefly
As more nations implement lockdowns to prevent the spread of COVID-19, the lockdowns also impact our electricity consumption. On one side, our residential electricity consumption will likely increase as more of us are required to work from home. More lighting, cooking, heating or cooling all result in an increased use of residential electricity. On the other hand, industrial shutdowns are expected to significantly reduce our industrial electricity use.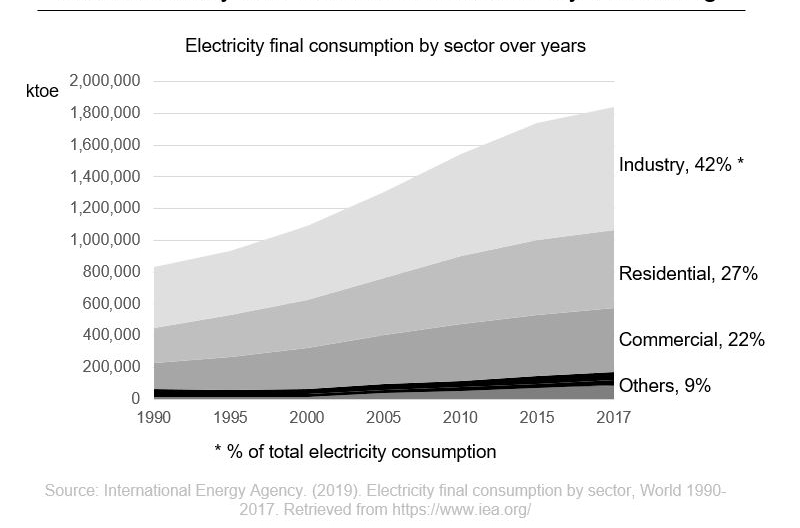 Electricity is an increasingly key form of energy we use to keep our lives 'Always On'. The world's electricity production has already doubled between 1990 and 2015, and we are expected to use twice more electricity by 2050. 
This longer-term trend is expected to continue with a brief pause occurring during the next couple of months.
It is likely the reduction of electricity consumption within the industrial sector will be greater than the increase of electricity consumption within the residential sector. This will likely lower the global electricity consumption for a few months, followed up with an increase as businesses go back to their regular operating rhythm. 
No. 2: Existing renewable sources to make up a higher portion of our electricity generation in some geographies
As some of the industrial sector temporarily scales down, this changes the electricity demand in terms of the amount and when the electricity is needed, or the electric load profile. This will likely reduce the need for some of the dispatchable, fossil fuel power plants. Higher fuel and operating costs incurred by these fossil fuel power plants will likely be another reason they experience reduced utilization.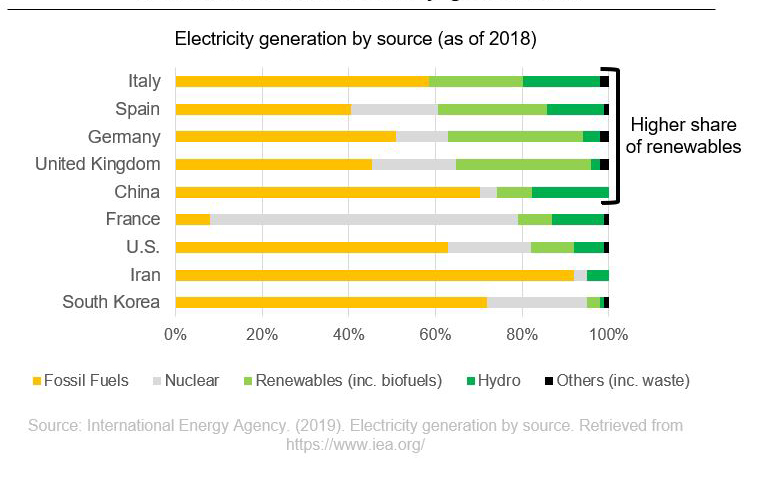 Meanwhile, the renewable energy sources will continue to generate at the same rate, essentially allowing them to make up a higher percentage of base electricity generation.
Some of the world's largest economies have made good progress in increasing their mix of electricity generation from renewable sources. Given the COVID-19 lockdowns are a global issue, this shift in energy mix will affect all  major economies on some level.
No. 3: Our electricity infrastructure is flexible enough to accommodate this unexpected change
A diverse mix of central generation plants and distributed energy resources (DERs) increases the flexibility of our electricity infrastructure. This flexibility accommodates the changes in electricity demand by leveraging different components of the electricity infrastructure. In some cases, interconnections between regional grids or demand response is leveraged to deliver the needed flexibility. In other cases, adjusting the utilization of thermal power plants or local microgrids is leveraged. 
It is expected many of us won't experience any significant interruptions in access to electricity during the on-going COVID-19 crisis, thanks to the built-in flexibility within our electricity infrastructure. This benefit of resiliency, enabled by a diverse generation infrastructure, will potentially have a lasting impact on energy system planning going forward.  
This is a very difficult time for everybody and the world is joining together to keep people healthy first and foremost. Once this is over, many people and businesses will be operating under new realities. Recent improvements within the energy sector, including increased flexibility of our infrastructure will help us power through this immediate challenge without major issues.
The implications of the current pandemic will potentially change future energy planning too. While there are many unknowns about its long-term impact, including business and personal behaviors, COVID-19 could likely change the general commercial and residential approach to preparedness. 
Sign up below for Energy IQ to periodically receive relevant insights and trends about energy markets. To learn more about the distributed generation solutions Cummins Inc. offers, visit our webpage.
Think your friends and colleagues would like this content? Share on LinkedIn and Facebook.
For health, safety, and medical emergencies or updates on the novel coronavirus pandemic, please visit the CDC (Centers for Disease Control and Prevention) and WHO (World Health Organization). You can also learn more about Cummins' response to the pandemic.